Tragedy as mother, four children buried alive in Nandi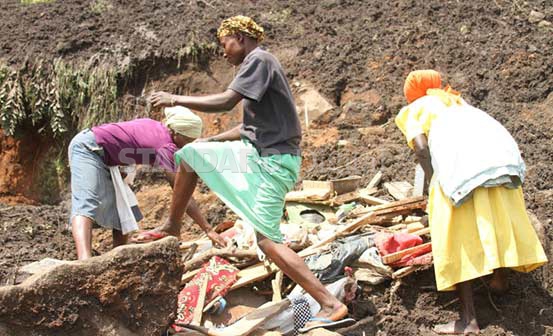 A village is in shock after boulders fell on a house on the slopes of Nandi Escarpment and buried a mother and her four children alive.
Sarah Ngaira, 36, and her four children; Michael Liula, Joseph Amukola, Sabina Ingeto and Wesley Ngaira died in the early Saturday incident when their house at Chepng'abai village, Sangalo Location, on the border of Nandi and Kakamega counties was hit by debris following a heavy downpour.
"I heard a rambling sound, which appeared like an earthquake for close to two minutes at around midnight. I rushed out on sensing danger," said Morris Milimo, a neighbour of the deceased.
He went on; "I looked around and realised my neighbour's house was not in its usual place. I thought I was dreaming and moved closer and I could not actually see it."
Milimo then mobilised other neighbours, whom together they removed the rocks and found four bodies.
Administration and Regular police from Mukhonje Police Station and Chepng'abai in Kakamega joined them in the 12-hour mission to retrieve the bodies.
Salmona Khanali, mother-in-law to the deceased, woke up with shock after she heard the screams in the morning. "I was not feeling well and wanted to ignore the noises, but I was forced to wake up because of the persistent screams," she said amid sobs. "My son Philip Ngaira's house was not there and all my grandchildren are dead."
According to family members, Ngaira, a jua kali artisan at Mosop town, had not arrived after he received the message on phone, and asked not to say a word until he sees it all for himself.
Local MP Bitok Stephen Bitok and Nandi Governor Cleophas Lagat condoled with the bereaved family. "We shall cater for the burial cost as we look for a way to resettle all families on the slope of the escarpment to safer areas," said Lagat.
Bitok said that over 70 families had been marked for resettlement and will be moved in the quickest time possible.
Deputy County Commissioner Ajwang Richard asked the families that had been earmarked for resettlement to comply for their own safety.
County Commissioner Lucy Mulili, who led the security teams from the two counties to the affected area said unknown number of villagers were displaced following the incident that left a trail of destruction. The bodies were moved to Kakamega County Referral mortuary.