Emotional memorial for survivors at Moi University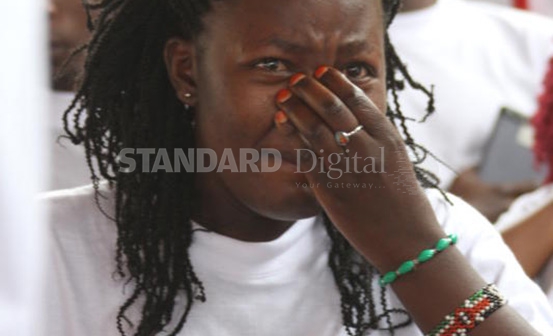 Emotions ran high as students commemorated one year since the Garissa University College terrorist attack, at Moi University main campus in Kesses, yesterday.
Tears flowed freely while some survivors of the attack fainted as songs and poems were presented in honour of their departed colleagues.
Adorned in T-shirts labeled Garissa 148, carrying portraits of their fallen comrades and lighting candles, the gathering listened as Melinda Namwolo narrated how she escaped death.
"I was awaken by gunshots and hid in a wardrobe in the room. After a while one assailant ordered us to open the door and get out or he would forcibly gain entry and massacre us. We were taken downstairs from second floor where my room was and they indiscriminately shot at us," she said. Ms Namwolo said they were separated along religious lines and one of her friends who pretended to be Muslim was killed after she failed to recite a Quran verse.
"I lay between dead bodies after I miraculously survived. I was presumed dead several hours after the Kenyan soldiers came to rescue us and one officer nearly ran away when I woke up because there was a lot of blood on my head," she added.
Participants got emotional when Victor Kibaba, a survivor, recited a poem, "The end is nigh."
A trauma counsellor, Maximilla Okello, however, explained that it was right for the survivors to cry as that was part of the healing process.
"That shows they are dealing with issues they hadn't released from their minds and they will get better after this session because it will cultivate hope in them. Most of them at first were portraying withdrawal signs saying they would not go back to class, they hated education and wouldn't stay alone but now they are getting better," she explained.
Ms Okello called for psycho-social support for the students to avoid cases of alcohol and drugs addiction and promiscuity that are enhanced by intrapersonal conflict.
National Council of Churches of Kenya Secretary General Nelson Makanda, who delivered the sermon asked the government to enhance security to avert terror attacks. Moi University Deputy Vice Chancellor students' affairs Nathan Ogechi said the event will help identify gaps in the healing of the affected students and offer support.