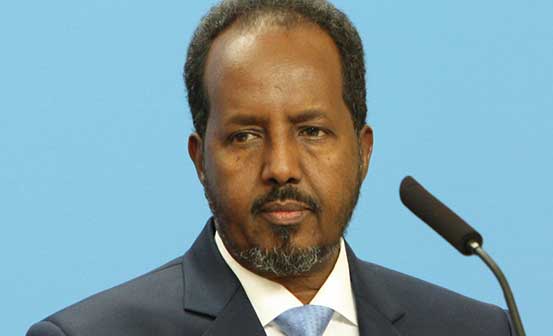 At least 180 Kenyan troops were killed when Al Shabaab attacked their El Adde base on January 15, Somalia's President Hassan Sheikh Mohamud has said.
BBC said President Mohamud gave the death toll of 180 in an interview with a Somali television station, while defending his attendance at a memorial for the soldiers in Kenya.
"When 180 or close to 200 soldiers who were sent to us are killed in one day in Somalia, it's not easy," he told Somali Cable TV.
"The soldiers have been sent to Somalia to help us get peace in our country, and their families are convinced that they died while on duty," he added.
Kenya is yet to officially state the number of those killed.
The Defence Cabinet Secretary Raychelle Omamo said the attack was carried out by terrorists using vehicle borne improvised explosive devices (VBIED) commandeered by suicide bombers.
"The soldiers affected by the attack are a company size force," said Ms Omamo then.
In the military, a company is a unit, typically consisting of 80–250 soldiers and usually commanded by a major or a captain and thus the explanation by President Mohamud could hold water.
Some Somalis accused Mohamud on social media of showing greater concern for the killing of Kenyans than his own nationals.
Mr Mohamud said it was important to pay tribute to the troops killed in El Adde, which is in Somalia's south-western region of Gedo.
Kenya has said that the bombs used in the attack were three times more powerful than those used by al-Qaeda in the 1998 US embassy attack in the capital, Nairobi, which left 224 people dead.
Kenya has about 4,000 troops in the 22,000-strong African Union force battling Al Shabaab, which is part of al-Qaeda, in Somalia.
The use of Vehicle Borne Improvised Devices (VBIED) shows the attackers had planned the raid for long and exploited a tactical weakness during rotation of forces to exact the carnage.