Every newborn in Kenya owes China Sh7,000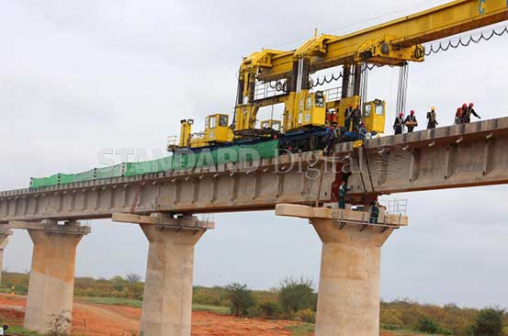 David Muriithi is a few hours old, but he already owes China Sh7,000 debt. On top of this, the 3.5kg baby boy, who has no appreciation of the roads and buildings the Asian nation has funded, may have to pay another Sh28,000 in interest.
Data from the Treasury has brought home reality of the piling debt Kenya has soaked up from China from the turn of the millennium.
And China is reaping big from its loans to Kenya, earning Sh4 as interest on every Sh5 repaid.
This means from every payment installment the Government makes, only 20 per cent goes towards cutting the debt.
A breakdown of how Kenya is servicing debts from bilateral partners indicates that China received Sh4.1 billion in the second half of last year. Of that amount, only Sh738 million went to reducing the principal loans, which were worth Sh275 billion in December.
"I find those numbers a bit troubling," said Dr Njuru Gitahi, an economics lecturer at Kenyatta University.
The interest portion in a repayment should almost be less than the principal amount, he added, raising fears about the terms that Kenya negotiated in its borrowing.
Should the repayment schedule be maintained, Kenya could hope to settle its outstanding debt to China in 186 years, roughly two lifetimes.
China is Kenya's biggest lender; whose outstanding loan is larger than the cash raised through the Eurobond in 2014.
"Unless the interest is front-loaded – which is not normal, the Chinese loans are too expensive for us," Gitahi said.
His sentiments are shared by Francis Mwangi, a financial analyst at the Standard Investment Bank in Nairobi, who described the repayment schedule on the Chinese loans as "odd".
Priscilla Nyokabi, a member of the budget committee said the repayment schedule was abnormal. "It might be that some loans are short term but it still would not add up," she said.
Kenya has borrowed heavily from China, the world's second largest economy, since 2002 when former President Mwai Kibaki took over power.
Japan and France were traditionally Kenya's biggest bilateral lenders but they were leapfrogged by China, which was considered friendlier since it did not attach any tough conditions to either aid or loans.
Most of the loans extended by China to Kenya are in the form of projects including the Standard Gauge Railway and several roads.
But little information is publicly available on the terms tied to the Chinese loans, which could be the costliest according to the rundown provided by the National Treasury.
In the six-month period to December, Kenya paid Sh3.3 billion to Japan including Sh387 million as interest. In the same period, France received Sh2.3 billion, consisting Sh1.7 billion as principal repayments and Sh641 million in interest.
Kenya's debt to Japan and France were worth Sh80 billion and Sh59 billion, respectively. Interest paid to China made up nearly 70 per cent of the Sh5.1 billion profits to be shared among the 20 countries that have extended loans to Kenya. We have unsuccessfully sought a clarification on the Chinese loan repayments from officials of the National Treasury.