Crackdown on cyber space raises hard legal questions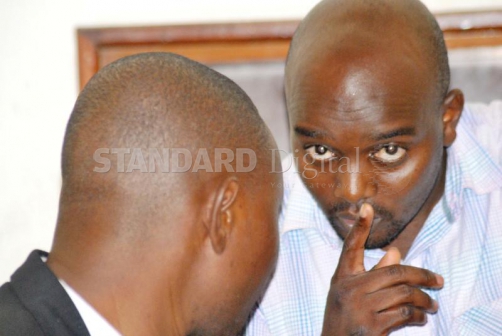 The arrest of several bloggers in the past couple of weeks has sparked debate on social media regulation. Law enforcers have recently picked up and grilled close to ten bloggers over content posted on their social media accounts.
Those interrogated recently include controversial blogger Robert Alai, Cyprian Nyakundi, Patrick Safari popularly known as 'modern corps', Eddy Illah, Charles Dienya, George Nyongesa and Yassin Juma.
In January alone, at least six bloggers have been questioned.
Juma was the latest to be picked up by officers from the Directorate of Criminal Investigations last weekend for posts on his social media accounts about the Al Shabaab attack of Kenya Defence Forces troops in Somalia.
Juma, like most of the other bloggers, has been accused of misusing a licenced communication device, thereby flouting Section 29 of the Kenya Information and Communications Act.
Another blogger, Anthony Mburu, was this week arraigned in a Mombasa court on charges of publishing false information linking Kiambu County Governor William Kabogo to importation of sub-standard eggs into the county.
Mburu was charged with three counts of harmful publication contrary to Section 66 (1) of the Penal Code for allegedly posting false words on social media implying that Kabogo had bought 1,000 acres of land in Kwale where he established a farm as a cover up to import cheap quality eggs.
He was, however, released by the court for lack of evidence. Judith Akolo, a journalist, was also recently questioned for retweeting a post about a DCI advertisement of jobs within the department which were made public on the deadline day.
Is the Kenya Information and Communications Act being misused to stifle dissent as alleged in some quarters or are there loopholes in the legislative framework governing use of social media in Kenya?
"The current application of this law is unconstitutional. Our understanding of the Kenya Communications Act, which largely covers communication through the Internet and general use of technology, was that it was meant to address issues like misuse of communication gadgets say like interference or jamming of communication lines or airwaves," says lawyer Harun Ndubi.
"It was not anticipated that we would be using this law to frustrate actual communication, freedom of expression and an individual's right to own property," he adds.
Section 29 of the Information and Communications Act states that: A person who by means of a licensed telecommunications system sends a message or other matter that is grossly offensive or of an indecent, obscene or menacing character, or sends a message that he knows to be false for the purpose of causing annoyance or needless anxiety to another person commits an offence and is liable upon conviction to a fine not exceeding Sh50,000 or to imprisonment for a term not exceeding three months or to both.
But how far, for instance, does the aspect of licensing stretch?
"Twitter and Facebook accounts are not even licensed locally so how can we say an individual has misused a registered product?" argues Ndubi.
The lawyer acknowledges that while freedom of expression is guaranteed under the Constitution, it does not allow comments deemed as propaganda for war, or hate speech, which begs the question whether comments made by the bloggers fall under these categories.
The bloggers association has also weighed in on the matter saying it takes exception to the "increasing cases of intimidation through arrests and prosecution... in what is turning out to be criminalisation of civil matters".
Freedom of expression
"Article 33 of the Constitution is categorical that every person has the right to freedom of expression, including the freedom to seek, receive, or impart information or ideas. The arrests of these online users do not reach the threshold for limitation of rights as enshrined in Article 33 (2). These actions by the police are unconstitutional," said the association's chairman Kennedy Kachwanya.
He adds: "Articles 33, 34 and 35 of the Constitution should not be abused at the behest of political goals. Where the limitations have to be exercised, the spirit and letter of the Constitution has to be abided to by law enforcement officers."
He further argues that defamation, as most of these cases indicate, is a civil matter, which does not fall under the purview of police officers. The association is also calling for hastening of the determination of a constitutional challenge to section 29 of the Information Act.
Ndubi says ordinarily for a criminal case to be upheld there must be the "mindedness" to commit an offence, which means the prosecutor must prove intention and action. These, says Ndubi, may not be easy to prove, in the matters for which the bloggers above have been arrested.
"We have other laws like the Penal Code that cover criminal libel. But law enforcers are not using it but opting for Section 29 of the Information Act which seems easier to use," adds Ndubi.
Limitations
In response to why Mburu was moved to several police stations before finally being arraigned in court in Mombasa, police spokesman Charles Owino says a complaint over the matter was most likely made at the Coast.
He refutes claims of law enforcement agencies cracking down on bloggers, saying freedom of expression must be exercised responsibly.
In response to whether the charges being preferred against the bloggers would stand in court, Owino says:"That is for the courts to decide. After conducting our investigations we forward the files to the Director of Public Prosecutions. The DPP's office has a team of lawyers who help determine whether a matter should proceed to court or not."
Kenya School of Law's lecturer Prof Ben Sihanya, says there is a problem with the manner in which the current law is being used given that the Constitution guarantees freedom of expression and access to information.
"What we are seeing is a move towards over-regulating dissemination of content," says Sihanya, adding that most of these matters could simply be covered by ethics. The law, he says, is too broad and needs to be more specific.
He says the current events signal a trend of criminalising freedom of expression to control political processes and is likely to worsen as the country approaches next year's elections.
But lawyer Charles Kanjama has a different view. According to him, the law recognises that there can be limitations to the freedom of expression. For instance, where someone engages in hate speech, incitement to war or uses language that discriminates.
"The truth is that there is no absolute right to free speech and there are possibilities where the grave violation of freedom of speech can result to criminal sanctions, for example in cases of treason or incitement to violence," he told The Standard on Saturday.
"I cannot give a current assessment of whether it's fair to charge the bloggers or not. But I would be opposed to a blanket approach to the matter where anything a blogger says is immune to prosecution. I would however favour an approach where the benefit of doubt is applied in favour of freedom of expression as opposed to limiting it."