Fresh details of the security deals that President Uhuru Kenyatta and the British Prime Minister David Cameron signed in New York have come to light showing that the final agreement will allow British soldiers who commit crimes while on training in Kenya to be prosecuted and jailed here.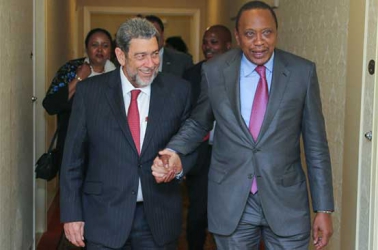 A British government official familiar with the negotiations around the Defence Co-operation Agreement yesterday told The Standard that the agreement had been worked out in a manner to comply with Kenya's five-year-old Constitution.
The old deal was to lapse this month but President Kenyatta and Cameron and their respective teams agreed to a six-month extension when they met on the sidelines of the United Nations General Assembly in New York, USA.
Under the new agreement, the British military will train at least 10,000 of its soldiers in Kenya every year in three batches, with each batch of at least 3,000 troops spending six weeks in the training ranges of Laikipia, Isiolo and Nanyuki. Kenya Defence Forces troops will also have joint exercises with their British counterparts, another official of the British government added.
Dicey affair
The signing of the deal has been a dicey affair with the Kenya and British Government flexing muscles on how to handle the issue of jurisdiction of troops who break laws of the host country – whether in Kenya or in the UK.
There has been a perception that UK soldiers operate with impunity and are somewhat immune to prosecution for crimes committed while in Kenya, a perception partly attributed to the colonial legacy. The previous agreement had been around for 30 years.
"The most difficult issue was jurisdiction, that is, where and how the troops visiting the respective countries shall be held accountable. UK troops have never had immunity in Kenya, we've never asked for it," said a UK government official, who sought anonymity in order to speak freely about the issue.
Kenyan government officials will also get access to the British training bases and port officials will inspect British military cargo getting into Kenya "whenever they want".
Kenyan troops will also be allowed to train in British military academies at a fee paid by the British government on tactical awareness, commando training, piloting, and detecting explosives.
British soldiers who will be joining KDF troops in Somalia in the Africa Union Mission in Somalia will not be combat troops, but will be there to offer "logistical support".
There are also massive pledges of investment in training for police officers, prosecutors, and additional push to deal with border security, port security at entry and exit points, aviation security, and counter-terrorism efforts in the country.
Although it was not publicly acknowledged, there were discussions about corruption among Government officials.