President Uhuru Kenyatta directs county bosses to get rid of corruption
COUNTIES
By PSCU | September 17th 2015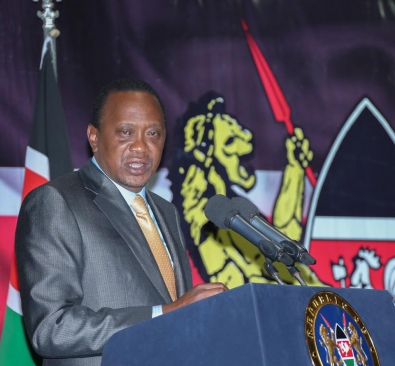 President Uhuru Kenyatta has instructed County Commissioners and County Police Commanders to rid corrupt practices within the security forces in their regions.
The President told the county bosses that they have the responsibility to ensure officers working under them do not engage in corruption.
He said the action of corrupt police officers has caused a huge integrity deficit for the security agencies, which has in turn had a negative impact on the country's economy.
The President spoke when he addressed County Commissioners and County Police Commanders who are attending a team building course at the Kenya school of Adventure and Leadership (KESAL) in Meru County.
He said the county bosses will be held accountable for the security and safety of their areas of jurisdiction and they must therefore build effective teams from the Headquarters to the regional, county, location and sub-location levels.
The President told the County bosses that they should implement the directive to fight corruption and improve security with zeal.
He directed the Cabinet Secretary of Interior Joseph Nkaissery, the Principal Secretary Monica Juma and the Inspector General Joseph Boinnet to oversee the establishment of committees and ensure they become operational.
The Head of State said corruption within the security forces especially at the country's entry points and on the roads has enabled criminals with an intention to harm Kenyans to get easy access.
"Involvement of security officers in the vice is enabling people intent on doing harm to this nation, get in our territory," he added.
He said those working in the security sector should have pride in safeguarding Kenyans instead of creating vulnerabilities.
The President said the country's development aspirations for attaining Vision 2030 among other government development priorities will abort unless the vice is eradicated.
"Securing our nation from all threats is my number one priority and a commitment that I made to Kenyans upon taking the oath of office," the President said.
At the same time, President Kenyatta commended security agencies for improving coordination of their operations in the last several months.
"The value of coordinating security operations has become evident, although the threats upon us require each and every one of us to do more," he added.
The President said recent changes in the security sector will be cascaded to the lowest level to ensure implementation of strategies that optimize synergy.
He assured law enforcement officers that the Government will continue to provide additional resources to improve their capabilities and welfare.
Interior Cabinet Secretary Joseph Nkaissery said security is a collective responsibility of all Kenyans.
"We have no choice but to ensure the nation is secure," the CS said.
Letter from a worried parent to the striking teachers
I hope this finds you well. I am writing to express my sincere displeasure on how the government is treating your demand for pay rise. Your case is genuine, you deserve better pay more than any public servant since every professional passes through your hands.