Zahra Moi graduates Magna Cum Laude from USIU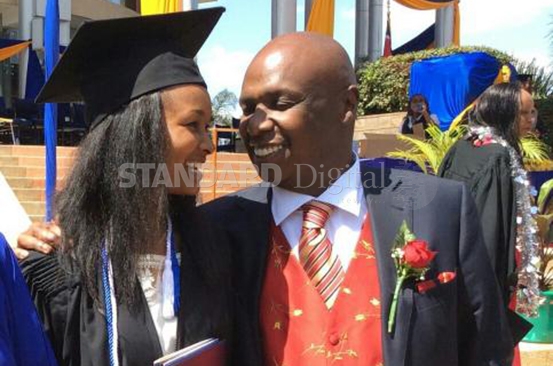 Bahlewa Zahra Moi, the wife of Baringo Senator Gideon Moi, was awarded with a Magna Cum Laude degree in Bachelor of Science in International Business Administration during the class of 2015 graduation ceremony held at the university campus.
Zahra expressed her gratitude to her husband and children for their understanding and support they accorded her during her studies.
"It is such great honor for me and humbling at the same time because it has been a long journey characterized by long hours of hard work and sacrifice. I am grateful for the enormous support and encouragement I received from my family, friends, fellow students, my group members, my professors as well as the professionals whom I consulted for my research in various fields. I attribute this success to them." She said.
Added Zahra: "Balancing between family responsibilities and school was not easy but I did my best and left the rest to God. I thank God for everything."
Magna Cum Laude (with great honor) is awarded to students with a GPA of above 3.7 out of 4.0. In the Kenyan and British systems, a GPA of 3.68 out of 4.0 is equivalent to a First Class Honors.
Zahra, who was on the Dean's List throughout her time in the university, was among the 1,400 graduands who received certificates in various fields at the graduation ceremony.