Nairobi City County by-law criminalizes sitting for long hours in non-recreational areas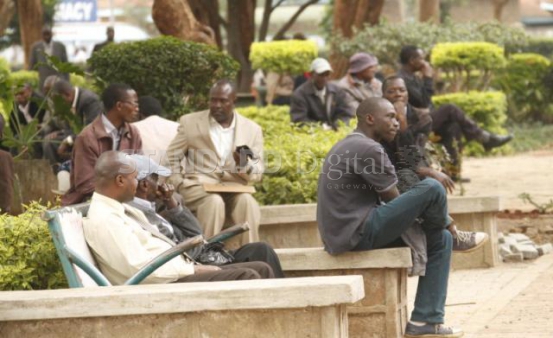 Did you know that you could be arrested, prosecuted and even jailed for sitting in one spot for long in the capital city?
Well, the Nairobi County has by-laws that make it criminal to sit in places such as "the frustration (or is it jobless?) corner, opposite the city's Hilton Hotel.
In the by-laws, Nairobians who have been sitting in such like areas are advised to go to recreational places like Uhuru Park, Central Park, City Park and Jeevanjee Gardens.
According to the laws, leaning against flower pots or pavements could lead to county enforcement officers whisking you to the cells.
One could also part with Sh2,000 for blowing the nose or spitting on a pavement within the central business district.
"Spitting on any foot path or blowing the nose aimlessly (sic) other than into any suitable cloth or tissue is prohibited," reads part of the by-laws which could see many people in the streets arrested as August cold persists with many sneezing and blowing their noses "aimlessly".
For those who enjoy skating on the streets and other parts of the city, the by-laws indicate it is illegal for one to do so.
CART PUSHER
The laws could also ease traffic for motorists who have been mainly using Muthurwa, since it is now illegal for a cart pusher to operate without a licence within the city.
Motorists are also not allowed to wash or repair their vehicles in prohibited areas except in cases of emergency.
Most streets and parking lots have, however, been converted into car wash areas and garages in the recent past.
Those manning public pay toilets are also likely to make more money, since the by-laws criminalises defaecating or urinating on a street or any other open or public space.
According to a set of rules published in a document seen by The Standard, building owners are not spared either.
Residential houses should be fenced and if it is by live fence, it should be trimmed.
However, you are not allowed to cut any tree within your compound without prior permission from City Hall.
Your house should also be well-lit, have a security light and painted at least once a year.
And contrary to the belief that hawking is not allowed within the city, the by-laws now allow hawkers to do so without any interference if they are licensed by the county.
One can apply for a permit from the county to conduct hawking, giving particulars of goods and place of hawking.
But there is a challenge: Any noise the hawkers make, in most cases to attract the attention of their clients, could land them in the jaws of county enforcement officers.
Hawkers who shout in any parts of the city are to be arrested and charged with being a nuisance to the public.
You could also lose your vehicle when it is towed by county officials if you do not pay the towing fees in a period of 60 days.
PUBLIC AUCTION
Most cars are towed for failure by the owners to pay parking fees. Non-payment of parking fees will lead to clamping and towing of the vehicle.
"Any vehicle clamped must pay clamping fees to the council. Failure to pay towing fees and other expenses incurred by the council within 60 days, may lead to disposal of the vehicle through the public auction," reads a section of the by-law.
The county will, however, not be responsible for damage or loss incurred during this exercise.
The parking ticket must be displayed on the front windscreen. Non display will mean non-payment.
All taxi drivers operating within the city should put on prescribed uniform when on duty.
The new laws also outlaw foreigners from owning taxis.
And scrambling to get into a matatu during rush hour could land you in trouble as well.
According to the by-laws, six or more persons waiting to enter a matatu at a terminus or designated stopping place must form a queue.
And for those who put on skimpy dresses, the county now protects you since no one is allowed to interfere or molest you because of your choice of outfit.
In November last year, a woman was stripped naked by touts for alleged improper dressing.
Signalling, guiding or directing a driver of a vehicle into or out of a parking place is illegal.
This is the job of several street boys and guards who technically sell limited parking spaces in Nairobi.
Vehicles must be parked within the space indicated by lines or any other mark provided by the county or else your vehicle will be clamped.