Presidents Barack Obama and Uhuru Kenyatta differ over gay rights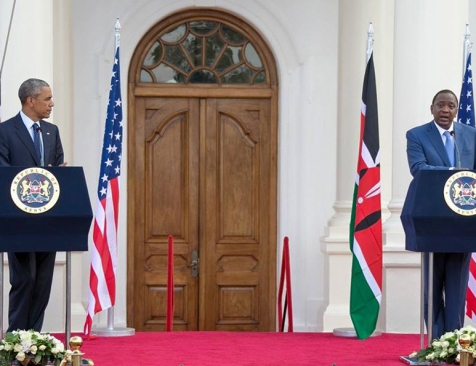 The delicate issue of gay and lesbian rights popped up Saturday during a press briefing at State House as US President Barack Obama differed sharply with his host, President Uhuru Kenyatta, over the handling of those involved.
Responding to a question from journalists after holding bilateral talks in the afternoon, Obama pleaded the case of those "with a different sexual orientation", asking the Kenyatta administration not to discriminate against such individuals.
But Kenyatta flatly rejected the idea of promoting gay and lesbian rights.
"We need to speak frankly about some of these issues. Kenyans and Americans share ideals such as democracy, entrepreneurship and family values but some things are not part of our religion or culture – and we cannot impose something on people that they don't like," said Kenyatta.
But stating that he believes in the principle of treating people equally under the law, Obama warned against the notion of discriminating people based on their sexual orientation.
"And I say this with the understanding that Kenyans have different cultural and religious beliefs. But if you look at the history of nations around the world, when you start treating people differently – not because of any harm they are doing, but because they are different – that is the path whereby freedoms begin to go wrong, and bad things happen," warned the US leader. As an African-American in the US, Obama said he was painfully aware of the history of when a people start getting treated differently.
"If somebody is obeying all the laws and is doing everything that a good citizen should do, but he or she is being treated differently because of whom they love, it is wrong," protested Obama. But Kenyatta maintained that the concern for the gays and lesbians was a non-issue for Kenyans at the moment. His government, he said, was more concerned with healthcare and education issues plus inclusivity of women in leadership positions, among other priorities.