Mama Sarah: 'Visit and pray at your father's grave'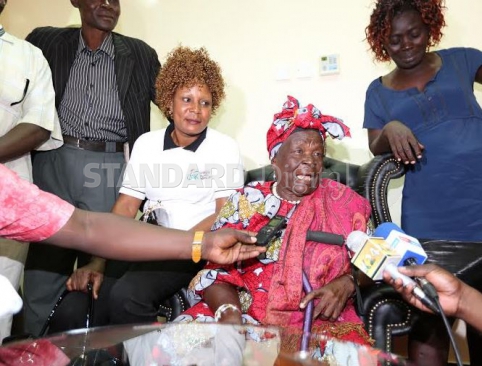 Kisumu, Kenya: Mama Sarah Obama promised to reach out to visiting US President Barack Obama in a bid to persuade him to visit Kogelo where his father was laid to rest.
"I would like him to visist and pray at Barack Hussein Obama Seniors' grave," in fulfilment of Luo traditions, the tribe from which his dad came.
Speaking at Kisumu International Airport a few minutes before boarding Kenya Airways flight number KQ 655 to Nairobi, Mama Sarah said she will try to convince her grandson to visit Kogelo Village, Siaya County.
"I do not know whether he will come to Kogelo, but I am going to try and convince him to come to Siaya because people from home are highly anticipating his visit," she said.
Praying at a funeral of a loved one is something done when one was not present to mourn the deceased during burial. It never matters after how long it should be done since its something that may take years but should be done at one point so as to absorb the reality that the person is dead and gone according to former Jaramogi Oginga Odinga's aide Odungi Randa.
Randa who attended the burial of Barack Obama Senior said it will be culturally important for Obama to fulfil the tradition of visiting his father's grave.
"It is very important that Obama comes and prays at his father's grave. He can also come with a wreath and put it on the grave. For Obama this can be a sign of respect and remembrance for his late father," he said.
He said if overcome by emotions, one is also allowed to cry at the grave side and also pull a chair and sit next to the grave. "If he comes and does that, he will get blessings and I will feel good," said Mama Sarah.
Mama Sarah who was in a very cheerful mood said she will be more than delighted if Obama accepts her request and revealed that he should not be worried of where he can sleep if he comes down to Kogelo.
"People have been saying that Obama cannot come and sleep at Kogelo because he does not have a house in my homestead. He does, I built for him a simba (a house built by a son at the family homestead) next to his father's grave. But Luo traditions also allow him to sleep in my house as my grandson," she said.
Mama Sarah also revealed that she is taking a traditional Luo stool to his grandson and also to give him God's word.
"I am not only going to meet him but together with his sister Auma, we will be sleeping in the same hotel. Meeting him in Kenya while a president of the most powerful country is God's blessing. I will also tell him to also focus on Kenya, much as he is mandated to take care of America," she said.
Mama Sarah, who was in the company of her daughter Masart Obama and a relative Henry Sidiga, said that together with other family members including those who were left in Homa Bay, they will be meeting the US President.
According to a Siaya County employee working at her homestead Lilian Supa who also came to bid farewell to Mama Sarah at the airport, she was in a very jovial mood on Thursday night as they packed her belongings in preparation of going to Nairobi to meet her grandson.
"She has told us to go back home and prepare the home because she is going to try convince him to come down to Kogello" she said.
A Siaya resident Lilian Andiwo said they are highly anticipating that Obama might visit Kogelo village regardless of confirmation made by US ambassador to Kenya Robert Godec that Obama's schedule will be tight and that he will major on fostering business ties.
Kogelo village in Siaya County is the home of President Obama's father Barack Hussein Obama and area residents have high expectations that he would make a visit to the area.
However, it is not only Siaya people who are wishing that he visits them since of late there has been scramble for Obama by three counties in Nyanza region, all claiming that he is their relation.
Migori County Governor Okoth Obado said if Obama ever decides to visit home, he should consider going to Obama village in his county.
"I get disturbed when I see people misleading Kenyans and the world that the Obama family is entirely in Siaya County. That family traces its roots right in this village (Obama village). When we remain quiet, people should not think we do not know the history of this great leader," said Mr Obado.
At the same time, Homa Bay Governor Cyprian Awiti said the Obama family first settled in Kanyadhiang' village in Kendu Bay before moving to Alego Kogello, and hence he should also try visit the place as he did before he became a senator.
Obama is expected to attend a three-day Global Entrepreneurship Summit that will be held at the United Nations offices in Gigiri. The summit that will be attended by global entrepreneurs is the first of its kind in sub-Saharan Africa.
Whether Mama Sarah will manage to bring him home still remains a wish that may or may not be fulfilled.