Digital platforms shaping news programming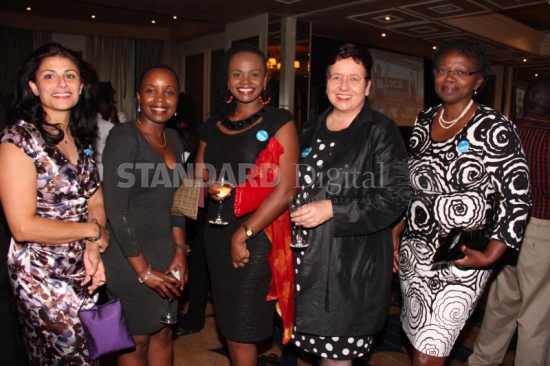 The entry of digital platform has been hailed as the best step to shape news presentation in the country.
According to Standard Group Managing Director, Broadcast Division Joe Munene, the entry of the digital platform has also transformed lives as television programmes can be accessed from any parts of the country owing to the availability of online channels.
Unlike in the past when families were forced to buy television sets to watch news, Munene said the availability of digital mobile had made it easy for even those who do not own TV sets to watch programmes.
He said: "In the past, a living room was not complete without a television set but this has since changed. Nowadays, people follow news and other programmes through their mobile phones."Speaking during an award ceremony for
outstanding journalists in a Nairobi hotel on Tuesday evening, Munene said digital platforms had opened up more channels, which offer consumers a variety to choose from.
He said the recent launch of a new TV station by The Standard group and the entry of an English Deutsche Welle TV channel was a sign that more stations would open.
Last week, The Standard Group launched KtNews, a 24 hour news channel, which according to Munene, will serve as a one-stop shop of all the day's news and information, with emphasis on in-depth analysis of news and people making the news.
"For the past 25 years, KTN has established a strong brand name for Television news. We are excited that on our 25th Anniversary and to ride on KTN's historical news tradition and reputation, we are launching a 24 hour News Channel," he said.
The competition, which was organised by The Standard Media Group in collaboration with Deutsche Welle (DW), saw Egerton University student Jonathan Masongo bag the coveted prize, which landed him a two-week internship at Deutsche Welle in Germany.
Maxwell Agwanda, a photojournalist, was voted the best camera man for presenting a piece on controversial activists Boniface Mwangi's work while Daystar University student Caroline Bii won the audio category.
"The competition showcases not only the local heroes, who are making difference in Kenya, but as journalists, who are working hard to create insightful content that reflects the local media market," said Peter Limbourg, the DW Director General.
Limbourg thanked The Standard Group for supporting the project.
"We hope that our involvement will help open national and international doors to journalists from Kenya and I would like to thank The Standard for the support they accorded us," he said.