Mama Ngina Kenyatta recognised amongst Africa's great living legends
COUNTIES
By PSCU | June 12th 2015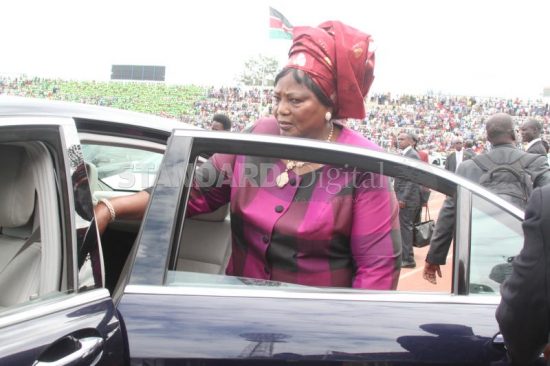 First Lady Margaret Kenyatta Friday afternoon arrived in Johannesburg, South Africa, where she will receive an award on behalf of Mama Ngina among other official engagements.
The "living legends" Award by the African Women of Excellence is scheduled to be conferred on Mama Ngina Friday evening during a dinner party hosted for various First Ladies who are in South Africa for the 15th Ordinary General Assembly of the Organization of African First Ladies Against Hiv/Aids (OAFLA).
The "living Legends" award recognizes the continent's unsung heroines especially those who have previously participated in the emancipation of Africa either socially or politically among other struggles for the betterment of the African people.
Mama Ngina is being recognised for her role during Kenya's freedom struggle including serving a jail term alongside other gallant Kenyans who were opposed to British domination and oppression during the many years of Kenya's colonialism.
After independence where the late Mzee Jomo Kenyatta became the first President of Kenya, mama Ngina became the most popular woman in the country and was accepted and referred to as the mother of the nation.
Besides the Awards ceremony and the OAFLA summit, the First Lady is Saturday expected to launch a new book, entitled 'True Story of Women Peace Train from Kampala to Johannesburg' authored by a Kenyan, Litha Musyimi-Ogana.
The book chronicles a historic event in 2002 where some 750 women from several countries in the continent walked through seven nations in Africa from Kampala to Johannesburg to make a statement about the importance of peace and violence against women.
Two former First Ladies, Mrs. Zanele Mbeki (South Africa) and Mrs. Barbara Mogae (Botswana) played an important role in that journey across Africa.
The First Lady is accompanied to South Africa by her daughter, Ngina Kenyatta. She was received at the Oliver Tambo International Airport by senior officials from the South African government and Kenya's High Commissioner Jean Kamau.