Kenya Meat Commission officials appear in court over Sh11m fraud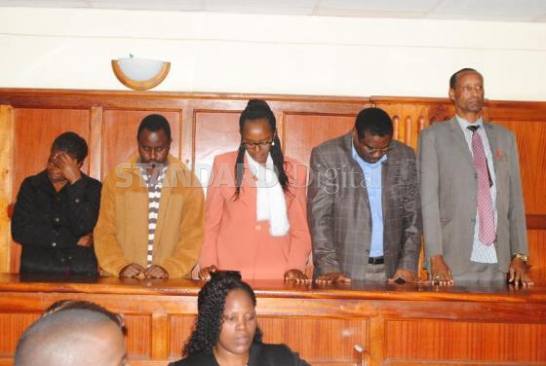 Five senior employees of the Kenya Meat Commission (KMC) were arraigned in court yesterday to answer charges of defrauding the institution of more than Sh11 million.
Managing Commissioner Ibrahim Isaak, Esther Ngari (Quality Assurance & Research Manager) Francis Mutuse (Accounts Assistant), Ruth Mwangi (Accountant) and Patrick Mutemi appeared before Milimani Senior Principal Magistrate Lawrence Mugambi of the anti-corruption court.
They are among public officials named by the Ethics and Anti-Corruption Commission (EACC) over graft allegations. They are facing charges of conspiracy to commit an economic crime by defrauding the institution.
Some of the suspects recorded statements at Integrity Centre on Tuesday and were released upon depositing cash bail and pledging to appear in court to plead to the charges. Defence lawyers asked the court to defer the plea and move it to another date to enable them advise their clients accordingly. They further argued that the suspects could not plead to charges in the absence of the sixth accused. The lawyers: Nzamba Kitonga, Carolyn Kamende and Kamolo Adhiambo, told the court the present case is similar to another commenced one against suspects in a Kajiado court. Moreover, the court heard that the sixth suspect, Evans Bikundo, is in Nigeria and is yet to be informed of the charges filed against him.
Earlier, Senior Assistant Director of Public Prosecutions Emily Kamau opposed the deferral of the plea, saying the suspects were aware that they were under investigation and ought to take plea. She asked the court to issue an arrest warrant against Bikundo for disobeying court summons. "The pre-trial procedures were carried out by EACC and all the suspects knew that they were supposed to be before court," Ms Kamau submitted.
She said the Director of Public Prosecutions and EACC were aware of the case before the Kajiado court but she noted they were two different transactions. However, the magistrate allowed the request by the defence to give the five suspects time to study the case documents with a view to advising them on the charges they are facing.
"After carefully listening to the arguments advanced by the defence, there will be no prejudice in allowing the suspects to study the charges leveled against them. But this will be subject to conditions and timelines by the court," Mugambi said.
He directed each of the suspects to deposit Sh100,000 or execute a Sh500,000 bond until June 9, when they are expected to plead. Bikundo was also ordered to appear in court on June 9.
Uwezo Fund seeks Sh6b for new cycle
The Uwezo Fund Oversight board is seeking Sh6 billion from the Treasury for the next financial year following an increase in the number of applicants seeking loans.