DNA mismatch of Westgate terror suspect deepens mystery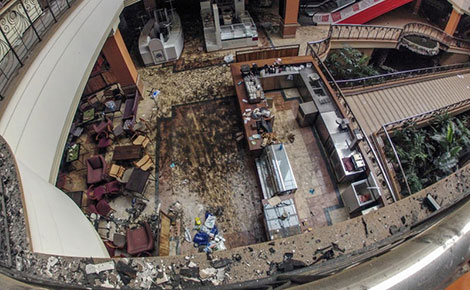 An aerial view dated on September 30, 2013 shows inside the Westgate Mall in Nairobi after the deadly assault by armed terrorists. [PHOTO: STANDARD /FILE]
DNA samples collected from bodies of suspected terrorists said to have been killed at Westgate Mall during the terror attack a year ago have failed to match with the family of the man believed to have led the group of terrorists, The Standard on Saturday can reveal.
Although year-long investigations have strengthened initial intelligence and evidence that Abdi Hassan Dhuhulow a.k.a Hassan Abdi, was the leader of the attackers, the mismatch in the DNA has raised more questions in the unresolved mystery.
Security agents have told The Standard on Saturday that a possible match would have made the first major breakthrough in the investigations leading to new insights.
Sources within the Norwegian Police Security Service (PST) said the DNA mismatch is a big blow to an investigation characterised by lack of fresh angles.
The name of the 23-year-old Dhuhulow, who lived in Norway, is contained in a leaked report prepared by PST that is expected to be released as part of events to mark the one year anniversary of the terror attack.
Early this month, the Norwegian Broadcasting Corporation also reported that Dhuhulow was the leader of the terrorists who attacked Nairobi's Westgate Mall on September 21 last year.The news report quoted unnamed sources.
The Norwegian Police and intelligence agency are some of the international security agencies involved in trying to unearth the mystery for the past year. So far, Kenyan investigators have failed to make any headway into the investigations.
PST launched investigations into the Westgate Mall attack immediately it happened. Earlier investigations revealed that a Norwegian of Somali origin, Abdulkadir Mohamed Abdulkadir, also known as Ikrima, who is a commander with the Al Shabaab in Somalia, received calls from the terrorists inside the mall as the siege went on.
In the recent past, Norway has been facing a growing problem of religious extremism and radicalisation of youth who travel to join militant groups in various parts of the world, including Somalia and Iraq.
According to Lars Akerhaug, author of the book Lars Akerhaug, security agencies have been keen on the Westgate Mall attack due to the involvement of terrorists from Norway. "Issues of radicalisation and exporting of terrorists to various parts of the world is now a great concern to Norway," Lars told The Standard on Saturday in an interview.
Like Dhuhulow, Ikrima was also based in Norway where he arrived in 2004 and applied for asylum. While living in Oslo, he made frequent trips to Somalia where he got acquainted himself with the Al Shabaab.
On October 5 last year, US Special Forces failed to capture Ikrima in a raid in the Somali town of Barawe. Reports show that Dhuhulow first arrived in Norway on September 1, 1999 with his family. He grew up in Larvik, a small coastal city in Norway.
It is said that his childhood was troubled, as he was mostly a loner at school and was often involved in fights with other kids.
At the age of 16, he started spending a lot of time at the local mosque and also voiced support for Al-Shabaab on online forums. After finishing high school in 2009, he travelled to Somalia.
His sister says they never heard from him for two years.
Since that time, his whereabouts have not been well documented. But it is believed that he was most probably in Somalia in 2013, then he sneaked into Kenya and executed the Westgate attack.
Norwegian media has reported that during the attack he allegedly called his family in Norway but his sister denied such reports.
Dhuhulow's sister told The Standard on Saturday in a phone interview from Norway that his brother has never communicated with her for the last two years.
But she confirms that the CCTV that captured a man shooting inside Nakumatt Westgate was Dhuhulow.
Police are now investigating whether Dhuhulow's real family lives in Somalia and Norway.
Investigations have established that he used to send money to Somalia to a lady believed to be his mother in Somalia. Dhuhulow has written online that his mother lives in Somalia.
With this new information, security agencies will have to change their strategy to help them solve this mystery.