Questions as Kenya police reshuffle dead officer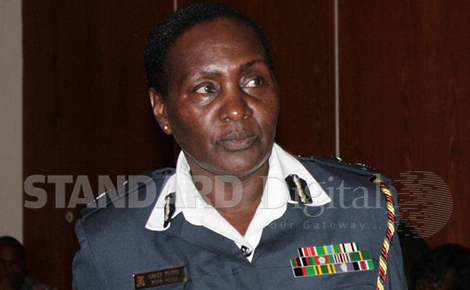 Deputy Inspector General Grace Kaindi oversaw the reshuffles. [PHOTO: COLLINS KWEYU/STANDARD]
NAIROBI, KENYA: There was shock over the recent transfer of senior police officers when it emerged that one of them had long died.
On July 31, Deputy Inspector General of the National Police Service, Grace Kaindi, reshuffled more than 20 officers across the country. But strangely, the name of Paul Oduor Imbaya, who died in a road accident, was on the list of those affected.
The officer died in June and was later buried in his Ugenya home. The glaring error brought to the fore long-held perception of corruption within the police service. It also raised questions about the reliability and security of the police payroll.
In the changes, Oduor was to move to Central Division in Nairobi as the officer in charge of traffic. His last station before he died was in Laikipia Division, where he headed the personnel section.
"This calls for a thorough look into the police payroll because it shows there could be ghost workers," said a senior officer.
Police headquarters said Thursday they were aware of the mistake and the matter was being rectified.
"It was wrong, but we have taken measures to correct the situation for now," said a senior officer who asked not to be named for fear of being victimised.
Whenever a police officer dies, a signal is dispatched to police headquarters indicating the death. Among those transferred were Alexander Mumo, who was moved from Salgaa.
He was replaced by Walter Kiptala, formerly the OCS Wilson Airport, while the new traffic boss for Narok is Jane Nyaga. The new traffic boss for Kisii is Joseph Nzomo and Kikuyu has Margaret Magiri.
Others include John Lugala (Embu), Daniel Sabimbi (Ruiru), Philip Mwangi (Gigiri), Margaret Munini (Nyamira), Rajab Munga (Meru Central), Joseph Mwangi (Nakuru) and Naomi Muturi (Gucha). The new OCS, Wilson Airport is Abdi Sasura, while the Deputy OCS, Lonyangalani is Francis Muthama.
David Nyakundi was moved to Laikipia Division to be in charge of personnel, Peter Nzioka (Manga), Said Hamis (Wilson), Julius Okombo (Rachuonyo), Elizabeth Wakuloba (Diplomatic Police), Mumo (Moi Airport), Jama charge of Akila Police Post in Nairobi.