Cord criticises President Uhuru Kenyatta's pay cut terming it populist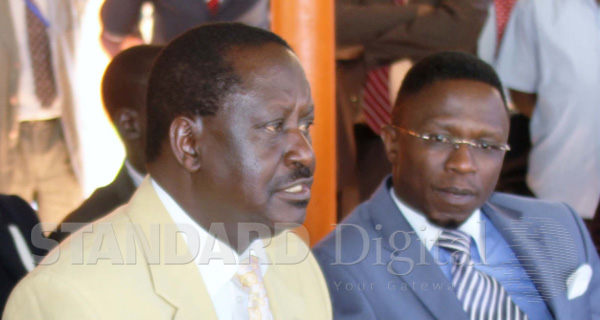 Cord leader Raila Odinga and Budalang'i MP Ababu Namwamba, they are among those who have termed the Jubilee pay cut as populist. [PHOTO: STANDARD/FILE]
BY ERIC LUNGAI
VIHIGA, KENYA: Coalition for Reforms and Democracy (CORD) principals and other leaders from Western Kenya have criticised the move by President Uhuru Kenyatta and his deputy William Ruto to cut down their salaries by 20 percent terming it as populist politics.
The leaders said that the move was a cleverly crafted plan to plunge civil servants into hard times, as their salaries will be cut, yet the cost of living remains the same.
Speaking during a memorial service for the eight victims who perished in a grisly road accident in Vihiga County two weeks ago at Musitinyi primary school in Luanda constituency, the leaders said that President Uhuru is taking Kenyans for a ride.
"The 20 percent pay cut is a farce. President Uhuru should reduce the cost of living first for the people, and then he can come in and tell us that he wants to review their salaries. Otherwise this is a move to make Kenyans suffer even more, when they are already shouldering a difficult burden," ODM leader Raila Odinga said.
The ODM leader said that there are proper mechanisms of controlling the economy other than making the entire population to suffer.
Vihiga Governor Moses Akaranga, Senators George Khaniri (Vihiga) and Moses Wetangula (Bungoma), MPs Chris Omulele (Luanda), Wilbur Ottichilo (Emuhaya) and Ababu Namwamba (Budalangi), among other leaders were present.
The debate had been kicked off by Namwamba who said that the move by President Uhuru to cut his pay by 20 percent was only populist politics which Kenyans are tired of riding on.
Wetangula said that the Jubilee government had scored below per in everything in their first year, and thus they wanted to ride on populism in ruling the country.
"Let the Jubilee Government cut down on cases of corruption in its hierarchies, and offer proper service delivery to the Kenyans who are suffering instead of playing monkey tricks. Look at everything in the Jubilee Government, all their performance can only score a zero," Wetangula said.
Raila said that life was hard for many Kenyans and Uhuru should seek for advice from experts like him on matters to do with running an economy.
"When we were in power with former president Kibaki, we tried our level best in making sure that many Kenyans were comfortable. If Uhuru has been defeated with ruling the country, he should therefore look for us and consult," he said.
Akaranga and Khaniri asked the president to hasten in lowering the cost of living for the people, at the grassroots level.
On Friday, president Uhuru cut down on his pay by 20 percent, same to deputy president William Ruto in a move that is to see other civil servants face a pay cut.
The leaders also jabbed at the efforts by the national government to check devolution, saying that that was a move to kill it so that people do not benefit.
Raila said that the constitution which he had helped with former president Kibaki to bring into existence was being trounced upon by the Jubilee Government which never supported it in the first instance.
He said that so far, the national government is allocated more than 85 percent of the total revenue, and only 15 percent allocated to the counties, yet certain individuals are so keen in killing devolution that they would do all they can to portray governors negatively.
"What are we not being shown how the 85 percent allocated to the national government, is being utilised and instead we are only closely following the 15 percent managed by governors? If a governor misappropriates funds, deal with an individual, not the entire devolution," Raila said.
Akaranga said that the means that the government is using may after all kill devolution in the long run, if the MPs do not help and check them in time.
"If someone wants to kill something, they start from very far, coming from different directions and with different theories. Let devolution not fall prey to this," he said.
Wetangula said that the government was using the offices of the Controller of Budget and Auditor General to negatively portray the counties, so that they can slowly kill devolution.
"Uhuru doesn't believe in devolution. He wants everything to be controlled from Nairobi so that people would continue going there to beg him," he said,
The leaders told Kenyans to shun the reports being released by some quarters on the performance of governors because money to the counties was released late, and that procurement procedures are tedious.