Meru families rendered homeless as beer-thirsty kin sell all land
COUNTIES
By - | Mar 30th 2013 | 5 min read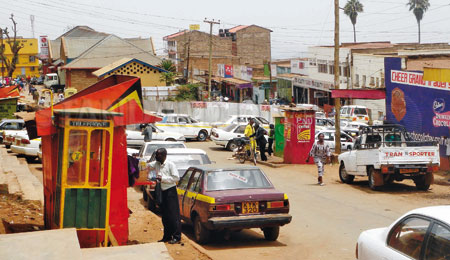 A section of Meru town. [PHOTOS: FILE/STANDARD]
By Juma Kwayera
KENYA: When one local den for bootleg liquor in Igoji East closes every midnight, three regular clients do not leave.
The three, an elderly man and his two sons, stay behind in the hope the owner of the joint will allow them to shelter there for the night.
They belong to a new generation of destitute people, who became homeless on their own volition. The three were once residents of Mukuune village in Kianjogu sub-location, Igoji East Location in Imenti District. They are part of an everyday narrative that is peculiar to Meru.
Instances of entire families being forced into homelessness after selling off their ever-shrinking farms are an emerging social issue for the area, provincial administrators say.
Chief Eugenio Guantai of Igoji East location admits cases of families selling land pose a security threat in the area. It creates armies of destitute people who survive by either begging for alms or stealing.
Too late
"The problem is that families come to us when the deal is already sealed," Guantai says. "Only when they exhaust the proceeds of the land sale do they realise their situation."
He, however, adds that State officers can only help where the transactions are entered into fraudulently or without the knowledge of key parties.
"When someone has a title deed he can do anything with his parcel of land," he says.
"We cannot interfere because the sale is executed on the basis of willing buyer-willing seller. It is a private matter. We come in only when there is a dispute, or to confirm that the transactions were legal."
The land is disposed of in "points", a reference to parcels measuring a fraction of an acre. This follows repeated sub-divisions due to inheritance and previous sales. The piecemeal sale presents fresh challenges as land policies that block subdivision come into force. The policy provides that agricultural land cannot be subdivided to less than 2.5 acres. Says the chief: "The advisory role of the Provincial Administration is largely ignored by people selling land. We get involved when there is a dispute."
The number of young mothers left at the mercy of penury by husbands is on rapid increase. Their parents, if they are lucky, take in the young mothers. However, a majority are left to fend for their children as wayward husbands disappear with the proceeds from their land sales.
Meru is agriculturally endowed. Coffee, tea and macadamia nuts are the main cash crops, while bananas, oranges and mangoes are subsistence crops that do well in the rich volcanic soil at the foothills of Mt Kenya. Yet, as in many other parts of the country, young people no longer work on farms.
"I will only work on the farm when a hoe or machete with gears is invented," says one youth we spoke to. "Why would I waste my energy tilling land?"
With the cost of mechanised tilling still prohibitive, farm labour is still on demand. The consequence? Meru's labour is imported from as far as Isiolo, some 200km north of Meru town, Tharaka Nithi or Embu, for which farm owners pay hefty wages. The story is told of a son of a former Igoji chief who, upon his father's death, began by selling coffee bushes on the land he inherited as firewood. He then chiselled it out in 'points' to his neighbours.
His brother, an agriculture teacher at a local secondary school, has also sold a portion of the land he inherited and leased out the rest for over 10 years. He is now the proud owner of a motorbike taxi that supplements his Government salary.
Land surveyor Kabii Mugambi, tells of how the new crop of Meru's homeless people are socio-economic puzzle for the Government and society. "This is a breed of lazy young people who do not want to work," says Mugambi, who is often called to survey the land once a transaction is executed.
"They see land as ready money, not an asset for wealth generation. When they want to sell it, they use excuses like they want to buy boda boda, pay hospital bills or school fees, yet they have no parental responsibility."
Dangerous sons
Sons who cannot compel their ageing parents to sub-divide family land while they are alive are increasingly notorious for secretly selling land. Most owners of agricultural land in the region are aged over 70 years. They choose to administer their estates personally rather than trust their sons with the task.
"Elderly people who own the land would rather they die without having written a will to subdivide their land," Mugambi says.
Other families are in a frenzy to dispose of their farms under the pretext of investing in moving goods. In Mituune and Kianjogu sub-locations alone, The Standard On Saturday counted more than 20 farms sold in the past year. The most popular investment, according to Gitonga, a motorbike taxi operator, is the boda boda business. Like most parts of Kenya, Meru is experiencing a burgeoning invasion of boda boda (taxi motorbikes) transport.
Gitonga, a resident of Kinoro village, talks of at least five neighbours who recently sold their farms, but now live in the streets after they squandered the proceeds from sale of land. The lure of a luxury life is tempting, he says.
"The appetite for good living has hit crisis levels," he says.
"The people who sell land want to have money in their pockets. They want to live like people who work in big offices or run big businesses. Little do they know such people have surplus money to spend on luxuries."
Guantai agrees sale of land in his area is a serious enough problem that has acquired "regional disaster" status and in the process triggered an exodus from villages to shopping centres.
Meru satellite towns like Chuka, Chogoria, Nkubu, Igoji and Maua are absorbing an increasing number of the homeless kind. The phenomenon explains the rising population of the homeless in larger Meru, which Kianjogu sub-chief, Mr Thomas Mbaabu, says correlates with dramatic rise in prevalence of sexually transmitted infections.
Mbaabu attributes escalation of alcoholism and HIV to readily available mugacha and kabondi – the local bootleg liquors.
At the St Anne Hospital, Igoji, the nurse in charge of sexually transmitted infections Mary Chauria, says, although the hospital lacks fully-fledged comprehensive care clinic exclusively for the HIV cases, the facility takes care of inpatients in need of treatment for opportunistic infections.
"There have been a few cases where families have had to sell land to foot hospital costs," she says. "Overall, the sexually transmitted infections are on the rise, but it is difficult to attribute the phenomenon to sale of land."