Parents' joy as kidnapped son finally rescued
COUNTIES
By - | February 2nd 2013
By Peterson Githaiga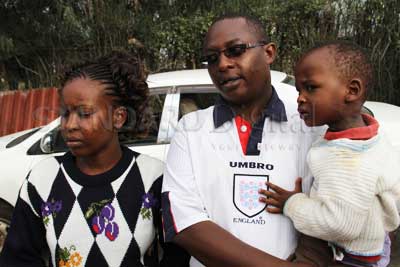 The parents of Belvid Njenga hold their son shortly after he was rescued on Friday. [PHOTO: PETERSON GITHAIGA/STANDARD]
KENYA: Police in Kitengela have rescued a boy who was kidnapped on Tuesday afternoon from a hideout in Ruiru, Thika.
Four suspects, including a woman, were arrested and are assisting the police with investigations.
In a joint effort between regular and plain clothes police the officers also confiscated the vehicle, a Toyota saloon NZE registration KBX 229C that was involved in the kidnap saga.
Relatives and friends of the kidnapped child went to the police station after the boy was found.
The boy's mother, Esther Wanjiku, had to be assisted when she collapsed at the police station after receiving the good news.
Three days of agony
It was three days of agony for Ms Wanjiku and her husband Julius Njenga, since their only son Belvid Njenga was kidnapped from their rental house in Kitengela town on Tuesday afternoon.
According to the police, mobile phone companies Safaricom, Airtel and Yu provided the much-needed data required by them before they swang into action.
Area OCPD Simon Kiragu confirmed the incident and thanked the officers for their efforts to rescue the minor.
"My officers could not even eat or sleep before the mission was over, this is a great effort,'' said Kiragu.
He said the police traced the car the gangsters used for the operation in Nairobi's Zimmerman Estate from where they obtained a lead to the hideout and arrested the four suspects.
They were arrested at their base at a farmhouse around the intersection of Thika Road and a by-pass and the mobile phones they were using to demand the Sh1 million-ransom from the family confisticated.
Late Tuesday the police had arrested the family's house help, 30-year-old Ms Jacinta Makena and placed her in custody.
Police said, after being interrogated, Makena revealed that one of the suspects in the kidnap ring was her boyfriend.
Speaking to the press outside Kitengela Police Station after the rescue, the relived parents said, "It has been three days of pain and hopelessness for us as a couple after losing our first-born to kidnappers. God is great," Njenga said as his wife shed tears of relief.
Housemaid involved
The young mother said the gangsters demanded Sh1 million on Tuesday evening but dropped the amount to Sh600, 000 the following day, saying they would kill the boy if the money were not availed immediately.
"We suspected the housemaid was involved in this saga as she kept giving contradicting information to the police," said Njenga.
Police are still investigating the circumstances that led to the kidnap as the suspects who are now in police custody await their fate.