Learning basic first aid skills in school can be a matter of life and death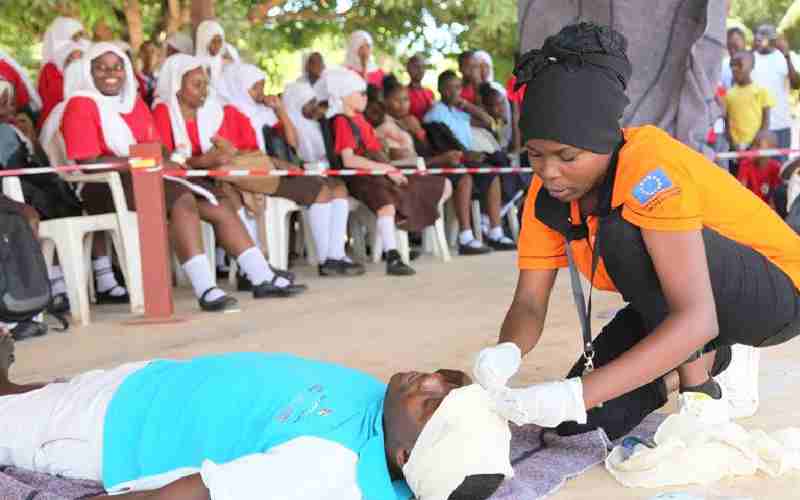 The incident of a Danish player, Christian Eriksen, collapsing in the pitch during a football match against Finland in the ongoing UEFA Euro 2020 was chilling, to say the least. It took the swift action of his captain, Simon Kjaer, to resuscitate him. Doctors averred that it was these first few seconds that saved his life.
I didn't want to imagine what could have happened if this incident had happened here at home–in the stadium or at a school. The odds would be stacked against the victim. Why? Because we are, generally speaking, a population acutely lacking in skills that could be the difference between life and death.
And guess where the gap is? Yes, your guess is as good as mine; our school curriculum. Such knowledge is not regarded as essential, with our educators preoccupied by 'more pressing needs'.
In our pursuit of stellar grades and good rankings–mostly for bragging rights or promotions–we have pushed vital life skills like first aid and leadership skills to the back burner. That's why we have many lives lost during road accidents, or fire incidents, or drowning, or choking, or someone fainting from low sugar levels, or collapsing from a cardiac arrest, or hypertension, just to scratch the surface. Basically we are ill-equipped at handling emergencies.
And we are doing very little–if anything at all–to develop strong leadership skills. We imagine a leader is a politician. Yet the captain of the Danish side demonstrated strong character and leadership qualities during that incident; not only being equipped with requisite skills and confidently employing them to save a life, but also instructing his team mates on what to do (forming a shield around their compatriot to prevent any filming) and comforting his distraught family when Eriksen had been whisked away.
Both teachers and students should and must have knowledge on cardiopulmonary resuscitation (CPR) and basic first aid. The Teachers Service Commission and the Ministry of Education should invest in capacity building in terms of equipping teachers to handle emergencies–medical or otherwise.
In England, for instance, the Department for Education confirmed that first aid was to be added to the school curriculum from last year. All state-funded schools will be required to teach CPR and first aid as part of children's health education. Various organisations and foundations in the UK have argued for over a decade on the need to learn life-saving skills and here's why: more than 30,000 cardiac arrests occur out of hospital every year in the UK, and fewer than one in 10 people survive.
Evidence shows that survival rates from cardiac arrest are up to three times higher in countries that teach CPR in schools. For example, if the UK could match the survival rates of Norway where CPR is routinely taught in secondary schools, then it would be possible to save around 5,000 lives per year. According to The British Red Cross, "up to 59% of deaths by injury could be prevented in the UK if first aid was given prior to the arrival of medical services." The decision to add first aid to the curriculum was finally taken after Lord Kerslake's inquiry into the Manchester Arena bombing in May 2017 found that members of the public tried to help the injured and the dying, but lacked the requisite skills. Whilst the inquiry into the blast, which killed 22 people, praised the public response, it raised concerns that people on the scene were "trying their very best in genuinely harrowing circumstances," but "did not appear familiar with first aid principles."
Disease burden
First aid training is a cost-effective way to decrease the burden of disease and injury in low- and middle-income countries (LMIC). Since evidence from Western countries has shown that children are able to learn first aid, training them may be a promising way forward. In sub-Saharan Africa, approximately 5.1 million deaths each year are attributable to conditions that could have potentially been addressed by pre-hospital and emergency care, which is acutely underdeveloped in the majority of LMIC's.
In this light, first aid training is promoted by the World Bank as a cost-effective way to decrease the burden of disease and injury. To support the development of materials to train children in first aid, and to facilitate the integration of first aid training into the school curriculum, an educational pathway may be a useful tool.
In addition to the importance of the child's age, the teaching strategy used during first aid training also affects the child's knowledge, skills, and attitude. Evidence-based education research, based on many meta-analyses has shown that classroom methods such as cooperative learning, and feedback or problem-solving methods are effective at improving learning. As we roll out the CBC, the curriculum should not only equip students but also teachers, with requisite life-saving techniques like first aid skills.
Equally important, instilling leadership skills to students should be given priority. Leadership is a fundamental life skill and plays an important role in every aspect of a student's life. Students go through many stages in life for career development where they need leadership skills. In the modern world, students are facing many career challenges, employment problems, and conflicts between idealism and pragmatism.
That's why they need leadership skills to accept challenges, solve problems and analyse career direction. It's important for students to experience leadership opportunities during their schooling, to learn the art of building relationships within teams, defining identities and achieving tasks effectively. It also provides an opportunity to learn to identify and display effective communication and interpersonal skills.
Teaching children empathy is more important than ever. And empathy is the most fundamental tenet in leadership. The ability to put yourself in the shoes of someone else and understand what they are feeling or experiencing is a vital life skill which our curriculum should equip the learners with. In the early years of life, young children are naturally ego-centric and are very much inclined to think mostly about themselves and their immediate needs. They're not yet ready to consider the needs and feelings of others. But developing a sense of empathy is an important developmental process for young children, and one that can benefit them not only in childhood but well into adult life as well.
Why is developing empathy important for children? Building an understanding of what others are feeling, how their own actions can impact on others, and why someone might be experiencing feelings at a particular time is a valuable life skill for children to possess. This is what must have been top in the mind of Simon Kjaer, the Danish captain, when he ensured that Ericksen was not being filmed at his most vulnerable time, and that his family was duly comforted through it all.
Sense of empathy
Helping young children to develop a strong sense of empathy is beneficial on account of helping them build a sense of security and stronger relationships with other children and educators, positioning them well for learning. It encourages tolerance and acceptance of others. The benefits of empathetic thinking flow into adult life too. Empathetic adults may have greater success personally and professionally. A better ability to understand others, like customers or co-workers, success in leadership positions and more satisfying relationships. In a nutshell, developing empathy is a vital building block in a child's ability to regulate their emotions and is so valuable in being able to adapt and succeed in an ever-changing world.
Childhood is a wonderful time of life when the desire and opportunity to learn are both endless and uninterrupted. Thus, when it comes to training the young minds and inculcating life lessons in them, we should always believe in the axiom of 'catch them young.' The earlier we teach them the skills, the more prepared they are in using those skills all through their lives. And, out of the multitude of skills and lessons that our children learn during their time at school, one of the most important abilities they should develop is that of working with others, and being a part of a team, and being able to save a life when need arises.
Most modern businesses have employees from all races, ethnicities, beliefs, and backgrounds, and anything can happen any time.
If we don't teach our children the value of teamwork from a young age, these multitude of miscellanies will simply make them feel lost and confused, which can affect their professional growth adversely. Our learning institutions need to place a premium on the teaching of these vital life skills, which ought to be embedded in the curriculum.