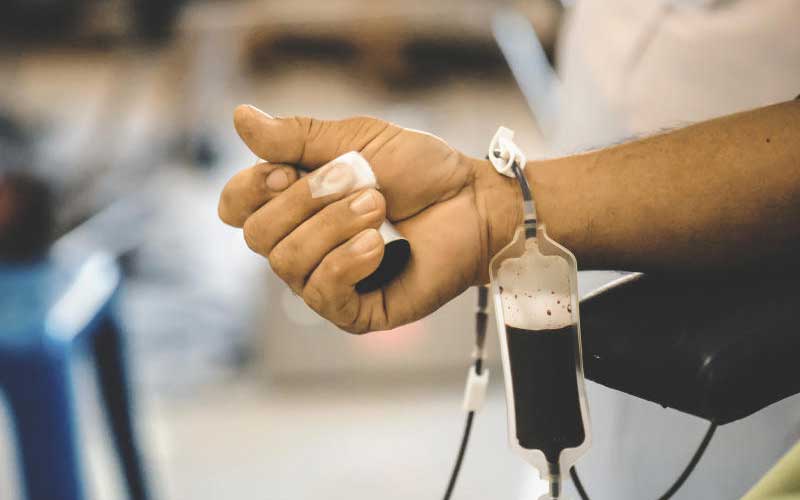 Imagine that your wife or sister leaves home for hospital to give birth, you have joyously been awaiting this day. Then joy turns into despair as you watch helplessly. She dies from maternal bleeding.
Also imagine that your partner leaves for work and doesn't return. He was involved in a road accident. You arrive in hospital too late to say goodbye and soon learn that he died due to loss of blood.
Imagine your parent is admitted to hospital due to cancer and requires blood and blood components to survive. However, there is insufficient blood in the hospital and components are not available. You might only imagine these scenarios, but many others on our continent are living them, far too frequently, and they could be prevented with a safe, adequate blood supply.
Blood is an indispensable component of any health care delivery system in the world. Globally, the demand for blood outweighs its supply and the challenge is even greater in sub-Saharan Africa where access to safe, adequate blood supply is low.
Read More
The World Health Organisation includes blood and blood components on its essential medicine list, but very few countries across the African continent have prioritised blood supply in policy and health discussions.
The challenge has been exacerbated by inadequate funding to manage blood services and cultural norms against blood donation by many Africans.
Innovative solutions
The highest proportion of blood transfusion in Africa is given to children with severe anaemia resulting from malaria and malnutrition, followed by women with pregnancy-related bleeding.
There is also a high mortality rate due to traffic accidents. All are evidence of the magnitude of the unmet need for blood.
One of the most important strategies to address these perennial shortages is to form partnerships and collaborations across the public and private sectors to generate innovative solutions. For far too long, many African countries have relied on donor funding to manage their blood services.
The result has been a weakened blood transfusion capability due to lack of sustainable resources to manage blood services. What is clear, though, is that a challenge of this scale cannot be solved by any single entity but requires the concerted effort of multiple stakeholders. The Coalition of Blood for Africa (CoBA) is one such organisation that was set up this year to address the challenges of blood services in Africa.
Led by the passion and efforts of Terumo Blood and Cell Technologies, the coalition brings together the public and private sectors across the continent to find solutions through research, advocacy and technical support to address the needs of blood supply on the continent. One of the first assignments of the coalition will be to address the challenges of access to blood supply brought by the Covid-19 pandemic.
Cancer patients
In sub-Saharan Africa, approximately 70 per cent of blood collections are from students in public schools and blood drives at local markets, places of worship and civic centres. In response to Covid-19, many governments in Africa shut schools and restricted social gatherings for an indeterminate period.
As a result, blood banks are collecting up to 80 per cent fewer donations, putting thousands of new mothers, cancer patients, children with sickle cell disease and others who need life-saving blood transfusions at risk.
The World Health Organisation (WHO), through the Millennium and Sustainable Development Goals, is advocating to improve blood supply and safety, but it is still not enough.
We can no longer sit by in the hope that others will fix the problem.
The first step is ensuring the right mechanisms are in place to collect blood, then encouraging voluntary, non-remunerated blood donors to come out and develop a culture of donation.
Lastly, governments should invest in technologies that can produce blood products for the treatment of various illnesses such as cancer.
Africa has all the resources to meet the blood demand in the continent. What is needed is a more concerted effort and awareness on the importance of blood in saving lives.
This can only be a reality through partnerships such as CoBA, as governments alone cannot address the challenge at hand. Citizens, the private sector, technology companies, donor organisations, academia and healthcare professionals all need to come together and be part of the solution.
-Ms Mugyenyi is Government Affairs Manager, Sub-Saharan Africa at Terumo Blood and Cell Technologies