Obey Covid protocols to protect health workers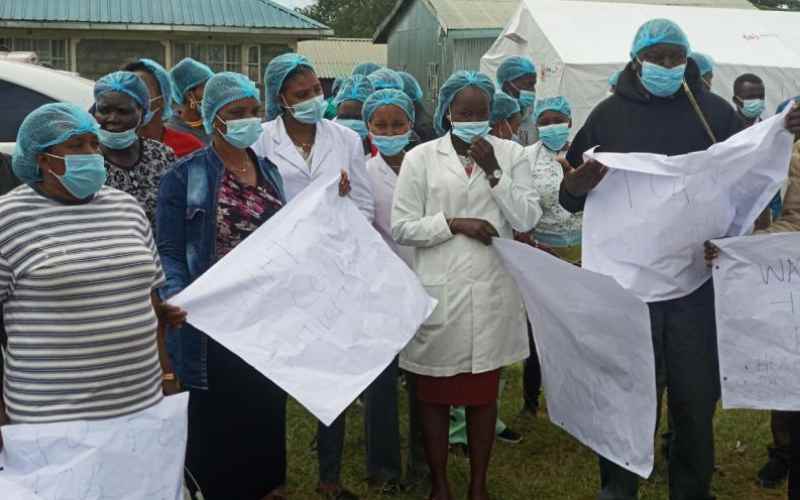 Historically, specific citizens have made sacrifices that have brought lifesaving positive change, glory and honour to our country in general and our counties in particular whether as individuals or groups.
Without regard for tribe, ethnicity or economic status, these heroes and heroines emerge to make personal and communal sacrifices akin to those made by our forefathers in the pre-colonial period to birth the nation-state of Kenya.
In the face of the raging novel coronavirus, our modern-day heroes and heroines are without a doubt the frontline health service providers in our hospitals.
These individuals are even paying the ultimate price while working around the clock to ensure we are safe.
While some have not joined their loved ones in a long time to protect them from possible infection after they are exposed to the virus, they are called upon at odd hours to respond to the emergencies related to the virus infection constantly and continuously.
Long before the nature of the virus was understood, these health workers risked their lives and exposed themselves to the sick despite the uncertainties and risks involved.
While the rest of us should socially distance from others, these frontline health workers can't do so because they are required to constantly offer health services to the infected.
The other heroes and heroines within the health sector who have made great sacrifices during this pandemic are the Community Health Workers.
The outstanding role this cadre has continued to play in contact tracing for those associated with Covid-19 index cases, the provision of vigilance for those travelling into and outside the villages during this pandemic and the voluntary health services they continue to provide in the wake of limited human movement, have significantly suppressed the potential spread of the virus thereby leading to its containment.
The frontline staff at our major testing centres for Covid-19 samples also merit space in the heroes' list.
Exposing themselves to potential index cases of the virus, these health workers conduct tests under very risky circumstances, work at odd hours to deliver on timely test results and stay for hours on end from their loved ones to protect them from infection which are heroic deeds in themselves.
While the county governments and the national government have endeavoured to support these heroes in their efforts to keep the novel virus at bay, more needs to be done particularly at an individual level to support their efforts.
Through procurement of personal protection equipment, securing quarantine facilities across the counties, construction of isolation units, and provision of intensive care unit beds and making available oxygen at the various health facilities, the constant support to these heroes must intensify by governments to protect their efforts.
Yet, the ultimate support that these heroes and heroines need is that we respect the protocols and guidelines issued by the World Health Organisation and Kenya's Ministry of Health. It is only by constantly washing our hands properly, keeping social distance, appropriately wearing on our face masks and travelling only when absolutely necessary that we will protect those working in our health institutions.
These simple steps will ensure we don't catch nor spread the virus thereby eliminating the chance to even visit health facilities in the first place.
It is the highest form of patriotism to protect those who protect us by doing what we can do instead of pointing fingers.
This calls for personal discipline and responsibility even as the world battles this highly contagious virus.
What you and me do today could mean lefe or death for millions of others.
-The writer is the Siaya County Governor