Too much ado about China's presence in Africa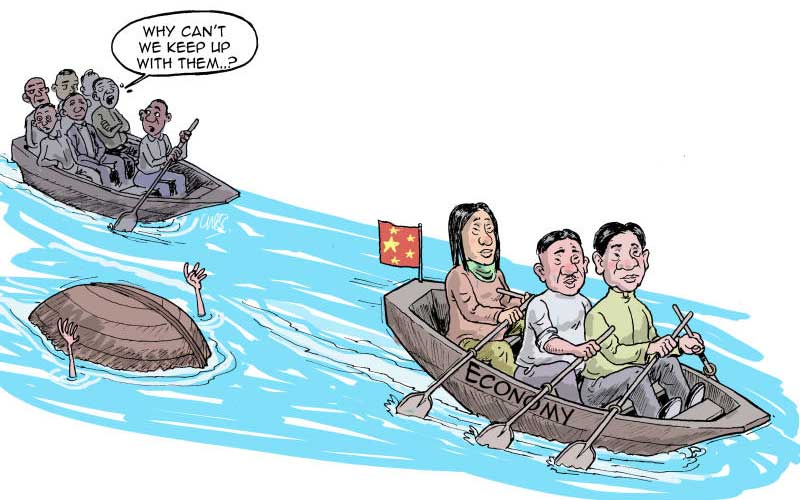 There have been numerous reports, commentaries and outright speculations about implications of China's economic relations with countries in the global south. Allegations of debt trap and possible asset seizures are some of the tropes that feature prominently in the new discourse about China's ties with various African capitals.
Before criticising China for extending development assistance to Africa or condemning African countries for turning to China to achieve its development aspirations, it is important to frame the context well.
Following independence from European colonial powers, African countries experienced decades' long development stagnation mainly characterised by limited funding opportunities from the international financial markets. When funding was made available, it was often at the behest of debilitating conditions such as the infamous structural adjustment programmes.
Africa was increasingly falling behind, with dilapidated or non-existent infrastructure, low agricultural productivity, poor connectivity to energy and communication the grids, fragmented markets and a weak industrial base.
Meanwhile the population was increasing, millions of children were kept out of school and millions more were slipping through the poverty net. All the while, the so called traditional partners of Africa were simply watching or busy destabilising promising countries while extracting precious commodities from the continent.
Many of the strong western powers never considered Africa as the place for doing business. Africa was simply an expansive goldmine and buffer zone to achieve national security objectives.
Enter Beijing
Then comes China, at the turn of the century. The launch of Forum on China-Africa Cooperation (FOCAC) in 2000 would prove to be a game changer in many respects. Just in nine years, China became the largest trading partner for the continent; providing affordable products that hitherto remained out of reach for many people across the continent.
China's development assistance to Africa has given impetus to the continent's socio-economic transformation across many sectors. Take the energy sector, for example. The International Energy Agency estimates that 30 per cent of green energy installed in the continent between 2010 and 2015 was powered by Chinese contractors. For a continent 580 million people did not have access to electricity in 2019, the Chinese contribution is simply enviable.
The same can be said of Africa's infrastructure sector. Major highways, ports, and railways have been actualised, thanks to Chinese money, technology and to a less degree, labour.
Such investments now raise the prospect of sustainable implementation of African Continental Free Trade Area and other development initiatives under the auspices of Africa Agenda 2063.
Since 2000, China has also extended over 120000 scholarship opportunities to Africans. With a shift from trade in goods to industrial cooperation, these young Africans will play even a more important role in hoisting the continent's development programmes.
A more practical example of the utility of the Sino-Africa ties was the recent synergy against Covid-19 pandemic. China was the main source essential commodities needed in the pandemic fight. Beijing is also helping construct Africa's Centres for Disease Control and Prevention headquarters.
But there is something even more fundamental in the deepening ties between China and various African capitals – ideological amity. Both China and Africa went through much humiliation in the hands of foreign powers. For a long time, China and Africa were home to the world's poorest. Today, China has lifted over 850 million out of poverty, without walking the path chalked by external powers. China is a powerful example to Africa, in this respect.
Like any other relationship, the ties between Africa and China are not without blemish. However, to dramatize and politically exploit the vulnerabilities in the cooperation risk scuttling enduring interests of China and Africa. Questions about debt can, for example, be resolved without loss of sovereignty – something that China has indicated and committed to.
-The writer is a scholar of international relations with a focus on China-Africa relations