'Outsiders', 'natives' and Kenya's bloody elections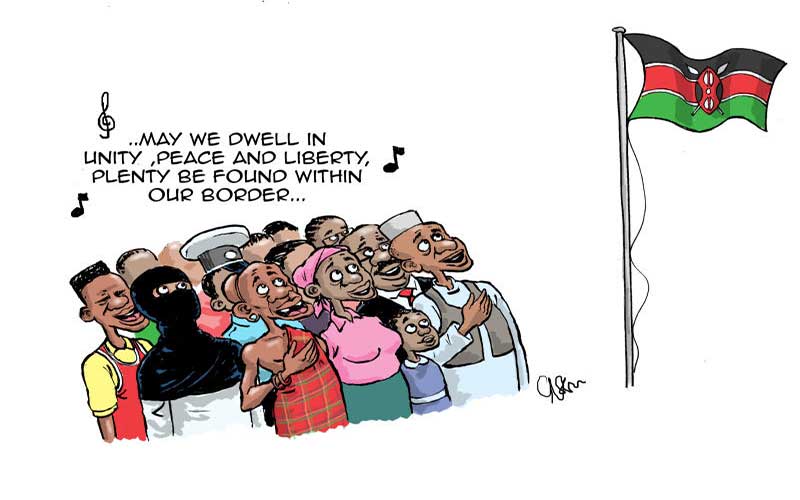 By reading Francis Atwoli's Biography, Fame Force and Fury, one cannot stop reflecting on one man with a complicated discourse of belonging. Born in Butere and raised in Nairobi as a teenager, nowhere was it felt more a young man's world than his second home in Nairobi.
Here he defined his choices. He circulated on the periphery of power. Determined to remain a Luhya, he tried to put one leg in Butere and another in Nairobi.
He transfixed the imagination of the Kenyan middle class as did no other figure of the time. With his squeaky voice, his overpowering grin, and his incurable delight in self-dramatisation, he brought everything he touched to life, it is from Nairobi that his energy cascaded everywhere. Today, he is caught up in a great web of dilemma - his tenacious advocacy has turned his Kajiado home into a melting pot of pervasive politics.
2022 is here, same noises, the beating of drums of war; a tribulation period of uncertainty, despair and trepidation. The same old questions pop up all over again: Can a Kenyan live freely anywhere in the country where he or she wishes to regardless of ethnicity, religion or colour? Who belongs to or owns particular areas in Kenya? Who were the first arrivals in Kenya? Are newcomers welcome to those 'sealed-off' areas, and what does the Constitution say about this issue?
Ethnicity is a seductively useful frame in Kenyan politics. The politicisation of ethnic identities has increasingly become a fashionable tool for voter mobilisation and brought to focus the migration of one ethnic group into areas dominated by another.
These migrants are always referred to as 'newcomers', 'outsiders' or even madoadoa (blemishes). Do such people have rights to live anywhere freely, or are those rights not often appropriated by the local ethnic leadership, and then used as carrot and stick at the right moment?
Phoenicians, Romans
A remarkable fact is that all the people, now known collectively as Kenyans, are relatively new arrivals to the geographical Kenya. The Arabs, Indians, Phoenicians, Romans and the Chinese who landed at the Kenyan coast between AD 320 and 1100 found no 'Kenyans' in Kenya.
It may be correctly argued that the 'real' indigenous Kenyans are the Dorobo, the Waata, Sanya, Gumba, the Endorois and the Tatog who were later followed by the Bantu and then the Nilotes. The Nilotes later moved into fertile areas after driving out the Bantu through engaging them in warfare.
Eldoret and Kapsabet, for instance, had long been occupied by the Tiriki in the pre-colonial era until the arrival of the Nandi who drove them off up to the edge of Kaimosi. The Bantu, the Nilotes and Europeans are therefore all correctly seen as 'invaders' in the historical annals of Kenya.
Both historically and in the modern era, Kenyans have always wandered away from their ancestral homes in search of wages and labour and often ended up living permanently in the new areas. Consider the following snapshot of Luhya population trends from the past.
By 1907, there were only 200 Luhyas living in Nairobi; in 1923, there were 800 Luhyas living in Nakuru and by 1930 these figures had tripled to over 4,000 Luhyas calling Nakuru home.
Similarly, there are many Luhyas living happily in Kajiado today. Yet, to be a politically agile Luhya-such as Cotu boss Francis Atwoli - living in Kajiado seems to raise red flags.
This explains why Deputy President William Ruto, without a hint of irony, recently wondered why Atwoli, a Luhya, was permanently living in Kajiado, presumably an area reserved for the Maasai. It was not lost to the keen observer that Lang'ata, where the DP himself resides in, is no less Maasai land!
From a close analysis of actions in the Kenyan town of Nakuru from the 1920s to the 1960s, we see that people tended to consolidate identities of tribal groups and exacerbate their differences.
Here, three important tribes have long accounted for the vast majority of the African population; the competition between them no doubt contributing to the emergence of tribal chauvinism. Differences in language and customs, as well as problems inherent to town life, brought about an undercurrent of inter-tribal animosity and antagonism which, at times, exploded into violence.
Dominant Kenyan communities inhabiting major urban centres have doubtlessly reaped huge economic benefits from other communities who have poured into these centres in search of greener pastures. This reality reveals a distinct advantage of ethnic and cultural diversity in any local area over ethnic homogeneity. Nyeri town, which has been in existence for as long as the city of Nairobi, cannot be said to be exactly 'trending'- to use modern parlance- in the arena of modernisation.
The town was founded in 1902 through the militant efforts of pioneering colonialist Richard Meinertzhagen. The administrative headquarters of the former Central Province, Nyeri is blessed with pristine and picturesque physical geography famously described by Lord Baden Powell - himself interred here - as the 'nearest thing to bliss'.
A long list of eminent names such as Queen Elizabeth II, Stephanie Nyaatha, and even the Kikuyu god Ngai have at various times been hosted here. International brands are only now gaining acceptance in a town long dominated by clannish enterprises.
Nyeri has arguably lagged behind other cities in development because of wallowing into dungeons of ethnic sanctum. This conservative 'closed-door' paradigm is replicated in many other old towns across Kenya.
Anachronistic vestige
Kikuyu dispersion from their traditional habitats has been particularly poignant. Far from being an anachronistic vestige of a pre-colonial tribal age, they have been able to be bold enough to live in 'foreign' areas meant for other ethnic groups.
The violent tenor of the 2007/2008 political flare-up shattered an assumed a placid exterior, and revealed that some Kalenjins never considered the Kikuyu in their midst as permanent visitors. The much quoted constitutional provision that 'every citizen has the right to enter, remain in and reside anywhere in Kenya' is often tossed aside in the heat of elections.
The diverse meanings of being a Kikuyu among the Kalenjin, for example, fit neither strict primordial nor constructivist conceptions of Kenyan identity formation. As with all people, they have a variety of options in deciding how to identify themselves and could assume different political and social roles by invoking one or more of them at a time and during specific circumstances
As such, geospatial imaginaries, are embedded in everyday practices and pervade Kenyan consciousness, helping to construct and maintain oppositional identities through a narrative of ethnic 'others' as immigrants.
During periods of political transition or tension, the metaphor is extended, both by elites and by local-level actors, to conceptualise the immigrant as a guest who is expected to abide by certain rules of hospitality, namely conforming to the political wishes of the host community.
Almost during every period preceding elections, tensions arise between 'outsiders' and 'natives' when the former are perceived to be in opposition to the political wishes of the 'host' community, and the right of 'guests' to engage in local politics is challenged and contested.
The immigrant-guest metaphor therefore provides a powerful framework through which to extrapolate what may happen in 2022. If Kenyans enter the eagerly anticipated elections unadvisedly, it could be 2007 all over again.
- Both Dr Chacha and Dr Wahome teach at Laikipia University