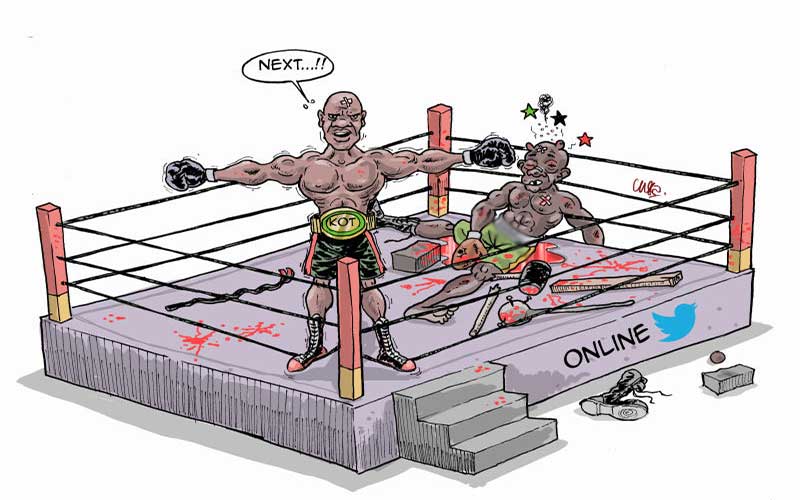 The recent incident that saw two groups of youth clash in Murang'a paints a clear picture of the reality that is political expression in Kenya. It represents a physical equivalent of what happens online between self-avowed political bloggers in support of different political camps. As the youth in Murang'a exchanged physical blows and burnt tyres, their counterparts took to their keyboards to continue the 'war', albeit virtually.
Even online, unfortunately, there are 'no-go zones' for divergent political views. You only need to browse through the comments under any political post on social media to see the sharp divisions that are expressed through mostly indecent language and ethnically - inciting metaphors.
Unfortunate as this reality might be, many amateur political bloggers use online platforms to spread propaganda that only ends up balkanising the country into hostile ethnic groups. Unlike the physical kicks and blows, the war of words online is often left unmediated, as parties exchange insults, and vulgarities that sometimes go beyond ethnicities to personal attacks, leaving behind bruised egos and exposed personal and family secrets and weaknesses.
However, the war online, just like the physical altercations often witnessed when rival camps clash, is seldom ever based on any facts or logic, but rather on personal emotions and the 'mtu wetu' ideology. Many of the amateur 'political strategists', I hear, are paid in daily internet bundles and have never met their bosses, only getting instructions from political middlemen — the intermediaries between themselves and the mheshimiwa, whose agenda they seek to sell online.
Read More
Just like the unemployed youth engaged in physical altercations, many online soldiers have very little, if any interactions with their political bosses. Their only job description is to discredit anyone affiliated with political opponents rather than engage in objective campaigns to sell political manifestos.
Political rivalry is expected in any democratic society, seeing that it is based on freedom of choice. We all have the freedom to choose our preferred political alignments and to express our support for our political ideology. In fact, freedom of assembly and expression constitute the cornerstones of democracy. Nevertheless, it is important for people to exercise restraint especially when engaging each other online. Kenya is one of the most wired countries in Africa and, consequently, has a fast growing online community.
This growth has also revolutionised the concept of media ownership, as we knew it. The vibrant online sphere has not only presented opportunities for trained journalists to utilise their skills outside of the traditional mainstream media but also, unfortunately, provided platforms for individuals to package and disseminate information with little regard for the code of conduct that governs the practice of journalism.
With comments on political trends presenting one of the best avenues for such individuals to gain 'clout' on social media, it is common for some bloggers to cross the line. The potential for anonymity that online platforms provide has been misused by some 'political strategists' who are often paid to not only malign opponents, but also whip up emotions of their audiences, often based on ethnicity rather than progressive political ideologies.
Political strategists are indispensable in any society with a democratic electoral system. Many professional political consultants have elaborate plans aimed at publicising their candidates and, therefore the use of online campaigns to promote political interests is inevitable. However, with the advent of social media, it is common to find many other lay strategists who use the platforms to propagate hate speech and malign those with opposing stances.
Although the Constitution provides for the freedom of expression, the law does not extend to hate speech. While it provides for the 'freedom to seek, receive or impart information or ideas' as well as 'freedom of artistic creativity', it is also clear that every person shall respect the rights and reputation of others.
Politicians and their foot soldiers should use online platforms to sell their manifestos and persuade the electorate to vote for them, without resorting to unnecessary online 'bloodbaths'. It is important for individuals engaged in online political campaigns to recognise that although they may not be trained journalists, they have the moral and ethical responsibility to respect divergent views and allow other people to express their political ideologies without turning the space into a political pigsty.
-Dr Kalangi is a Communication lecturer and trainer, Kenyatta University