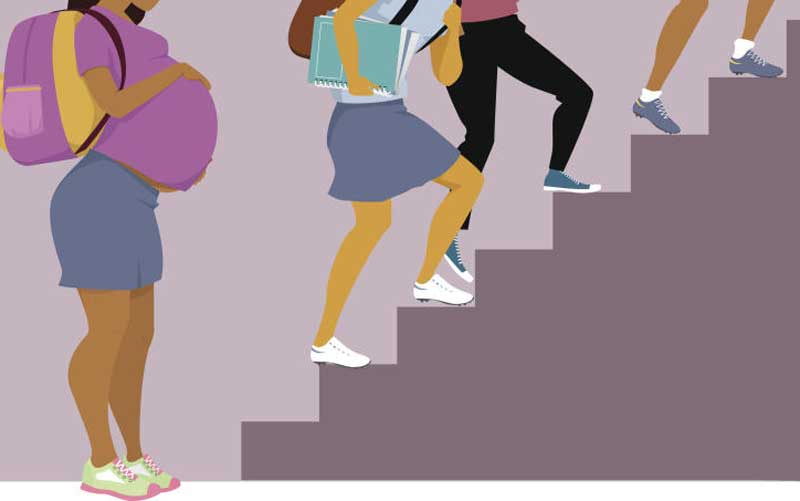 Recent media reports on rising number of teenage pregnancies across the country during the lockdown caused by Covid-19 pandemic were met with shock, anger and disbelief.
Many parents were worried at the incredible number of teenage pregnancies, wondering how it all happened during the strict movement and curfews during the global pandemic. This prompted President Uhuru Kenyatta to respond and give direction on management of the problem.
Machakos County was the focus of the latest public outcry on teen pregnancy, ranking number 14 with 3,966 cases registered this year compared to 4,710 cases last year. From all the counties, the total numbers reported for the period January-May 2020 are 151,433 compared to 175,488 in 2019.
Despite the mixed reactions in response to the figures from various players, teenage pregnancy can never be ignored. The fact is teenage pregnancy is still high, despite the periodic public outcry.
Read More
This therefore calls for a redoubling of efforts and change of tack on how to address this menace holding back girls from maximising their full potential.
Pregnancy and childbirth complications are the leading cause of death among girls aged 15–19 globally, according to the World Health Organisation. Studies into maternal deaths revealed that nine percent of women who died in hospital were teenagers. Of the pregnant teenagers who survive childbirth, nearly 98 per cent drop out of school.
The risks of premature birth, low birth weight, and perinatal death are higher among teenage mothers, making teenage pregnancy a public health issue. Teenage mothers are also at a high risk of developing complications and dying during childbirth. It exposes them and their children to major health risks. According to WHO, "pregnancy and childbirth complications are the leading cause of death among girls aged 15–19 years globally."
Teen pregnancies hinder socioeconomic development because they deprive young girls the opportunity to further their education and attain their career goals. As they engage in sex, most teenagers in Kenya never intend to carry the pregnancies, and so when they accidentally catch pregnancy, majority end up aborting.
Teenagers are also faced by other critical challenges. They are at a higher risk of sexually-related morbidity and mortality than older people because of their limited capacity to negotiate for safe sex and consent. Teenagers are also limited in their prevention against sexually transmitted diseases, and they lack protection against sexual violence. They have little access to contraceptive information and services to prevent unplanned pregnancy.
Further, as more people lose jobs and livelihoods as a result of the economic effect from Covid-19, particularly in low-income areas, some children may be or have already been forced into income-generating activities to support their families' survival.
The closing down of schools across the country also meant stoppage of supply of school meals and sanitary towels, which children from disadvantaged families rely on significantly. Young girls are therefore at risk of involving themselves in transactional sex to access the essential needs and support their vulnerable families. Research shows a close relationship between poverty, lack of family support and transactional sex.
While teenage pregnancy in Kenya is high and needs to remain at the top of the government's agenda, it rarely finds itself in public discourse, except when triggered by certain events. The government has committed to ending teenage pregnancy by 2030. Upholding the rights of young girls to sexuality education and provision of sexual and reproductive health services including contraceptives, as enshrined in the Maputo Protocol, and several national laws, policies and guidelines, are two of the most critical commitments of the Government.
Some efforts are in place towards mobilising high-level intergovernmental committees to develop and implement proven solutions.
But there is no better time to scale up these efforts than during this Covid-19 pandemic when unintended pregnancies are projected to rise.
Teenage pregnancy is highly insulated by cultural, religious, and socio-economic factors that are multiple and layered. This calls for confronting hard truths and realities of the issue with honesty and openness.
-The writer is the CEO, Kenya Medical Training College