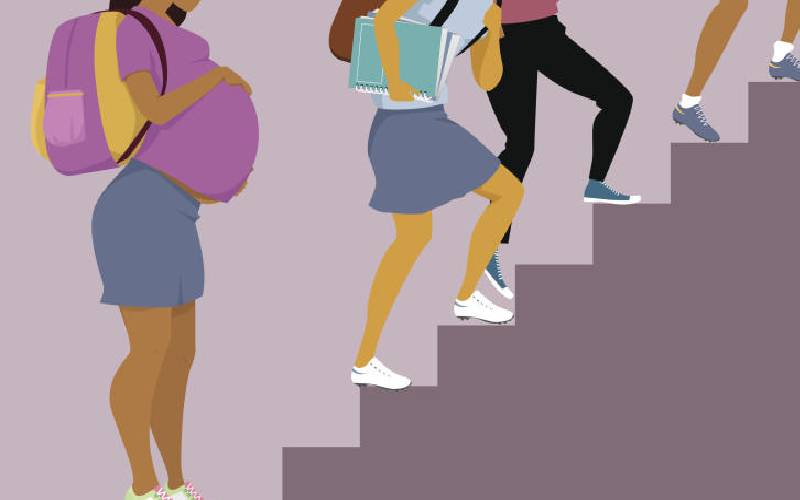 Recent reports that up to 857 girls aged between 10 and 19 in Nyandarua County fell pregnant within six months are devastating to say the least. Statistics indicate one in 10 girls and four in 10 girls have begun childbearing in Elgeyo Marakwet, Murang'a, Nyeri and Nyandarua counties, and Narok and Homa Bay counties respectively.
Globally, a report by the United Nations Population Fund indicated that continued lockdown-related disruptions could leave up to 47 million women in low and middle-income countries without modern contraceptives. This, according to the report, could lead to a projected seven million additional unintended pregnancies. Inevitably, many of the pregnancies will be teenage pregnancies mostly in low-income communities.
In Kenya, the rise in teenage pregnancies is a sad reminder that many parents may have abandoned their chaperoning role in pursuit of the daily bread. It is also an indication the socio-economic wellbeing of many teenage girls from low-income communities is at stake as many have to drop out of school to take care of their babies. The closure of schools due to Covid-19 has left many children idle, further increasing chances of girls getting pregnant.
One of the factors contributing to teen pregnancy is poverty. Many rural households struggle to meet daily basic needs. As a result, many children are left to fend for themselves, with some engaging in income-generating activities to help their families. Needless to say, the effects of Covid-19 have led to loss of livelihoods for many more low-income households. While effects of poverty are ravaging to both girls and boys, girls face the additional struggle with period poverty – the lack of access to sanitary products and other related facilities and information. This makes them resort to premature sex in exchange for sanitary products.
The recently launched Menstrual Hygiene Management (MHM) policy is a great starting point in Kenya's journey towards equitable access to menstrual hygiene in every county and, hopefully, the beginning of an end to poverty-related teenage pregnancies.
One of objective of the policy is 'to ensure women and girls have access to safe and hygienic menstrual products, services and facilities'. While this and other objectives look great on paper, their achievement will depend on the policy's fifth objective, which aims at establishing 'a functionally effective monitoring, evaluation and learning framework for MHM to ensure maximum accountability in the implementation of the policy'.
Unfortunately, Kenya has had a history of laying down policies, which are poorly implemented if at all, leaving the policy documents to remain as just that. Even worse are the situations where money meant for such implementation ends up in the wrong hands, leaving the potential beneficiaries of the policies with nothing to show for it.
Sustainable implementation of the policy will therefore require the goodwill of all stakeholders in the multi-sectoral approach to menstrual hygiene management. County governments especially will need to work closely with teachers and other community leaders to ensure teenage girls benefit from the implementation of the programmes so that no girl-child misses school due to period poverty. Root-cause analyses to understand the various beliefs and perceptions of the different communities will help bust the various menstruation-related myths to provide custom-made solutions to period poverty for each community.
Slum communities
Menstruation can be an uncomfortable experience for the most privileged of girls. It can cause anxiety and even a sense of shame especially when 'accidents' occur in public.
In poverty-stricken rural and slum communities, menstruation can leave a girl desperate for help to the extent of engaging in transactional sex for survival. The shame and pain that accompany the monthly period is enough to make poor teenage girls vulnerable to preying paedophiles.
As the country embarks on implementation of the MHM policy, the future livelihoods of many girls in low-income communities will depend on not only sustainability of the policy programmes but also accountability of all stakeholders to ensure resources meant for these programmes are used in the intended manner.
This, coupled with access to accurate information through candid conversations about menstrual hygiene and child bearing, will help build capacity for girls to confidently ward off unscrupulous men that may take advantage of the minors' naivety to lure them into premature sex.
Dr Kalangi is a communications lecturer and trainer at Kenyatta University