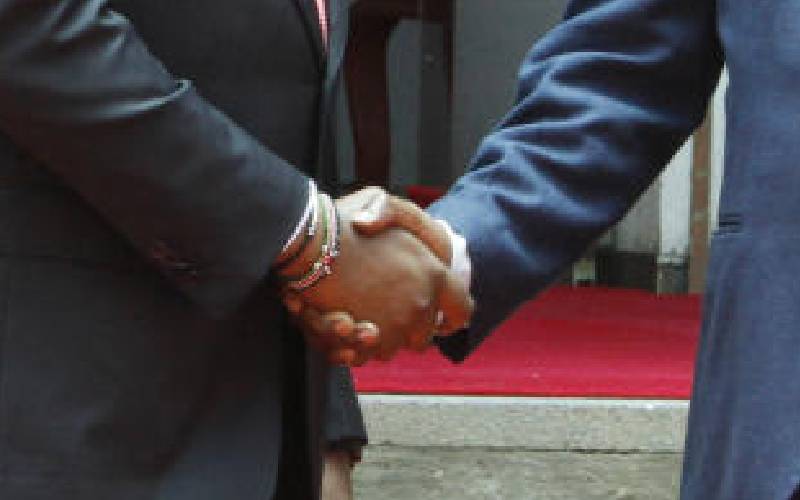 Rarely has a government been lambasted so loudly by so many. The Jubilee administration's push for a new formula for allocation of funds to counties gave rise, at first, to protests from senators representing marginalised countries. They claimed that the formula would disenfranchise further a people already victims of skewed distribution of national resources. Now the chorus of protestations has spread, not only among members of the opposition but to those in government recently carefully curated to support the Jubilee administration's agenda in the august House.
It is true that much of the criticism is confused, hypocritical or ideologically motivated. Par for the course in political matters, one might say. But politicising or paralysing the disbursement of funds from the Exchequer to county governments could have inimical consequences.
Begin with the confusion. A common theme among the proponents of the formula is that it rewards counties that contribute the greatest to Kenya's GDP. This is absurd especially when one considers that GDP is not synonymous with revenue collection. It is, simply put, the value created. Revenues on the other hand, are based on taxes collected. Thus, Kiambu County despite having a greater GDP than Mombasa collects far less in taxes than the port city, a major cargo gateway into the region. It then follows that allocation of resources based on GDP is some sort of voodoo economics.
Hypocritical is the attempt to blackmail senators into acceptance of the new formula. What chutzpah! The Handshake deal between ODM leader Raila Odinga and President Uhuru Kenyatta was intended to end such chicanery. That it should be reduced to a tool of political manipulation betrays the handshake to be built on quicksand, one that may not outlive its proponents or exist beyond the transient conveniences it serves. Yet Kenyans have been persuaded to put stock in both the Handshake dead and the Building Bridges Initiative (BBI) it has spawned. Following claims that both are in jeopardy as a result of the rejection of the county funds allocation formula, it will be an uphill task to disabuse citizens of the notion that both processes are devoid of the usual political artifice.
Read More
On top of it all, add the bellicosity coming through from Jubilee Party top brass. Despite the lack of a clear party position on the matter, senators are being cajoled into voting one way like mindless bots. Threats of sanctions have become the "new normal" to those who appear to exercise independent thought. One then asks; why has this national conversation become a do or die affair? Who really, beyond the pretended patriotism, stands to benefit from the new formula? Why is the ante so upped that Jubilee brass are willing to risk an implosion of their party to ensure that the new formula prevails?
Whatever they say publicly, leaders must surely see that flirting with belligerence as an instrument of governance through which they desire to shock senators to a deal inspires even greater defiance. Ultimately, this pattern of behaviour threatens the very stability the Jubilee administration craves.
How does one move the debate forward? A starting point would be to delink the formula from the BBI. For a senator to threaten an initiative of two national figures is churlish and myopic. It does not augur well for the relative stability that has prevailed post-Handshake nor does it consider the billions of taxpayers monies that have gone into making the BBI a national moment.
Hymn sheets
Second, it must be agreed on that national interests trump party loyalty. There are party mechanisms that, if engaged constructively, prevent members from appearing to sing from different hymn sheets. Such mechanisms would preclude the conflict between party brass and those of the MPs. It must be appreciated that MPs derive their mandate from constituents. They must not be coerced into voting against the interests of their electorate.
Third, Jubilee is at a make-or-break moment. Having handled internal dissent through heavy-handed reprisals, it has cast itself as intolerant. Yet there are many emerging young leaders within its ranks who do not appear to be cowered by threats of sanctions. Gathered under the banner "One Kenya Movement," these "young Turks" may either upend the current dictatorial order of the party leadership or create their own safe spaces where their views are accommodated. Whichever way, it would be to the detriment of Jubilee.
The broad strokes of a deal are worked out. May they be without further acrimony.
Mr Khafafa is a public policy analyst