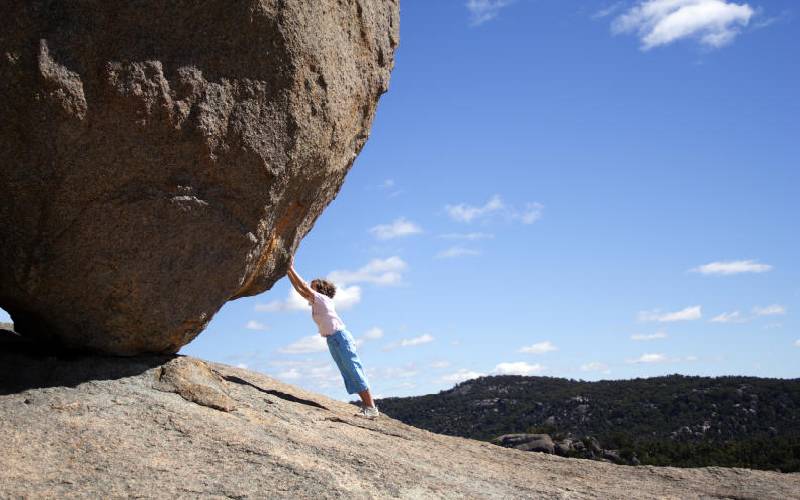 Every year, the school captain in a prominent Kenyan school reads Ecclesiasticus 44 about praising famous men as well as those who, despite being honourable, are forgotten as if they had never been. They capture public imagination either because of what they did prior to death or because of the consequences of their particular death. In addition, prominent persons, by virtual of their prominence or being public figures, attract attention because their "followers" want to know. There are others who become famous in death rather than in life because the nature of their death sparks unexpected public reaction.
SEE ALSO: UK policeman suspended after video shows him kneeling on neck of detained Black man
The death of two black Americans, John Lewis and George Floyd, represents the two strands, the already famous and the one who becomes posthumously famous. Lewis was an American giant in political activism, first in civil rights street demonstrations and then in the US Congress. He was youthfully there with Martin Luther King and saw the transitions that made Barack Obama president. And Obama gave him the Congressional Medal of Honour. Since the US is the custodian of world opinion, through its media control, the world had to know Lewis was dead.
The Lewis death probably took attention away from the unending "Black Lives Matter" demonstrations. The worst that the Americans had seen, even more than the 1960s and 1970s, the demonstrations started innocuously with a white police officer killing a black suspect, George Floyd, in Minnesota, on flimsy allegations of using fake currency. Then the wonders of social media went into play, and viral, by capturing the killing as Floyd pleaded "I can't breathe!" Since the killing publicised the rot in the Western, led by the US, justice systems, the demonstrations not only slid into Europe, they also spurred statue removing exercises to remove reminders of past white atrocities on blacks. Floyd, symbolising those who become famous after death, became representative of the collective pent up anger against global racism. While Lewis and Floyd received appropriate publicity because they represented anti-racist feelings, there were others that did not receive as much attention as they should have.
SEE ALSO: George Floyd said officers would 'kill' him in new recording transcript
These included intellectual giant Albert Memmi, a Tunisian mixture of Berbers and Italian Jews famous for his 1957 The Coloniser and the Colonised. Born in 1920 he was almost 100 when he died in Paris in May 2020, long after his anti-colonial contemporaries and younger intellectual activists departed the earth. These included Frantz Fanon, Aime Cesaire, Edward Said, Ali Mazrui, Walter Rodney, Ivan Illich, Paulo Freire, and Samir Amin. Each had peculiar challenge to the establishment but Memmi was an anguished man. He juggled through multiple identities as a Berber, Jew, Tunisian, Italian or Arab and ended up as an intellectual outcast to gate keepers of both the left and the right. To him Marxist obsession with capitalist exploitation argument appeared like a cover-up. He insisted that colonial oppression was a matter of race rather than class. This was the position George Padmore took after the Italians invaded Ethiopia in 1935 and Russian Communists joined Western Capitalists in failing to help Ethiopia. Gate keepers, particularly the leftists talking "revolutions", can be vicious when one's views do not tally with pre-determined positions. It often happens.
SEE ALSO: US judge sets George Floyd murder trial for next year
Attempts to make someone "non-person", and send him into oblivion, does not always work. Had it worked, post-colonial Kenya would be different because Jomo Kenyatta would have been properly forgotten as colonialists successfully created new leaders for Africans. The anti-Kenyatta animus runs so deep that effort to erase him from public memory continues into the 21st Century. This might explain the attempted local copycat of Western Europe and North American behaviour. A Kenyan "thinker", for instance, suggests pulling down Kenyatta's statue and sending it to the museum. Dedan Kimathi's and Tom Mboya's statues would probably have been next. The effort will fail because many people would want to praise famous men and the fathers who begat them. Although the way people gain fame varies, they attract attention in death. During the coronavirus period, despite Mutahi Kagwe pleading with people not to die, prominent people have died. Among the dead was Burundi President Pierre Nkuruzinza whose trade mark was a misguided defiance of reason. Having successfully ignored the spirit of his country's constitution, he also chose to ignore the seriousness of the corona threat. He sent his wife to Nairobi for treatment and then died in Bujumbura. In Kenya, the death of "Ohangla" musician "Lady Maureen" exposed widespread social hypocrisy. She begged for hospital help when alive only for the public to show love by breaking Kagwe coronavirus rules when she died. Entertainer "Papa Shirandula" died waiting for service in a high class hospital that seemingly takes time to deal with "emergencies." They all received "praise" as famous persons. -Prof Munene teaches at USIU