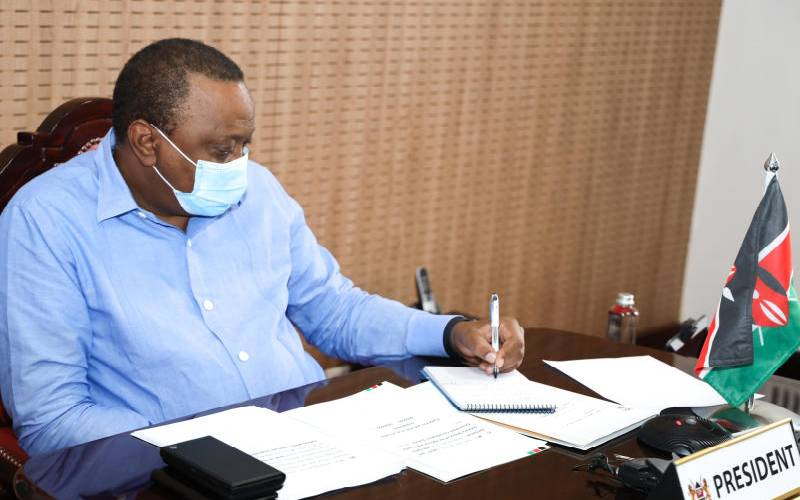 Lifting the cessation of movement into and from Nairobi and Mombasa is certainly a positive consideration given that the government could as well have extended the lockdown. Overall, there is a ray of hope for thousands of families and persons who found themselves locked in or out of Mandera, but especially Nairobi and Mombasa because of the high economic inter-connectedness. Most likely, as we were told, if in 21 days our behavior pattern is determined to escalate the coronavirus spread, we shall be locked down for what the government called 'zero-option'. Anyone reading this critically will find a coded message. Of course, President Uhuru Kenyatta (
pictured
) repeatedly said it is not in his wish list to enforce what he termed the 'claw back option'. The smoothened but firm return to the 'zero-option' is something we need to flag out and interpret beyond the denoted meaning. Of course, highlighting the zero option means the government is aware the chances of relapsing – assuming we had made progress in flattening the curve in the first place – are considerably high. Only the other day, the 30 day extension that ended on July 6, looked like forever. However, the days flew by. The 21 days will fly by and the government will be digging deep to enforce another lockdown should it find reason to. Looking at the rate of new coronavirus infection across the country, I am afraid, the likelihood of another longer and perhaps more severe lockdown – in terms of restrictions – will be exacted.
SEE ALSO: Threats, blackmail claims in fight over cash-sharing
Like any other personally responsible Kenyan, I pray hard that we do not experience what we have seen in Europe, the US, Latin America and other parts of the world where the pandemic is causing havoc. But, I will be quite irresponsible to imagine that in 21 days miracles will have happened in Kenya so that social distancing is respected, masks are properly used by everyone, hand washing by even people who have no water is observed and the night curfew is making such a significant containment difference. Over and above any other measure, I believe God is at work in Kenya. He alone must be saving us from escalated cases.Truth be told, most of these measures have failed, yet it is all we are hanging on for salvation. If government officials take personal responsibility seriously and think innovatively, another lockdown will be avoided. Only then shall the words of the President that we "must" (sic) be our brother's keeper make sense down at the grassroots. I strongly doubt this message of duty to civic responsibility will sink in anyone's mind and heart if the top echelons in power keep beating a familiar and impractical drum of the beaten path. Besides, the government squandered a chance to showcase the extent to which various containment strategies and measures have worked so that we make informed decisions. It failed to provide an evaluation of what has worked since the lockdown started. For instance, how has the night curfew helped flatten the curve? Countries around the world including, as reported in the media, Madagascar that had claimed to have discovered a cure for Covid-19, reverted to lockdowns because they prematurely opened up their economies. We have lifted movement into and out of Mandera, Nairobi and Mombasa. What considerations informed this decision? To say that it was a choice between health and economy without any elaboration is underestimating the capacity of Kenyans to delve deeper into details to fully grasp the magnitude of the government decisions. Kenyans are actually very sharp in dissecting issues. Perhaps the government is yet to appreciate this strong side of its citizens.
SEE ALSO: Virus weighs on global oil demand
Additionally, it would have made a big difference to provide some analysis of what gains were made because of the lockdown. It is difficult to know how the government arrives at some of its decisions without any sense of accountability to the very people it wants to carry personal responsibility. We were invited to "co-create solutions with the government", "enter into joint-venture with the government to subjugate challenges" and "pull together". Great phrases actually. Unfortunately, the government is acting like a dictator parent who knows the child can do nothing without relevant input. Giving a lot of instructions without creating the accountability and transparency necessary for a favorable climate of creativity, consensus building and forging for unity of purpose will not flatten the curve. There are major accountability gaps the government needs to be open about. It is risky if we take personal responsibility based on common sense rather than empirical evidence that will help make rational decisions. -Dr Mokua teaches media and communication studies