As it is, BBI will divide, not unite the country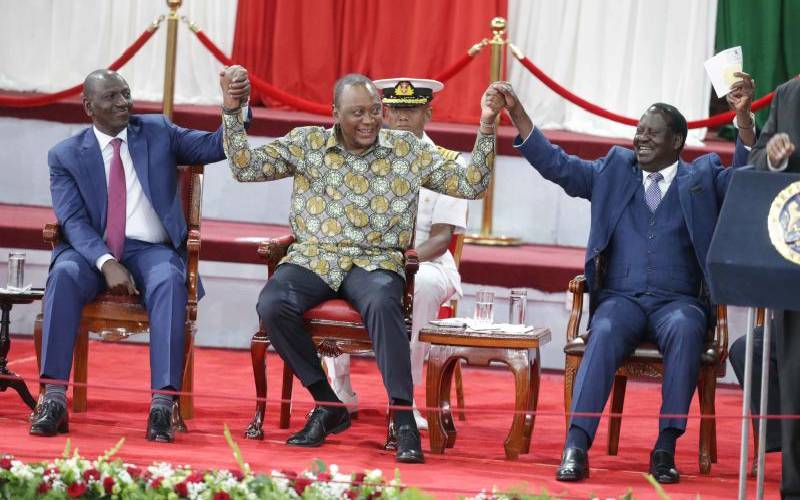 Even as we fight Covid-19, we should be thinking seriously about the risks posed by the November 2019 version of the Building Bridges Initiative (BBI), now that it is being revised and a constitutional referendum is imminent.
Thanks to commendable countermeasures, the tragedy wrought by the coronavirus in our country will gradually wind itself down.
However, with an estimated GDP growth rate of 1.6 per cent this year, thanks to the pandemic, the average personal incomes will fall for the first time since the 2008 post-election violence and poverty levels will rise after two decades of steady decline. The omens are not good.
Policy measures to address economic and social recovery in post-Covid-19 currently being formulated at national and county level, therefore, should avoid the Jubilee government's policy errors that led to the macro-economic difficulties that Kenya was struggling with long before Covid-19 struck us, notably the fiscal deficit and rising debt payments.
But just as important, priority should be accorded to a radical review of the proposals contained in the BBI towards stable, accountable and more ethnically-inclusive governance. For as we saw in 2008, contrived electoral violence is just as capable of overturning the economic apple cart as did Covid-19. Kenya's nightmare scenario now is post-Covid-19 economic recession with political uncertainty.
Deep in this version of the BBI report, the authors warn us about an imminent "catastrophe" unless we "find better ways to manage our diversity particularly in competition for power…that will be our collective ruin". It now needs to be said that the system of government the BBI proposes could itself lead us to that same catastrophe the report wants to avoid.
At best it will reproduce the rivalries between coalitions of ethnic groups that we already have (NASA and Jubilee), new combinations of which are being configured as you read this, thereby obviating the solid national unity which the report says it craves.
It will expose us to this danger for two reasons. First, because it retains the presidency (which Kenyans kill each other over at elections), rejecting the parliamentary system of government (one we had in the Bomas Draft and in 1963-64).
Secondly, it still retains the "winner-take-all" system only this time with an expanded executive that brings back the office of a prime minister (PM) and leader of the Opposition, rather than the "consociational" grand-coalition power-sharing between all the major parties (as in Switzerland, Belgium, South Africa in 1994 or the Netherlands) which is better-suited for ethnically-divided countries like ours. Switzerland's top executive (the Federal Council) of seven, for instance, is composed of all the major parties, while under the 1994-97 constitution any party commanding more than 20 seats was entitled to a cabinet seat.
The November BBI edition claims that the system of a popularly elected president with a PM (answerable to the president) who commands a majority in parliament and who will take charge of daily operations of government is its original "autochthonous" African solution to our problems. As a matter of fact, it is not.
This is the 1958 French-style "semi-presidential system" of government, which some French-speaking African countries have adopted slavishly often leading to tears when an alliance of leaders from one region of the country cobble together what is called "the minimum winning coalition" of ethnic-based parties pooling 51 per cent of the vote, locking out communities with the minority 49 per cent vote or less. (The report is wholly mistaken in stating that Kenya had "a hybrid semi-presidential system between 1964 and 1970").
More tears will flow should the president and the PM come from rival parties that reflect conflicting ethnic loyalties as parties have always done in Kenya since 1960. Under the November BBI proposals, there is nothing to stop the country from electing a president with a 51 per cent vote and a parliament with a majority of MPs from Opposition parties—it happened in 1997 and in 2007 (going by the figures), thereby handing the country a president and PM from rival parties.
In France they speak of "cohabitation" when (as in 1986-88, and 1993-95) the president and PM were elected from different parties. France manages with some difficulties but the system's imitators elsewhere have not been that lucky. In 1996, Niger suffered a military coup d'etat after a political standoff between a president and prime minister from rival ethnic coalitions, neither of whom would listen to the other.
In the Democratic Republic of the Congo, Felix Tshisekedi's government was hobbled by a parliament controlled by his nemesis Joseph Kabila's party. Semi-presidentialism has roiled Sri Lanka into conflict. In Africa, in fact, semi-presidentialism with a weak prime minister has only worked in countries with a single long-term dominant party like mainland Tanzania with CCM (but not Zanzibar), Namibia (Swapo), Mozambique (Frelimo) and Sao Tome, none of which have serious opposition parties.
Then again, as Prof Yash Pal Ghai has asked, what would happen under BBI in such circumstances where the parliamentary opposition commands the majority of seats? Would the leader of the party become the PM and leader of the opposition at the same time?
And yet the document does have some good points like the establishment of a Nairobi Metropolitan Authority under the national government as recommended in Vision 2030. It's economic programme, however, ought to drive anyone familiar with the Kenya economy into despair, more so now.
In the bleakest of terms, it says the Kenya economy is based not on markets but on a "value extraction" culture not growth of wealth, which has left Kenya with "some of the lowest per capita figures".
It recommends an "escape velocity" to industrialisation, targeting regional not global markets as in East Asian model envisaged in Vision 2030. Kenya has had its own growth moments that could help us escape from the current crisis. They should have looked more closely at the growth figures and the reasons behind them from 1965-87, and the problems.
Between 2003 and 2008, Kenya experienced a growth accelerated period and poverty levels fell from 47 per cent in 2005 to 36 per cent in 2016. There are excellent recommendations for export-led manufacturing with mass job creation in Kenya if only we could follow them.
Kenya could do with a prayer. Like in 2005, and as sure as the sun will rise tomorrow, the BBI referendum as now proposed will split Kenya in two and set the stage for an ethnically divisive 2022 election. Without tough post-Covid-19 reforms, the economy will suffer. It is a combination we can do without.
Prof Chege is a lecturer, University of Nairobi
Download the BBI Judgement by all seven Judges - Civil Appeal No. E291 of 2021