Involve security guards in fight against Covid-19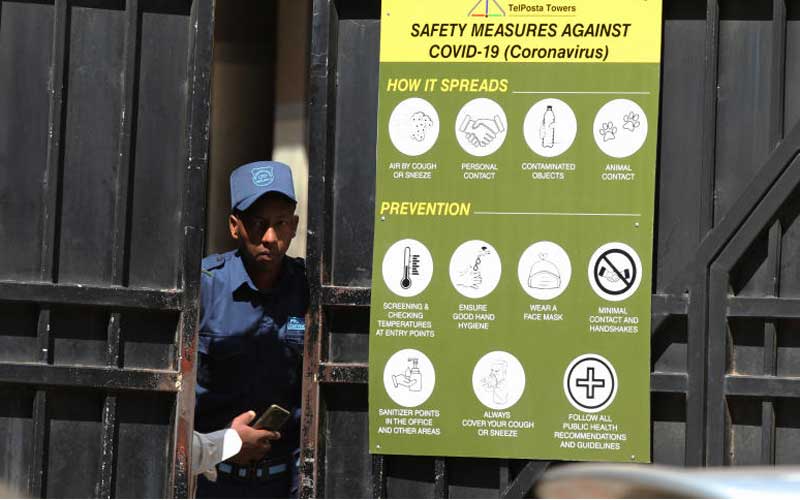 The effects of the coronavirus disease (Covid-19) continue to be felt globally, with the daily rise in number of positive cases. The World Health Organisation (WHO) and Kenya's Ministry of Health have issued directives to stop the spread of the virus.
Many organisations have embraced a work-from-home strategy as part of the Business Continuing Planning (BCP) systems to ensure client service and office support remain uninterrupted. This means that most physical offices remain deserted, relying on private security providers to continue enhancing the safety and security of their valuables.
Retail stores, malls and commercial buildings require security around the clock. Government security agencies are also playing a major role in protecting our borders.
Security guards, besides providing security, are helping to enforce the measures aimed at curbing the spread of coronavirus by ensuring that members of the public wash their hands, sanitise and wear face masks before entering any building.
Sadly, this interaction with many people on a daily basis puts the guards at a high risk of contracting coronavirus.
That is why the recent call by Kenya National Private Security Workers Union and Protective and Safety Association of Kenya to the ministries of Health and Interior to roll out special capacity building training programmes for security officers as additional frontliners in the fight against Covid-19 is welcome.
While private security firms ensure adherence to occupational health and safety guidelines, by training the guards on effective use of personal protective equipment, they could serve as primary government informants to assist healthcare workers in transmitting information to the National Emergency Centre.
Take a quick survey and help us improve our website!
Take a survey
Security guards could work with health personnel in commercial buildings and homes, and refer those with symptoms to health facilities.
This would be a big boost to screening exercises currently going on in the counties.
But for this to succeed, there is need to train the security officers on how to use the digital thermometers.
Once they acquire this skill, the guards would help identify members of the public who may show coronavirus symptoms and immediately alert the relevant bodies for action to be taken.
Protective equipment
However, use of walk-through temperature detectors is much recommended compared to the hand-held thermometers as people enter office blocks or other buildings. But regardless of which thermometer is used, it is important to equip guards with personal protective equipment to protect them from the deadly virus.
Besides helping to detect suspected Covid-19 cases, security guards can also help to respond to emergencies using trucks to distribute food and medical supplies and ambulances to rush patients to health facilities.
That aside, premises that may not require the physical presence of security guards during this time when most premises are deserted, should leverage on technology to supplement human efforts. Through technology, owners of such businesses can monitor the premises at the click of a button.
Through the assistance of a private security solutions provider, business owners can choose from a variety of security systems, such as geo-fencing, burglar alarms, fire alarms, closed circuit television cameras and cargo tracking devices on courier services, depending on the nature of business.
These installations have automatic notifications for any abnormal activities or intrusion into a premise.
As one of the authorised essential services by the government during the 7pm to 5am curfew, most private security firms are playing a major role in remotely enhancing safety of premises with the help of personnel working in shifts from a 24-hour control room and call centre to monitor and respond to emergencies from the installed security systems.
While most organisations embrace the adoption of BCP by working remotely for the sake of employees' safety and quarantine, recognition and protection of those guarding our premises is also paramount.
The security team is also part of an organisation's effective service delivery at the workplace. Business owners should ensure that all security installations are in good condition and constant communication with the security team, an assurance that will bring peace of mind that the physical office is safe while you work remotely from home.
During this period, let us allow our security personnel to not only continue to ensure the safety and security of premises and communities at large, but also to join in the fight against the spread of Covid-19 through supervision and logistical support.
Let's hope that this pandemic is a passing cloud and we will all resume our respective normal operations soon.
Mr Delahaije is the group CEO and chairman of SGA Security