TSC, Misori enemies of North Eastern children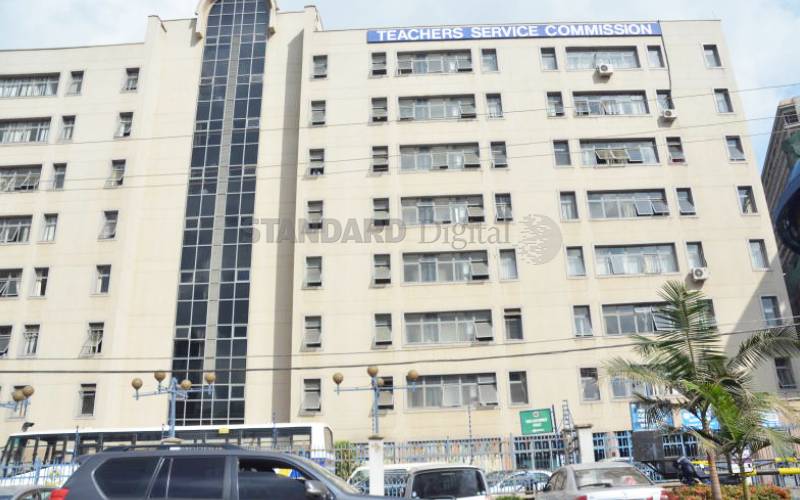 Affirmative action is the best solution to the perennial teacher shortage in North Eastern region.
Indeed, it is for this reason that Kenya National Union of Teachers (Knut) will never support a policy on non-local teachers being posted or transferred to the region. The union is also opposed to the teacher delocalisation policy.
Knut firmly supports the UNESCO policy that encourages natives to take up teaching posts within their clans, tribes and communities, as this helps pupils to interact with their teachers with minimum barriers.
Local teachers feel extremely comfortable using local languages in a playful and dynamic way that can do a lot to facilitate early learning. This takes the pressure off grammar, and can make the learning experience much more authentic, light, interactive and fun at the formative stages of education.
However, it is strange that as Kenyans agonise over ways of jump-starting inclusive and equitable quality education in North Eastern, Teachers Service Commission (TSC) is hell-bent on violating the UNESCO Convention on Child's Right to Education which, among others, demands that there should be a steady supply of native teachers in schools without discrimination of any nature.
As the principal stakeholders in the education sector, we cannot sit back and allow the commission to operate on autopilot as its Chairperson Lydia Nzomo and Secretary/Chief Executive Nancy Macharia continue fighting affirmative action in North Eastern without providing a workable alternative to replace the fleeing teachers.
Binding instruments
The guiding principle is, any issue that results in teacher shortage should be dealt with by measures that are recognised and which do not endanger in any way the professional standards or cause educational loss to pupils.
This is the guiding principle that is always adapted in the event of teacher shortages in countries that respect international standard-setting instruments to protect the fundamental human right to education.
Legally binding instruments such as treaties, conventions, agreements and protocols, as well as international instruments such as recommendations and declarations that have political and moral force have established a solid international normative framework for the right to education without discrimination or exclusion.
Indeed, Knut continues to advocate inclusive and equitable quality education, and lifelong learning for children in the North Eastern region through continuous supply of qualified local teachers equitably recruited from all clans.
Therefore, the casual approach, compounded by ignorance over internationally established norms in addressing teacher shortage in North Eastern, places TSC and Kenya Union of Post Primary Education Teachers (Kuppet) right at the centre of undermining the well-thought-out education agenda of the Jubilee government.
The position recently taken by TSC, supported by Kuppet, conspiring to deny North Eastern children the right to education, means that Kuppet Secretary-General Akello Misori, in cahoots with the commission, are the biggest existential threat to education in North Eastern by vigorously fighting affirmative action.
An indecisive Misori hardly sees anything wrong committed by TSC, even at this hour when the commission has sunk to its lowest depth.
International Labour Organisation (ILO) and UNESCO recommendation concerning the status of teachers dictates: "All necessary measures, including affirmative action, should be taken into consideration to ensure equality of opportunity and treatment of teachers and learners, and the conditions of teaching and learning are consistent with international standards."
Every teacher, regardless of where they are stationed, should fully enjoy equivalent basic conditions of employment and benefits to those serving in other parts of the country.
To bring to speed the education challenges in North Eastern with a view to finding a lasting solution devoid of confrontations and cavalier attitude as demonstrated by TSC and Kuppet, Knut categorically states that the commission is constitutionally obligated to abide by the UNESCO/ILO recommendation on standard-setting instruments that define how teachers and learners should be treated in such precarious situations.
This also includes observing dictates of Kenya National Qualifications Framework, especially in facilitating mobility and progression within education, training and career paths. KNQR permits, through a gazette notice, training of certificate courses (P1) for teachers at minimum grade D+.
Removing teachers from North Eastern without offering an alternative solution amounts to violating the UN Convention Against Discrimination in Education, a very serious offence.
It is no secret that in 2018, TSC and Kuppet maliciously and heartlessly derailed a noble proposal by former Cabinet Secretary for Education Amina Mohamed to lower the academic requirement for joining primary teacher training college. Dr Mohamed had proposed that the KCSE entry grade for Teachers Training Institutions (TTCs) be lowered from C (Plain) to D+ (Plus). This kind of affirmative action also happens in public universities.
Under this scheme, 3,000 teacher trainees from NEP were admitted to various TTCs only for Misori and Dr Macharia to team up with the Attorney-General and challenge it in court. The programme, which aimed at fixing the perennial teacher shortage in North Eastern, was stopped forthwith and the trainees sent home.
For the sake of clarity, Misori is one of the beneficiaries of the "Open Education System" introduced by the Nyayo government in the 1980s to allow as many Kenyans to access higher education. He never joined Kenyatta University directly from school after failing to meet the cut-off mark in the KCSE examinations.
Exceptional hardships
It should be noted that Nzomo is a beneficiary of continuing education, while Macharia is a beneficiary of e-Learning. Today, Misori is condemning D+ students and frustrating their attempts to advance their careers, forgetting that in the absence of the "Open Education System", he would be languishing in the unknown world.
It is the responsibility of government to provide education to all, in fulfillment of Article 26 of the Universal Declaration of Human Rights. Indeed, it was against this philosophy that Knut on April 3, 2018 supported Mohamed's affirmative action plan strictly for Garissa, Wajir, Mandera, Isiolo, Marsabit, Lamu, Baringo, West Pokot, Turkana and Tana River. These counties have experienced and continue to undergo exceptional hardships due to, among others, insecurity.
Affirmative action should, therefore, be the way forward to curing the perennial teacher shortage in these counties. Hiring of interns to address teacher shortfall has been tried before and failed. Contract teachers is a concept that is discouraged and condemned by UNESCO and ILO.
Knut is, therefore, opposed to the recruitment of intern teachers as proposed by the commission. Affirmative action is a strategy central to the interest of the Kenyan society, in particular the ASACL communities.
Knut therefore proposes that to attract and retain more teachers in these hardship zones, the Education ministry and TSC, in collaboration with Kenya National Qualifications Framework, should lower the cut-off mark for TTCs to D+. This grade in Arid and Semi-Arid Land areas is equivalent to C (plain) in most other counties that do not suffer insecurity.
All in all, the Education ministry has to create new systems and structures for managing education in the North Eastern region. Sideshows will not save the diminishing education standards in this region.
Mr Sossion, a nominated MP, is the Secretary General of Knut