Make life hard for State officials who steal from public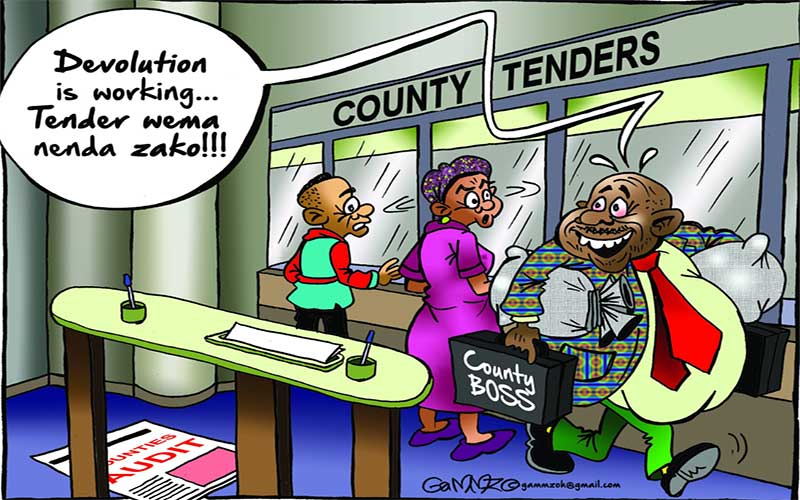 The renewed fight against corruption must be sustained even as we seek new ways of eradicating the vice. The temptation to dip one's fingers into the public coffers should be dimmed by severe repercussions.
And because majority of Kenyans gauge the success of the fight against corruption on convictions in courts of law, the Judiciary's delays tend to work in suspects' favour. They put numerous hurdles such as court injunctions, counter petitions and even threats to judicial officers. Take the case involving the Akasha brothers. It dragged on in local courts for years with no conclusion in sight. When they were extradited to the US, they were jailed within eight months based on the same evidence that was available to the Kenyan court.
We need to adopt measures that make it painful at a personal level. We can go further by recovering the loot from the corrupt officials after removing them from office. They should be made to pay to the last coin. When one corrupt officer will fall from a tycoon to a pauper, many will avoid the temptation to engage in corruption. The Asset Recovery Authority should recover and auction property of those found guilty of looting public funds. The investigating authorities should also freeze bank accounts and trace monies stashed abroad by the corrupt. That way, they will have nowhere to hide their ill-gotten wealth.
These measures will deter would-be corrupt officials and help eradicate the vice in the long run. And because corruption cartels always fight back, including having the accused running for political office, everybody linked to graft should be barred from the ballot. The Independent Electoral and Boundaries Commission (IEBC) should be bold enough to refuse to clear anyone involved in corrupt schemes.
Therefore, the President should apply three fundamental measures - investigate, arrest and remove these crooked characters from office. Then the investigating authorities should move to recover stolen money. Corruption has killed people's dreams, stunted the country's growth and denied millions a decent shot at life. It is the most prominent factor that has kept Kenya a third world country. It is the reason majority of Kenyans cannot access affordable healthcare, a decent education or an efficient transport system.
Public resources
The deplorable living conditions across the country are as a result of an elite that has been feeding on public resources. The handouts and occasion acts of generosity by corrupt politicians especially during electioneering are most like funded by corruption money. By curtailing the flow of illicit money, we will deal a heavy blow to graft cartels. Because, when you remove a corruption suspect from office, you immediately stop the "eating" gravy train in its tracks. Elaborate plans to plunder will be thrown into disarray and any replacement appointment will think twice about dipping his/her fingers into the cookie jar.
For instance, by questioning the suspicious construction of Kimwarer and Arror dams, the country avoided theft that had been planned by cartels. The money would have been diverted, but the plot was nipped in the bud by investigating authorities. Some officials had planned to siphon billions by inflating the cost of the two dams.
It should not be easy to steal public resources. So, Mr President, don't wait for the courts to conclude cases in order to fight this vice. Let them take their sweet time. Be courageous and investigate, arrest and remove from from offices.
-The writer is Igembe North MP