Why Makerere owes us an explanation on Ruto leadership institute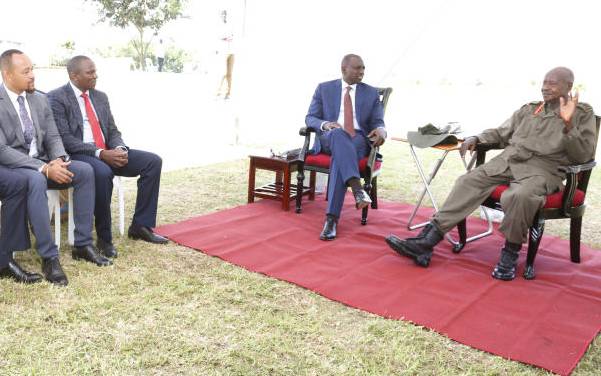 He may not have known or intended it, but when Deputy President William Ruto crossed into Uganda last weekend to initiate the William Ruto African Leadership Institute at Makerere, he waded into an area of great controversy.
His foray into Makerere may generate a fire that could consume the institution.
How and why universities should relate with donors is a controversy that has seen some return gifts or get boycotted by students, scholars and even entire communities.
Disputes over donations are common in universities that rely on philanthropy. Many schools appoint ethics boards to screen donors, but there are no hard rules when it comes to deciding whether to accept a gift. Universities have to determine for themselves what is or is not acceptable.
This debate was ignited last week when the DP launched the William Ruto Leadership Institute at Makerere University. After the DP's bromance with Yoweri Museveni in Kampala in which the Ugandan president is said to have pledged Sh10 million for the institute, debate raged, particularly among young Kenyans, over what it stands for.
Stirred discontent
This came amid reports that there was discontent among a section of Makerere University academics over the decision to set up the institute. Some felt sidelined by the decision, claiming that they were neither involved nor consulted.
Reports indicate that the institute has been planned on land reserved for Mwai Kibaki Presidential Library. The former president has respectable ties with Makerere where he taught economics before moving back to Kenya to help run independence party Kanu, and rising to become one of Kenya's most transformative leaders.
The proposed William Ruto Leadership Centre, therefore, raised one question: Is Makerere putting the DP on the same pedestal with Kibaki?
Nobody knows exactly what Ruto's political philosophy is or the economic model he believes in. Even if we were to agree Ruto is a hustler, it cannot be said that hustling is an economic model worth exporting in the region and the continent.
According to the university, the institute's agenda includes developing innovative ways of teaching and learning about Africa. Back in Kenya, we have not seen Ruto, who at some stage served as higher education minister, canvassing for a similar institute.
Role model
Then there were those who questioned the DP's standing as a role model for the students at Makerere. The DP is currently battling a case to keep the land on which his Weston Hotel in Nairobi stands, which is suspected to have been acquired irregularly.
In the past, he was also found to have acquired land belonging to one Adrian Muteshi, a victim of the 2007/08 post-election violence.
These also featured in the muted protests from Makerere academia.
Many questions therefore arise out of the Ruto engagement with Makerere. When future generations come to Makerere, what will they be told were Ruto's credentials that allowed him to inscribe his name on the university?
How did the university arrive at that decision?
Being a global public institution, Makerere has a duty to be open on the nature and terms of engagement with Ruto. The university has to be open to scrutiny so that the world can be sure that its partnership with Kenya's DP meets global best practices.
While universities need money for infrastructure and research, they must be careful not to be seen to be too eager to be associated with everyone who comes around with bags of cash.
For many of us that studied there, inviting Ruto to set up an institute bearing his name at Makerere was not properly thought out. This is why we are backing a section of academia that feels disturbed by the decision.
Makerere owes us and the world answers.
Mr Kamket is the Member of Parliament, Tiaty Constituency.