War against corruption should start in school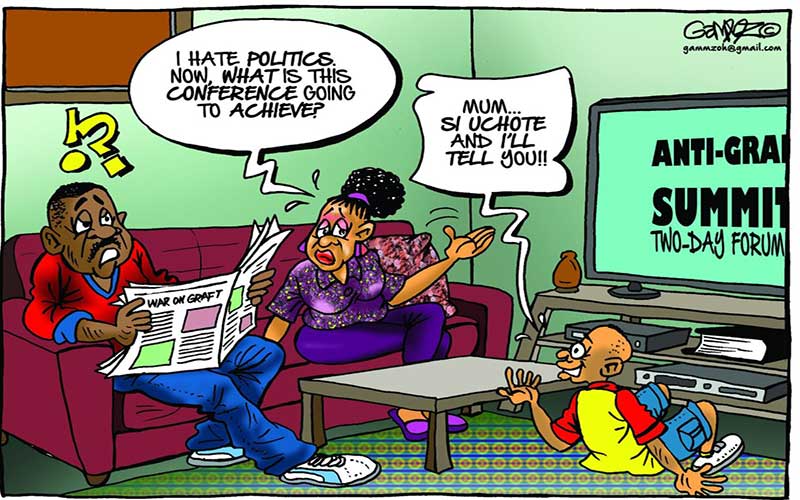 Any society that desires progress, must nurture transparency and a corruption-free environment the absence of which is nothing but a vicious cycle of poverty.
Societies that have successfully understood what corruption is and combated it, have developed a virtuous cycle of prosperity as an antidote to vicious cycle of poverty—the natural consequence of sleaze by putting in place policies and laws and jealously enforcing them.
Combating corruption effectively would require concerted efforts or a broad coalition of actors. Kenya employs a multi-faceted approach, where several agencies of the State work harmoniously to fight graft.
As we employ the multi-faceted approach to battle corruption, parents and schools have a very important role in inculcating uprightness in young people as the Church's influence on moral uprightness is waning fast with churches cavorting with petty and grand graft suspects.
Parents must discourage their children from an early age against dabbling in corruption, emphasising the need for hard work and over-the-table dealings.
Parents must also discourage shortcuts and tell their children that even exam cheating is corruption. When parents buy exam papers for their children, they inculcate the spirit of corruption in them.
African independent presidents inherited corruption from the colonial masters and the continent has endured some of the most corrupt leaders in the world. Mobutu of Zaire, Gadaffi of Libya, Abacha of Nigeria and Teodoro Obiang of Equtorial Guinea and Mugabe of Zimbabwe are listed in a book titled "Dictator Land: The men who stole Africa" by Paul Kanyon. According to the book, Mobutu died while worth $5 billion, Abacha $3 billion, Gadaffi $200 billion while Obiang has over $4 billion.
In the light of such blatant plunder in those countries and also the mind-boggling theft of public funds in Kenya, there is need to come up with novel ways of fighting corruption. And where better to start than in school.
Literature works that talk about corruption should be taught to students from formative stages so that the students can learn about effects of graft on their lives.
In this regard, Ayi kwei Armah's "The Beautiful Ones Are Not Yet Born" should be a natural choice. In the novel, Armah expresses his disgust over the level of corruption in Ghana during the reign of Kwame Nkrumah.
Corruption was so rampant and deep that every nook and cranny of Ghana reeked of it.
But Armah's protagonist, known as "the Man", refuses to indulge in corruption. The Man strives to remain focused, clean and innocent in a country characterised by gluttonous corruption.
The madness of graft disturbs the Man who laments that life in Ghana is so corrupt that the good ones are imprisoned while the corrupt ones, who are "cutting corners, eating the fruits of fraud" survive and are cherished too.
Chinua Achebe's literature is equally informative on the effects of corruption in Nigeria. In 'No longer At Ease', corruption is shown to be pervasive not only in Nigeria but in other colonies in Africa.
Achebe uses the book to expose the corruption in the Nigerian society and show how deep it has eaten into all facets of life in Nigeria.
This pervasive corruption is blamed on colonialism, with the most convincing argument being that the lifestyle of the Europeans and Nigerians such as Hon Sam Okoli, who worked in high positions, influenced people holding special positions to receive bribes and misuse their powers.
The fleet of flashy cars, big houses and clothes belonging to these people made it more impossible for others to turn down bribe offers.
Achebe uses the theme of corruption to portray the transition in Nigeria from a colony to an independent state. In the novel, Obi, accustomed to the English way of life, is not a fan of bribery. However, his resistance to corruption does not last long as it was the norm rather than the exception in Nigeria.
Achebe also writes powerfully against corruption in "Trouble in Nigeria", a book whose title can be changed to read 'Trouble with Kenya'.
African societies, Kenya being one of them, are not short of laws, domestic, regional and international, to combat corruption, but corruption still sticks out like a sore thumb, hampering attainment of social economic development.
Kenya has had an anti-corruption legislation from way back in 1956. The Prevention of Corruption Act (Cap. 65) was in operation from August 1956 to May 2003 when the Anti-Corruption and Economic Crimes Act, No 3 of 2003 became operational and repealed it.
Indeed in terms of legal framework, Kenya has sufficient laws to fight corruption; so what is the problem?
Lack of political goodwill, as Achebe notes in "Trouble with Nigeria", is simply and squarely what ails the war against corruption.
African countries have all manner of resources, natural and man-made, but due to poor leadership, greed and the tying of political power to the distribution of resources, their youths will continue dying in capsized boats in the Mediterranean Sea as they flee economic hardships occasioned by corruption and bad governance.
But we should not continue this forever. That's why we must employ all manner of weapons to fight corruption, including teaching children about the evils of graft right from the moment they start crawling. That is the only way to save Kenya and Africa from the deadly grip of this vile monster.
Lempaa Suyianka is a litigation counsel at Katiba Institute