Spare JKUAT PhDs and address real issues in varsities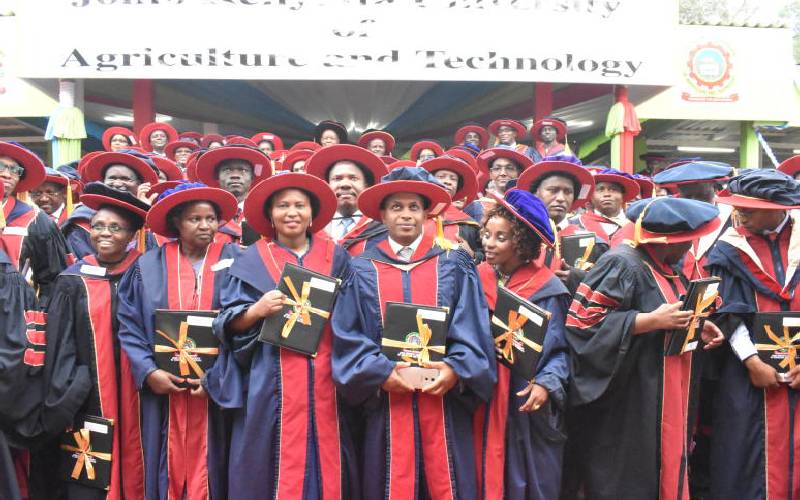 The recent conferment of over 118 PhD degrees by Jomo Kenyatta University of Agriculture and Technology (JKUAT) has elicited interesting public reactions.
Some people have expressed surprise over the "high number" of the graduates. They wonder why the number of JKUAT PhD students exceeded that of University of Nairobi (UoN).
This may raise questions as to what entails a 'high number' and whether UoN should be the benchmark for other public universities.
Other issues raised were that the average number of PhD students in JKUAT who were under one supervisor was as high as 14 instead of recommended three and the apparent disproportionate number of graduates in different areas of study. There have also been complaints over the high number of business graduates.
Let me state that this article is not meant to cast any doubts on the academic and intellectual acumen of any graduate, apportion blame on JKUAT or question the PhD enterprise.
However, the public has a right to question how public universities, giving credit where it is due and reprimanding them when they renege on their missions.
Anyone with a keen eye can discern that this country is yet to reap fully from its investment in universities. Our over 40 universities churn out over 100,000 graduates and despite their impressive academic credentials many waste away 'tarmacking', looking for white collar jobs that hardly come by.
Others are forced to take up menial jobs such as security guards, matatu touts and even farmhands.
It is also evident that several universities are in discordance with development priorities of their localities due to their managers' failure to integrate them with the social economic and ecological realm.
Consider this: Sometime last year, local dailies wrote a story on Pwani University that many readers took for granted. The university, located adjacent to Kilifi Creek (part of the Indian Ocean), had shut down for weeks due to prolonged water shortages.
Who should a university that trains engineers, hydrologists, geologists, analytical chemists, economists and strategic management experts look up to to solve the problem of water shortage? Should it wait for the county government or a water board to avail water? Or should the situation not be the other way round? Can't they even borrow the model of some beach hotels that desalinate sea water?
Back to the issue of PhDs at JKUAT.
A Commission of University Education (CUE) report issued early this year, which The Standard gave considerable coverage, showed our universities have 710 professors, 979 associate professors and 6,122 PhD holders.
These figures are less than 50 per cent of the optimum requirement. To address the glaring shortfall, CUE says at least 900 PhDs should graduate annually. Presently, Kenyan universities graduate only 400 PhDs as, according to the report, majority of PhD students drop out half way their studies.
The CUE report also showed the minimum time taken by PhD students to complete their studies is five years. It takes some students up to 10 years.
Could these meagre numbers be the main reason for the huge numbers JKUAT supervisors were handling?
Three students
This writer knows several individuals who started their PhD studies in 2010 and are yet to complete. If a supervisor was given the supposed official three students who enrolled in 2010, that would mean for nine years he would be stuck with only the three. How would such lecturers earn their salary?
Kenyans are complaining of lack of PhDs and at the same time do not want universities to graduate cohorts to fill the deficit. Truly, the shortage cannot justify churning of graduates for the sake of it. Nevertheless, those trying to snide at JKUAT should desist from doing so without clear evidence as only a technical team of academics can measure and judge the quality of the work produced by the graduates.
Legally, no one can micromanage or dictate to a university senate on matters academic as long as the programmes and systems are ascertained by CUE. The charter of university autonomy provides that no one other than a senate can revoke an academic award.
Under pressure to ensure all lecturers are PhD holders, public university managements must be scratching their heads to comply with the Government order. Going by CUE statistics, it would near impossible for universities to meet the requirement.
The issue of disproportionate number of graduates in different areas is a justifiable concern though. One would rightly expect universities to be graduating considerable number of students in their flagship programmes. If a university has engineering as its core, it would be awkward to have no engineering student graduating at post graduate levelwhile hundreds graduate in other areas.
Common knowledge
On the high number of students in business courses, critics could be missing the point. Business courses and humanities still remain the most popular in universities worldwide perhaps because all other sectors—be they education, health, computing, and engineering—need a business manager and humanists. In any case, 90 per cent of post graduate students are self-sponsored and have full discretion to choose courses.
Nevertheless, the conversation on the quality is healthy, as it is common knowledge that some individuals flaunt impressive academic papers, yet turn out to be quacks when it comes to problem-solving in areas of their 'expertise'.
Our universities are full of engineering professors who have never supervised construction work, literature professors who have never written books and journalism professors who have never written newspaper articles or produced a TV or radio programmes.
The need for universities to develop solutions to local problems has never been more urgent. We should initiate a holistic dialogue on the "universities that Kenyans need" other than debating symptoms. This is the only way to get PhD gradutes with the "power to read, learn and do".
Mr Kihu is a Journalist-Educationist. Email: [email protected]