There can never be press freedom if journalists are constantly under attack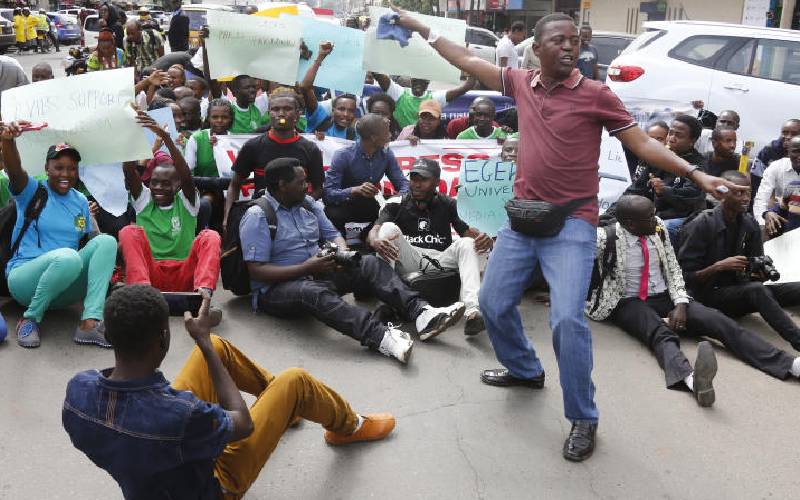 There can never be press freedom if journalists are constantly under attack
The continued attack, dismissal and labelling of the media as 'fake news' by politicians whenever a story they don't like is reported should worry now more than ever.
It all started the day President Kenyatta decided that 'gazeti ni ya kufunga nyama' before chickening out of a presidential debate in 2017 after which three main TV stations were shut by the state for nearly two weeks.
Now in the spirit of monkey see monkey do, his deputy William Ruto has developed a fetish for road-side attacks if not selective interviews where he appears ready to refuse to answer some questions while calling issues fake.
Do politicians realise journalists know how to do their job professionally and do not get the kicks just for going on assignments?
It's time we had a conversation on how to not only nip such an attitude in the bud but also remind those in power that they exist to serve, be answerable and accountable whenever needed to.
Such might make good political fodder for him without doubt but it tends to motivate his flock that views the push and pull to go and hunt down the journalists who are only but doing their work.
This is extremely dangerous keeping in mind that just the other day a high school principal incited students to attack and injure KTN journalists who had visited the school on a fact-finding mission.
Fourth pillar of democracy
In such as digital disruptive age where journalists have actively taken to social media to express their views and at times also expose the inefficiency of the authorities, a new word was recently coined - Presstitutes - in an attempt to ridicule and intimidate journalists who have the courage to speak of the unpleasant truth and ask uncomfortable questions.
The term is derived from the word prostitute, to hint that some journalists are corrupt and accept bribes, but defeats the purpose when they compare a woman, who at will, offers sexual favours in return of money.
Journalists face violent trolls online who threaten men with death and women with death and rape.
The media is the fourth pillar of democracy, not debatable.
Freedom of the press at such a time when the degree of looting is abnormally abnormal with a government busy devouring its own children ravenously so as to be seen to be riding on top like it has done on the much hyped stadia that only exist in some delivery portal, good quality journalism must rise to the occasion.
For this to happen, the safety of journalists is a priority for in darkness dies democracy.
An accountable system
Why is free press that important?
Are journalists more special than other wananchi to be given such treatment?
This is among the many more questions I have come across on social media.
Most importantly, a free press keeps check on the other elements of a country's administration thus leading to a transparent and accountable system.
Journalists are a very integral part of this process.
They are not only your watchdogs but also your friends, your bothers, your parents and even spouses. It's vital to understand that there can be no freedom of the press without freedom of journalists anywhere in the world.
In India, according to Reporters without Borders, journalists are increasingly the targets of online smear campaigns by the most radical nationalists, who vilify them and even threaten physical reprisals.
Prosecutions are also used to gag journalists who are overly critical of the government, with some prosecutors invoking Section 124a of the country's penal code, under which "sedition" is punishable by life imprisonment."
Journalists not only get abused on social media, but also have to face a lot of pressure while covering issues especially of national political interest.
Coverage of sensitive areas like Kashmir remains a big problem.
Internet shutdowns never end while during protests local newspapers are asked to shut down their offices.
Winning mentality
I have always said that in a war of ideas, journalists move from being mere observers to participants in any society. Nothing matters most in this business than the pursuit of truth.
We must then be a nation that talks to itself truthfully because this is at the heart of good journalism that will fix Kenya.
The world today can no longer deny that facts are the necessary foundation for human decision making and human progress in the policies of governance, discoveries of science, lives of individuals, societies and nations.
For Kenya to win its war on corruption, the sanctity of journalism which involves telling truth to power, fact-checking, re-checking and verification of news must be supplied by more fresh oxygen to breath by our constitution.
Let journalists do their work to the best of their abilities minus any iota of threat, abuse or witch-hunt whatsoever.
[Leon Lidigu is a student of journalism at Pacific University, India]