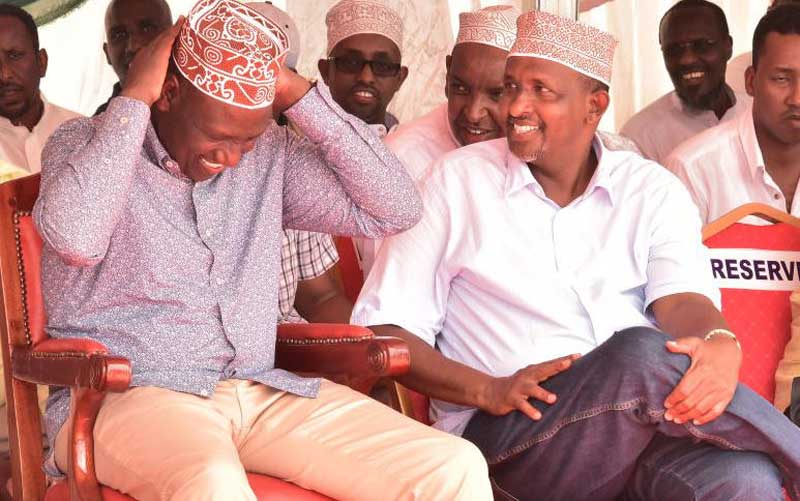 A few days ago, ODM leader Raila Odinga told Deputy President William Ruto that he (the DP) would not succeed President Uhuru Kenyatta when his term ends in 2022.
His sentiments were echoed by Kanu chairman Gideon Moi and ANC leader Musalia Mudavadi, who attended separate events on the same day.
The trio spoke in the wake of the impression created by the DP's allies that he would be Uhuru's automatic successor in 2022. This narrative started to gain momentum after the handshake between President Kenyatta and Raila.
Though the two leaders have maintained that the unity deal has nothing to do with succession politics, their allies have continued to treat their assertions with suspicion and mistrust.
It is worth noting Uhuru and Raila agreed to work together for the sake of peace, unity and development. Contrary to the impression created by the deputy president's allies, our governance system is not rooted in monarch and kingdom rule.
Read More
Kenya is a constitutional democracy and hence the power to govern is derived from the people. That is why, every five years, we participate in elections to elect leaders of our choice.
As of now, DP Ruto is perceived to be a front runner. However, it is too early to judge whether he stands a chance of succeeding President Kenyatta.
This is because he has been doing a solo run. Opposition leaders are yet to unveil their line-up. When the time comes they will do that and you will expect their campaign strategy to be anchored on why the DP is unfit to lead the country.
Turning to the war on corruption, the narrative that the graft fight cannot be won through propaganda, lies and selective justice makes sense. "But listening to the two political formations - "Kieleweke" and "Tanga Tanga" - the question that comes to mind is: Which team would you credit with the mastery of deceit and propaganda?
The DP's allies have refused to move beyond politicising and ethicising matters of corruption.
We only hear them talking about this at funerals and other social gatherings. Instead of submitting such information to the anti-graft agencies, they would resort to blowing hot and cold.
The allies would put up a spirited fight in defence of State officers and politicians, known to be close allies of DP, who are being pursued by detectives for economic crimes.
The war becomes selective when individuals close to them are targeted. To me, the allies have been deceiving themselves.
The anti-graft bodies are still on course; working quietly and away from the media. I am not saying all members of "Kieleweke" are clean.
However, they know one thing - if caught, they will have to carry their own cross. Uhuru will not defend them.
Joseph Ndonga is a political analyst and blogger