Due diligence critical as Kenyans consider review of the Constitution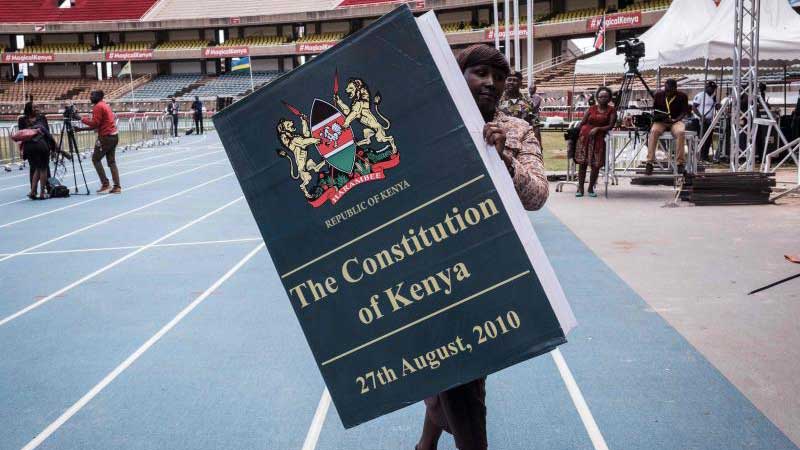 There is now general consensus that the Constitution needs to be reviewed. Some will argue that this consensus was manufactured by the political elite. At this stage, that is a moot point for in any case, we need to audit the Constitution as a bare minimum. Yet as we embark on this journey, we need to bear a number of things in mind.
The first is that we need to distinguish between an amendment and a referendum. Chapter 16 of the Constitution makes it clear that one is a subset of the other. A process to amend the Constitution may or may not result in the need to hold a referendum. A referendum is, therefore, not mandatory.
This is true regardless of the path followed. Whether by parliamentary or popular initiative, our Constitution can be changed without spending large sums of money on a referendum. A referendum only becomes necessary if the Bill to amend the Constitution seeks to alter the balance of power.
Article 255(1) clearly enumerates the clauses that affect the balance of power – essentially the system of checks and balances.
Second, we must be cognisant of this inconvenient truth - that amendments to the Constitution do not substantially affect economic outcomes. Any amendment will not produce greater economic growth. Amendments to the Constitution will not cushion our economy against external shocks.
The current trend of rising crude oil prices will impact negatively on our economy, with or without a constitutional review.
Eliminate corruption
Further, amendments will not control rising public expenditure, if they fail to address the provisions of Chapter 12 on public finance. And amendments directed elsewhere in the Constitution will not eliminate corruption. Such proposals cannot reverse the entrenched tradition of padded budgeting. Above all, amendments will never lead to reinvented government.
Third, we must realise that we have an opportunity to make the Constitution even more people-oriented. We can strengthen devolution and cause it to work a lot better. We can correct any loopholes that allow governors to sidestep political accountability. We can do the same for county assemblies, while also ensuring that they discharge their oversight responsibilities effectively.
We can also ensure that county government functions are not constrained simply because National Treasury has cash flow problems. Beyond strengthening devolution, we can resolve the grey areas that keep giving rise to counter-productive stand-offs between the Senate and the National Assembly.
We can also make gender parity a practical reality, particularly where leadership and public policy making is concerned. Suggestions on how this can be achieved, without infringing on voting rights, are now being considered.
And yet there is more, for this is also a constitutional moment for correcting an anomaly first identified on August 21, 2012, by then Chief Justice Willy Mutunga. In his keynote address at the start of the Judicial Marches Week, Dr Mutunga pointed to the need for the Judiciary to become more accountable.
We must now figure out how to ensure that independence is not mistaken for immunity. We must explore how to make the Judiciary more accountable to the public – without undermining judicial independence itself.
Good ideas
Fourth, we must appreciate that all good ideas carry risks. The current push for constitutional review is no exception. It is quite likely that the political elite do not have our best interests at heart for they seem to have trained their sights on the carefully constructed system of checks and balances. The very things that Article 255(1) seek to keep away from unwarranted political influence or control.
Most of their proposals, while appearing benign, are focused on power. The proposal to 'merge' the Executive and legislative branches may seem harmless at first glance. Yet it exposes us to the risk of degradation of checks on the Executive - diminished parliamentary oversight capabilities. Added to this is the risk that the Executive may obtain substantive control over the Legislature, especially through coveted appointments.
The proposed expansion of the Executive to cater for inclusion sounds good on the surface. Yet we risk 'including' elite interests while excluding public interest. We also risk reintroducing patronage, the precursor to impunity. Finally, we risk allowing our political class to recreate a bloated government. Left to their own devices, politicians will create an administration that is far larger and far more expensive to run than what we have today.
We must therefore begin debating the right issues in order to get things right. Above all, we must ensure that all proposals enable us to create a government that works for the people – and not the other way around. We have a chance to create a leaner, more responsive, more accountable government.
Yet we must appreciate that here are inherent risks along the way. What is required of every Kenyan as we review the Constitution is greater diligence.
Mr Karanja is a management consultant in strategy and change management
Download the BBI Judgement by all seven Judges - Civil Appeal No. E291 of 2021