Runaway corruption in Kenya is a project of political leadership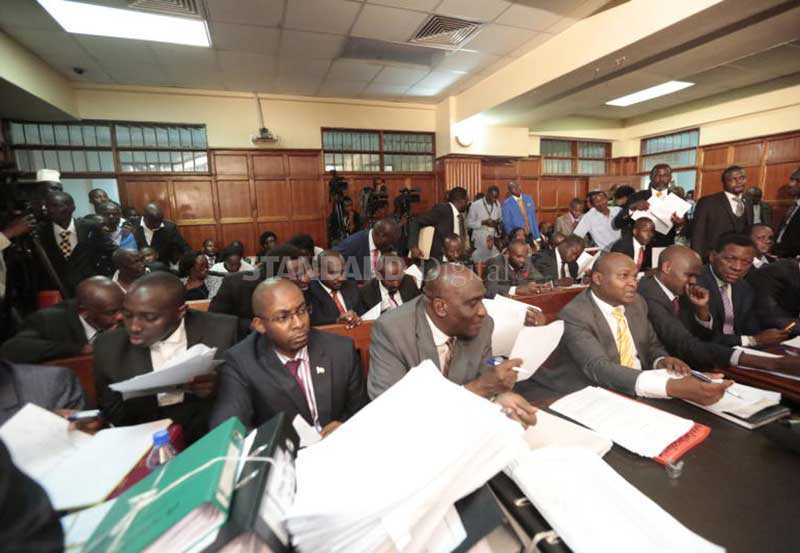 A recent report by the Ethics and Anticorruption Commission shows that bribery, favoritism, nepotism and embezzlement of funds are the most prevalent forms of corruption in both the national and counties governments. The report singled out departments within the Office of the President as the defending champions in this "sector."
Perhaps the best illustration is best described by the recent public spat between Nandi governor Stephen Sang and Nandi Senator Kiprotich Cherargei. According to a story carried by The Standard, the Senator accused the governor of corruption, nepotism, flawed and unfair appointments to public offices. To drive the point home, the senator accused his governor of employing "slay queens" in high offices. If these allegations are true, Nandi County is a sample of what is rampant across all levels of government.
Today, high political offices are manned by relatives, sycophant cheerleaders and consorts of political leaders. It becomes a problem for the political biggie to give up a member in his harem for prosecution in corruption charges. This is why the fight against corruption has only scored on the rhetoric front, and President Kenyatta's angry proclamations on corruption have now become high comedy.
Untouchables?
His pronouncements for the last six years have become tired, and almost deceptive, as scandal after scandal happens under his watch, right under his nose by folks well known to him. The fact that perpetrators of big dollar corruption are big shots aided by untouchable wheeler dealers in high offices can only lead to the assumption that corruption in Kenya is a state project.
The concept of state sponsored corruption was first alluded to in Russia during the years of Boris Yeltsin and the resultant Putin-Medvedev years, where a class of ultra-rich emerged with disreputably close ties to the political leadership.
This was replicated in Namibia, as the Black Economic Empowerment Policy was abused by those close to the post-apartheid SWAPO administrations of Sam Nujoma and Lucas Hifikepunye Pohamba. Consequently, party stalwarts became business tycoons, with a strong influence on parliamentary decisions, lobbying for legislation that would ultimately secure their stolen wealth. In essence, Namibia's state corporations became a playground for post-election party bartering, with top company posts offered to loyal party supporters, and as becoming cash cows for top politicians.
But it is in Kenya where state sponsored corruption has reached fever pitch. Many public corporations that were invigorated in Mwai Kibaki's era have all but tripped back to near-bankruptcy status given the wanton despoliation that has happened during the last six years of Jubilee leadership.
With little or no action from the government on these ineptitudes, it is hard to believe that this looting is not happening without the blessings of political leadership. The bigger scandal is that the maladroitness of gatekeepers in high political offices is borne of their attitude toward public office.
Overnight billionaires
To these underlings, pubic office is a golden chance to become an overnight billionaire and to showcase ill-gotten riches with brazen exhibitionism of big cars, fine dining, ivory tower homes and the occasional fundraising extravaganza in poor, desolate villages amidst hungry, praise singing serfs.
The effect of this larceny seems to bother neither the political leadership nor the government functionaries. The ripple effects of corruption have been laid bare for everyone to see. It was reported that genuine suppliers to the National Youth Service wait for eternity to be paid, while suppliers of goods and services whose prices have been highly inflated are paid promptly. Another illustration is that of the National Cereals and Produce Board, where the genuine smallholder farmers have gone for months without their dues.
The macroeconomic ripple effect of this has a direct bearing not only on agriculture and food security sustainability, but also in secondary sectors such education and healthcare, as the affected poor farmers are left without disposable income to afford these facets of livelihood. The irony of it is that, the sectors most hit by corruption form the bulwark of President Kenyatta's much hyped Big Four Agenda.
The fact that lackeys in government can't see how corruption is undermining the Big Four agenda gives credence to the hypothesis that these advisers are "slay queen" material, sourced through nepotism and blind personal loyalty as opposed to meritocracy.
Marie Antoinette
It will remain a circus of empty rhetoric to talk tough on corruption if the perpetrators hobnob in high offices planning for next heist. I submit that it is not that the perpetrators of corruption are not known, it is not that the evidence is not there.
The issue is that they are sacred cows whom political leadership protects, cushioning them from prosecution and consequences of their kleptomania. The lack of political will to contain graft within the corridors of power despite the lamentations of Kenyans is the loud, cynical sneer of "if they don't have bread, let them eat cake."
Mr Karugu is a strategy and analytics consultant based in Nairobi. [email protected]
To fight drought, involve communities
According to the latest information from the Meteorological Department, rainfall will be poorly distributed in April, May and June, and this will have a serious impact on agriculture