Is it too early to celebrate key changes in education?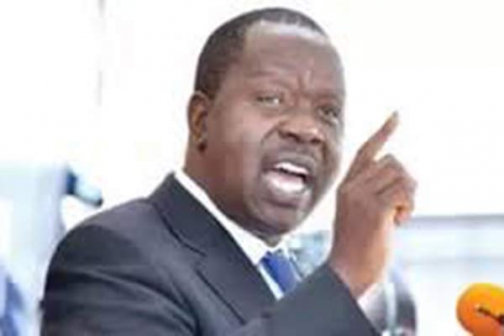 The Ministry of Education is in the process of ditching the current 8-4-4 system of education and replacing it with a new education structure based on radical continuous assessment.
The shift means the much-feared and equally criticised high-stakes national examinations, namely, the Kenya Certificate of Primary Education (KCPE) and the Kenya Certificate of Secondary Education (KCSE), will be substituted mainly by school-based assessments focusing chiefly on finding out what individual students' know, what they understand and what they can do.
In this regard, Education Cabinet Secretary Fred Matiang'i and his team are moving fast to discard an education system, where schools could more or less be compared to obsolete and rickety factories, churning out products that are not attractive in the consumer world.
TRIED AND FAILED
But Kenyans, and more so parents with children in schools, should not start celebrating, taking into account that previous education systems since independence tried and failed to achieve what Dr Matiang'i, or the current government is promising One of the key mandate of the Kenya Education Commission of 1964 was to adjust education set-up to the country's new status and come up with an educational strategy that would ensure young people coming from schools had valuable part to play in the national life.
However, just two decades down the line, the educational regime that Prof Simeon Ominde crafted was deemed too academic and according to former President Daniel arap Moi, the system was a mere caricature of the old colonial education, as it lacked employment orientation and was effectively replaced with the current 8-4-4 in 1985.
Commenting on the issue then, Ahmed Yussufu, the former secretary of the Kenya National Examinations Council and a strong defender of the 8-4-4, stated the main objective was to have a credible education system that would enable students become self-reliant and adaptable to their rapidly changing environment upon completion of each education cycle.
Subsequently, a similar narrative has now gripped the country with calls for educational reforms that would prepare students for life in the 21st century.
But even as most stakeholders, especially the parents and their children worry about the future, it is not very clear how the newly approved education strategy would succeed where other systems dimmed.
The crux of the matter is that with introduction of school-based assessment education system and end of high-stakes examinations as a selection tool from primary to secondary education will put teachers at the heart of individual's learning assessment through the criterion-referenced testing that captures and mirrors the aims and objectives of the school curriculum. Ideally, criterion-referenced testing that is used in school and classroom-based assessment determines whether a student has mastered the material taught in a specific grade or course.
As of now, the main concern is that all energies by the government, teachers and other key stakeholders that include parents are geared towards helping giving birth to a new baby.
ASKING QUESTIONS
Nevertheless; few are asking questions related to the preparedness and even sheer competency of teachers who will be expected to nurse the 2-6-3-3-3 into fruition.
For instance, how many people are concerned about how much time teachers actually spend in schools teaching? But even more serious, do teachers have the relevant subject content knowledge to teach basic and higher-order language and mathematical skills?
In spite of general poor performance in KCPE and KCSE, how many Kenyans are ever concerned about whether the mass failure in those examinations is directly linked to teachers' lack of pedagogical knowledge and skills to enable them transfer what they know to students?
According to the World Bank's Service Delivery Indicators, on average, students in Kenya receive only about two hours and fifty minutes of teaching per day, which is about 50 per cent of the scheduled period.
"This is largely because teachers, even when in school, are not teaching," says Tessa Bold, a professor of political economy and chair of Department of Development and International Economics at Goethe University in Frankfurt and a leading expert on basic education in Sub-Saharan Africa.
But whereas the Teachers Service Commission has reduced teacher absenteeism to 15 per cent, Bold noted a spot check revealed that orphaned schooling in the country is orchestrated by teachers being in the school compound but not teaching at the rate of 40 per cent.
But even more serious is that teachers' subject knowledge is strikingly low in Kenya. According to a recent World Bank study, 'What Do Teachers Know and Do?
Does It Matter? Evidence from Primary Schools in Africa,' that was released last week, only about 25 per cent of Standard Four teachers have mastered their students' language curriculum.
To make matters worse, only few teachers are able to assess students' abilities or evaluate their overall schooling progress.
The World Bank researchers found that only few teachers in Kenya's education system and elsewhere in Sub-Saharan Africa exhibit practices that are associated with good teaching, such as checking for students' understanding and giving feedback.
Consequently, the prevailing glaring lack of competence among teachers has cost students and the country too much.
Whereas the United Nations Educational Scientific and Cultural Organisation (Unesco), estimates that more than 90 per cent of children should be able to read and write as well as achieve competency in simple arithmetical calculations after their first three years of schooling, this is not the case in Kenya. Granted that enrollment has increased since introduction of the third free primary education in 2003 and free tuition secondary education thereafter, induction of more children into the education system has not yet guaranteed that students are learning or even acquiring the competencies that are set out in the curriculum.
Statistics gleaned from Unesco's Institute of Statistics indicate less than 50 per cent of Standard Six pupils in Kenya are able to read fluently in English and that less than 40 per cent have achieved competency to do simple arithmetic calculations beyond basic numeracy.
But whereas the Matiang'i-led cavalry would have to think hard on how to reduce widespread teacher absenteeism as well as improve teacher competency in order to make the 2-6-3-3-3 system a success, lurking in the dark is the existing schooling environment that is hardly conducive to learning.
More than 50 years after independence, some children still learn under trees or sit on stones in dilapidated structures that the government, communities and parents continue to refer to as, our schools.
Perhaps Kenya should borrow a leaf from Tanzania, where from last year, the government and the local communities have embarked on a countrywide programme of providing enough desks to schools.
Nonetheless, Matiang'i's crusade should be guided by the reality that any education system anywhere is good or bad as its teachers.
Opinion:Kenya did not have to spend all that energy for AU top seat
Unless Kenya's idea was to use Ambassador Amina's time as chair to fundamentally reinvigorate and re-launch the institution, my loud answer is No. While I consider myself a Pan Africanist in ideology, over the years I have come to believe that the continent is not committed to the AU. Since its glory days when the OAU was instrumental in ensuring the independence of several African states, its fortunes have plunged.