Build museum for Mau Mau freedom fighters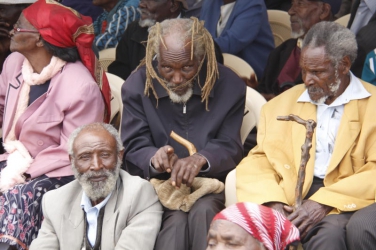 When I spoke at the Jamhuri Day celebrations in Nyeri Town a week ago, I put across a challenge to my fellow county citizens and indeed to all countrymen of goodwill. Fifty-three years of Independence is long enough time for us to put up a memorial for Mau Mau in the county the movement is closely identified with: Nyeri.
Mau Mau is intimately intertwined with the freedom struggle in Kenya and the fighters deserve the honour of a commemorative monument that will immortalise their sacrifice for all time.
First and foremost, the memorial should contain the names and locations of birth of all known fallen heroes of the struggle. From Nyeri County and elsewhere, they are reckoned officially to have been around 11,000 men. (The unofficial toll is estimated to be as high as 20,000).
Those of us who have visited the Korean and Vietnam War memorials in Washington DC can read from the plaques the names of the American soldiers who died in those wars. It is an important way of honouring them and keeping their memory alive.
Nyeri town would be the natural home of the Mau Mau Memorial. It is the capital of Nyeri County which was the epicentre of the Mau Mau resistance. The county was home to Dedan Kimathi and fellow heroes such as Stanley Mathenge, Gititi Kabutu and Waruhiu Itote.
Nonetheless the location is only symbolic and should serve primarily as a focal point of remembrance, embracing the contributions to our freedom from countless other people from many other parts of our great country.
My Jamhuri Day statement envisaged a Mau Mau Memorial that goes further than just a repository of names of the freedom fighters. There should be space for a Mau Mau Museum where the movement's history and memorabilia are preserved.
I envisage a full-fledged research centre as well to facilitate the furtherance of Mau Mau studies by scholars and researchers.
Most important of all, the memorial should act as a hub of memory and source of historical information for younger generations. Our children and grandchildren and those who will come after them need a central collection point to assemble the essential information and facts about the freedom struggle. Without such a centre, they will grow up in the dark about a very crucial period of our history.
We have historical sites like the Mau Mau caves in the Mt Kenya forest and the Aberdares which are only now being explored. They served as hideouts for the fighters at the height of the struggle. Over the years researchers have been fascinated by the Mau Mau story.
There has been great interest by scholars. Many books have been written on the topic by writers as diverse as Maina wa Kinyatti (Kenya's Freedom Struggle: The Dedan Kimathi Papers) and Carl Rosberg/John Nottingham (The Myth of Mau Mau: Nationalism in Kenya).
In more recent times have been the acclaimed contributions of Prof Caroline Elkins (Britain's Gulag) and Dr David Anderson (Histories of the Hanged), who are Harvard and Oxford scholars, respectively.
Indeed Mau Mau is not just a story of local interest. It has a lot of international resonance. When Nelson Mandela visited our country as a free man in 1990, the first question he asked at his public rally in Nairobi was why he could not be facilitated to meet the family of Kimathi. It was a moment of embarrassment for all the Kenyan leaders present.
I recall meeting in the 80s the famous Jamaican reggae musician Jimmy Cliff at Nairobi's Excelsior Hotel where he spoke of his interest in making a film on Mau Mau. In many places of the world, especially where there is a Black diaspora, interest in the Mau Mau story remains strong. It is up to us Kenyans to see to it that this interest is sustained.
The Nyeri County administration together with the national government can co-operate in setting up the Mau Mau Memorial.
The Mau Mau story is part and parcel of Kenya's overall story. The Narc government started off well by putting up a statue of Dedan Kimathi. The honour and respect accorded by the State to his widow Mama Mukami and her family during national days is to be appreciated.
As the sitting senator for Nyeri, I know how deeply the Mau Mau issue touches my constituents. More than anything else, it defines our place and sense of belonging as members of the Kenyan family. For us, honouring our freedom heroes is a matter which unites us irrespective of our differences.
Celebrate yes, but also pray for bleeding Kenya
It's Christmas and millions of Kenyans will flock places of worship to celebrate the birth of Jesus Christ. Others will mark the day at home with loved ones or visit the less fortunate in society. For many others there will be little to celebrate.