Need to support small scale businesses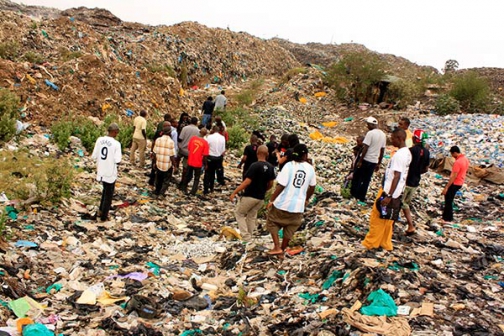 There is a popular Swahili refrain that 'taka ni pato,' meaning that garbage provides livelihoods. A visit to Dandora dumpsite will reveal how enterprising Kenyans literally turn the mountain of garbage that is dumped there into hills of cash.
While this is laudable, it is also a reminder that our society here in Kenya and especially in the developed world often produces and consumes in a very unsustainable way.
This prompted the United Nations to come up with the United Nation's 10-year programme for Sustainable Consumption and Production, a 'global framework of action to enhance international cooperation to accelerate the shift towards Sustainable Consumption and Production (SCP) in both developed and developing countries.'
The Catholic Church has also tried to tackle this issue. In his encyclical letter entitled, 'On Care of our Common Home' Pope Francis speaks out boldly on Sustainable Production and Consumption.
He notes emphatically that, 'Civil authorities have the right and duty to adopt clear and firm measures in support of small producers and differentiated production. To ensure economic freedom from which all can effectively benefit, restraints occasionally have to be imposed on those processing greater resources and financial power.'
Our African society should indeed empower small producers. By virtue of their small size, it is virtually impossible for small producers to over-produce and consequently saturate the market with any given produce. Rarely do you find mama mbogas in residential estates throwing away their produce.
But unlike supermarkets that regularly end up with surplus groceries that go to waste, mama mbogas barely registers sustainable profits. Similarly, the smallholder farmers who never plant in extravagant fashion also end up with minimal profits. In this regard, society rewards big players like supermarkets but seems to punish small players like mama mbogas.
As a country, we need to find a way of empowering smaller players to produce more and reach a wider market. If we don't do that, big will become bigger and small will become smaller. Supermarket chains, malls and all other big players in the value chain cannot be faulted for their business acumen.
But unless we empower smaller players with more capital and market reach, this very value chain will strangle them. The more this happens, the more our middle-class will shrink, which is ultimately bad for our economy because fewer people will buy produce, which will lead to even more waste.
Sustainable Production and Consumption revolve around critical principles like waste management, sustainable resource management, environmentally sound technologies, capital access, cleaner production, resource efficiency, sustainable transport, sustainable procurement, sustainable marketing, eco-labelling and sustainable lifestyle. Many of these principles are about individual initiative but others require more legislation and political will. Either way, there should be no excuse for inaction.
Yes, journalists should state their political affiliation
A columnist of note, whom shall not be named here, stated rather bashfully that in order to objective, he had chosen not to register as a voter. In his view, this enabled him to maintain the detached "observer at a distance" status. He could therefore, in good faith criticise or praise both sides of the political divide without feeling that he was being biased.