Why many women wish they had brave Akothee's guts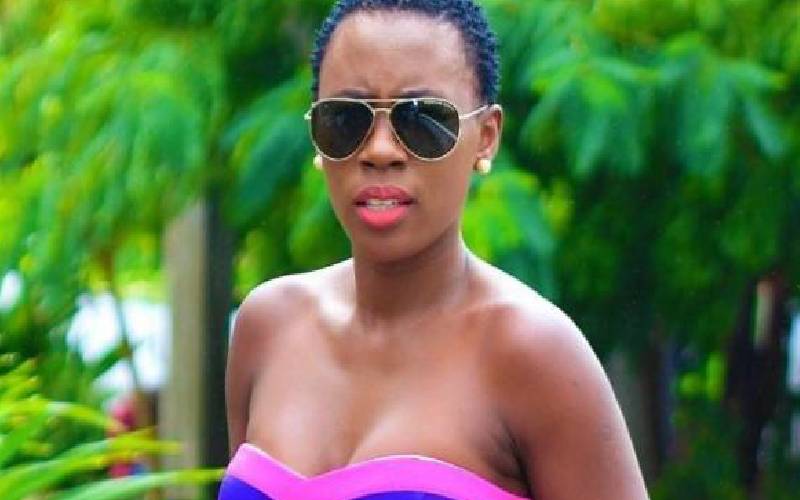 Akothee - that was a name trending more than usual last week. While Akothee is no stranger to drama and scandal, it seems this time she had attracted the ire of Kenya's moral tsar - Bwana Mutua. For those not in the know, Akothee was performing at some show at the Coast and it appears she did some stunts meant to excite her audience. From the look of things, this worked since some people in the audience took pictures and circulated them in certain social platforms.
It appears that Bwana Mutua takes his job seriously for he somehow came across these clips and proceeded to go on social media to offer Akothee some lessons on life in general.
He advised her to stop the 'stupid stunts' and instead act like a role model. Some folks might have shared a view with Bwana Mutua, but I can tell you that there is a sizeable constituency of women (myself included) who have a level of admiration for Akothee.
For starters, Akothee started at the bottom of the food chain with not much going for her. Her looks would be described as average, she has no notable pedigree, her education (as evidenced by her linguistic skills) is wanting; and clearly, she was not born with a silver spoon in her mouth.
In addition to this, true connoisseurs of music will tell you her voice is not that remarkable - it is nowhere in the league of African legends like Juliana Kanyomozi from Uganda, Ruby from Tanzania or our very own Sanaipei Tande.
Yet, she has made lots with what life gifted her. She has somehow managed to score big hits and give videos with A league musicians beyond Kenyan borders - talk about taking Kenyan music to the next level - in fact she should be appointed Kenya's Cabinet Secretary for Culture and the Arts (we all know we could do better in that docket). It is no mean feat in this day and age to record with artistes like Diamond and Flavour and to rake in over 5 million views on You Tube. One must bow down to the progress she has made given where she started from.
Bwana Mutua might be upset about Akothees' so-called stupid stunts yet he seems to forget that showbiz has and will always be about pulling off stunts that will at times appear stupid, ridiculous and bizarre. Bwana Mutua might say that back in his day he did not pull such stunts but that could not be further form from the truth. Based on his often virtuous utterances and his super black hair, I think he must have been in his heydays in the era of the likes of James Brown and Marvin Gaye who made great music but who were notorious for pushing the envelope in terms of stunts.
James Brown was the king of weird costumes, dramatic stage performances and that is even before we get to the whole list of illegal activities that he engaged in. Bwana Mutua might be familiar with Tshala Muana the Queen of Mutwashi, whose performances were so racy and left most people guessing if she was wearing any undergarments.
Even athlete Usain Bolt pulls some rather 'silly stunts' that have made him a mega superstar. Bwana Mutua should perhaps attend a Beyoncé concert and maybe then he would realise that Akothee's stunts are not that 'stupid' after all.
I do feel that Akothee's repertoire could have benefited from some choreographic fine tuning - but she was just being like all other artistes in the world - stunts (stupid or otherwise) are part of the job description. Another reason why many women secretly admire Akothee is because she is unbridled and has refused to be tethered by societal expectations. For instance, she has refused to do anything to her face which is heavy on the melanin.
Many women today we know are not comfortable with black and they go to great pains to change their pigmentation to become lighter and 'more appealing' to conform to modern standards. Some people will say they do not understand why she has that many children whose paternity is a bit of a mish mash. There is something to be said about a woman who manages to have a united colours of Benetton cast of children who at least from social media appear to be living amicably.
Yet many more will tell you that it is amazing that she somehow manages to maintain some form of decent relationship with their fathers - and even gets them to pay for her. Hats off to her! Many women cannot get their baby daddies to do anything for their kids.
Maybe Akothee's challenge is that there are many people who want her to conform to what they call 'women standards.' They want Akothee to follow the code that states that once a woman has children, no part of her flesh should show and the only tales she should regale the world with are tales of her children, not tales of her enterprises, her men or her outfits. Akothee is clearly defying these codes and gaining fame and making money in the process. Bwana Mutua might not like it, but I am willing to bet that Akothee inspires many women who wish they had her guts, her money but most of all her flat stomach. - [email protected]