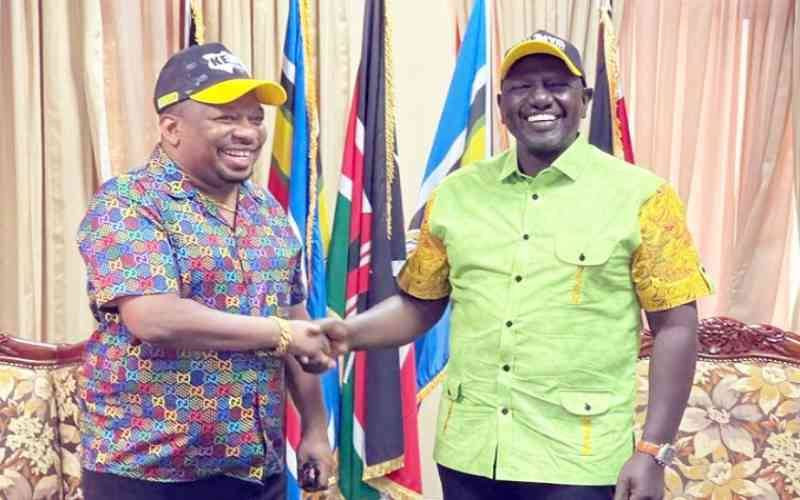 The defection of former Nairobi Governor Mike Sonko to the United Democratic Alliance (UDA) has added a new twist to the politics of Mombasa and compounded confusion in the Wiper party.
Until Saturday, most political analysts had touted the Mombasa governor race as Mvita MP Abdulswamad Nassir's to lose after Sonko was barred from contesting over integrity issues.
Sonko and former Senator Hassan Omar, the Mombasa governor UDA candidate, are expected to join forces in a bid to stop Nassir from succeeding Governor Hassan Joho.
Omar welcomed Sonko to "a winning team" and promised to team up with him to deliver a just and equitable Mombasa. Before the defection, Omar had been imploring Sonko to join him.
In the past, Omar had described Sonko as a "failed leader being imposed on the Mombasa people".
"What do they (Azimio) take us for? It is demeaning to the people of Mombasa for Kalonzo to even think that we will elect a man whose leadership in Nairobi was a disaster," said Omar when Sonko started his campaigns in Mombasa.
Sonko also hurled unprintable insults at Omar in his bid to convince the electorate not to vote for him.
"Who can elect a man like Omar? I have no time to trade accusations with him," Sonko said at one point.
Last Thursday, the High Court blocked Sonko from contesting after the Supreme Court upheld his impeachment as Nairobi governor by the Senate. After the ruling, Sonko blamed Azimio leaders for his tribulations.
But Sonko's woes can be traced back to December 3, 2020, after 88 members of the Nairobi County Assembly voted to impeach him. Two MCAs voted against the impeachment motion.
He has maintained innocence and blamed his political detractors for his woes.
He filed a case to challenge his impeachment that went up to the Supreme Court. He has also filed a case at the East Africa Court of Justice to review the Supreme Court's verdict.
"It appears that the plan was to keep Sonko busy at the courts and by the time he realises he will not be on the ballot, it would be too late and he will have no option but to back Nassir," said Mbwana Abdalla Mohamed.
Mr Mohamed, the Chairman of the Old Town Residents Association (OTRA) and a political analyst, said the biggest loser in Sonko's defection is Nassir and Azimio. He said Omar will get more votes because of Sonko.
He said with only eight days to the General Election, there was no chance for Sonko's running mate, Kisauni MP Ali Mbogo, to be on the ballot, saying "it was not IEBC's business to fix anyone's replacement."
"Sonko's defection could also be a blessing in disguise for Nassir because the Azimio votes will be intact. There were fears that Sonko could split Azimio votes to the disadvantage of Nassir," said Julius Ogogoh, the Executive Director of the Commission for Human Rights and Justice (CHRJ).
Mr Ogogoh said it was not automatic that disfranchised Azimio supporters will move with Sonko to UDA.
"Research has shown that upcountry voters in Mombasa vote for parties led by their tribesmen. I can tell you that Sonko will not move with Luos, who backed him because he was in Azimio, to UDA. For the Kamba votes in Azimio there are still Wiper leader Kalonzo Musyoka and Kitui Governor Charity Ngilu," he said.
He, however, warned that ODM politicians in Mombasa should end the "sense of entitlement" and bring all Azimio parties together to rally behind Nassir and Raila.
Yesterday, Ngilu toured Mombasa to campaign for Nassir whom she hailed as a selfless leader.
"I worked with his dad and I did not know he had a focused son like Nassir. Vote for him to be the next governor," she said.
Nassir said his administration will be all-inclusive and chided leaders out to divide Mombasa residents along tribal lines.
"My government will bring all communities living in Mombasa together," he said in reference to reports that the Kamba voters will back Omar following Sonko's defection.
Meanwhile, the fate of Mbogo remains unclear, even as Wiper officials at the Coast insisted that the outfit will support Nassir's bid to be the second governor of Mombasa.
In a barrage of Twitter posts, Sonko said he had secured a position for Mbogo in a deal he signed with Deputy President William Ruto. He said he was promised a Cabinet Secretary post.
"But Sonko will not individually benefit from the deal he signed with Ruto because Chapter Six of the Constitution bars him from holding public office," said Mr Ogogoh, adding that "if it is true, then everyone will expect the CS post to go to Ali Mbogo who sacrificed his ambitions for him."
On Twitter, Sonko claimed he was promised a CS post, three Principal Secretary posts in the national government, four ambassadorial jobs and three executives in Nairobi and Mombasa counties, and a similar number of chief officers in the two counties.​