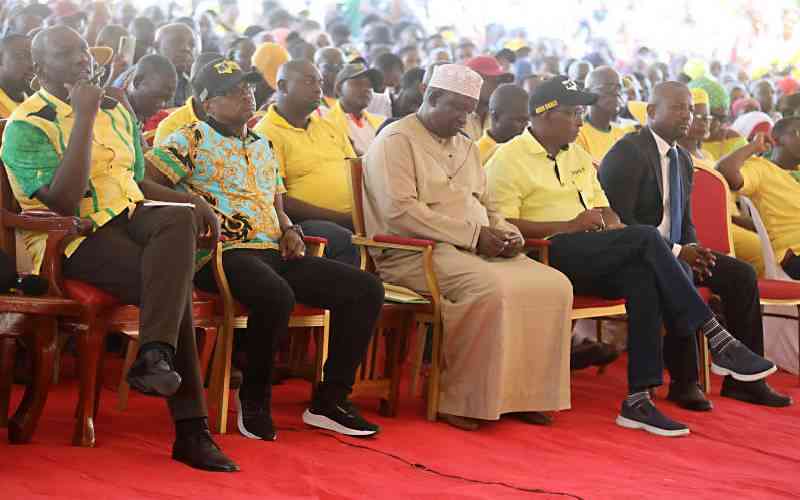 Allies of Kilifi Governor Amason Kingi at the Coast are walking a narrow path in the race against their competitors to capture a political seat in the August 9 General Election.
On paper, the Pamoja Africa Alliance (PAA) aspirants are in a forced marriage with Azimio la Umoja One Kenya Alliance, but in political reality they are supposed to be in Kenya Kwanza Alliance.
But Deputy President William Ruto's recent tour of the Coast has also opened a lid on intense sibling rivalry in Kenya Kwanza Alliance (KKA) with PAA aspirants saying they were being sidelined.
Kingi has, however, come to the defense of his team in the face of sustained attacks from their competitors in both United Democratic Alliance (UDA) and Azimio team especially the ODM wing.
Azimio team led by Ganze MP Teddy Mwambire who is also ODM Kilifi branch chairman has warned PAA aspirants against the use of Azimio Presidential flag bearer Raila Odinga in their posters.
On the other hand, UDA aspirants like Malindi MP Aisha Jumwa and the party's national organising secretary Mr Karisa Nzai have asked PAA to stay away from their political rallies.
Not marketing Kenya Kwanza
Mr Nzai has accused PAA aspirants of not marketing Kenya Kwanza Alliance claiming they were acting as if the Coast had been zoned by the coalition to be their stronghold.
"PAA should market Kenya Kwanza as an affiliate and not expect to be invited to UDA meetings. Why don't they also organise rallies and invite us?" Nzai who accused PAA of being a lone ranger.
Yesterday, PAA candidates expressed frustration from UDA dominance of Kenya Kwanza coalition in the region forcing them to go it alone and keeping away from Ruto's campaign rallies.
Kwale PAA governor candidate Lung'anzi Chai and his Mombasa counterpart Dr William Kingi said they decided to keep off the DP and Kenya Kwanza rallies because they are dominated by UDA.
Lung'anzi said the PAA family in Kwale has decided to give the DP rallies a wide berth because they were not recognised as part of the Kenya Kwanza team.
He said the reality has dawned on them as they have since realised that they are in Azimio la Umoja on paper and, in Kenya Kwanza in reality but fighting for political seats on their own following UDA's attempts to dominate the DP rallies.
"Initially, we were told we had joined Kenya Kwanza but we are not invited to their rallies and hence we have decided to mount our own campaigns as PAA Kwale family. The DP decided to parade UDA candidates for endorsement and ignored the rest from affiliate parties," he said.
He said with 12 sitting members of the Kwale County Assembly in his campaign trail, PAA was set to give its rivals in UDA and Azimio la Umoja One Kenya coalition a run for their money.
Dr Kingi noted that Ruto's meetings have been turned into UDA affair as he has not been invited to coordinate the rallies or offered a platform. He skipped the DP recent meeting at the Tononoka.
"We are campaigning alone because we feel Ruto's meetings do not help us. We believe voters will go for candidates with the capacity to transform their lives as opposed to party euphoria," he said.
He added: "The small parties are not given space during the DP rallies or being involved in organising the meetings. This is why we decided not to attend those rallies."
In a post on the social media, Kilifi Governor Amason Kingi praised his team as formidable that was ready to battle for the political seat at the Coast
"In the formidable team of gubernatorial candidates PAA has lined up in the Coast counties, it is not in doubt which way the political chips will fall," wrote Governor Kingi on May 20 this year.
Last week, the DP Ruto's forays at the Coast that ended last Sunday brought to the fore widening political rift among aspirants from Kenya Kwanza affiliate parties.
PAA candidates decided to skip the DP political rallies in Taita Taveta, Kwale, Mombasa and Kilifi counties. Ford Kenya and Amani National Congress (ANC) aspirants were also not spared.
UDA candidates
During the tour, Ruto paraded UDA candidates at Gotani, Kikambala and Mtomondoni and urged the crowds to vote for them. Kilifi's PAA governor candidate George Kithi kept off together with his supporters as Ruto endorsed UDA's Ms Aisha Jumwa and her party line up in the region.
Ford-Kenya leader Moses Wetang'ula struggled for political space to introduced his party's Kilifi South parliamentary candidate, Mr Almas Hadad, at Kikambala after Ruto had skipped him.
Wetang'ula publicly differed with Ms Jumwa who had called for residents of Kilifi to vote for all UDA candidates 'six-piece'.
"I have heard our sister Aisha saying here you are supporting six wheelbarrows, but I have a youthful leader here called Hadad, who wants to be an MP under Simba Party in Kilifi South. Remember, he is also in the Kenya Kwanza family. I do request you to support him, he is my son and I have arrived here today," said Wetang'ula as Hadad's supporters cheered.
In his previous tour of the region in May this year, Ruto lined up only UDA governor candidates and their teams as candidates from Kenya Kwanza affiliate parties watched.
Ruto endorsed UDA governor candidates Ms Fatuma Achani (Kwale), Ms Aisha Jumwa (Kilifi) and Mombasa's Hassan Omar during the Kenya Kwanza meetings.
In Tana River county, the DP has endorsed former governor Mr Hussein Dado and turned focus away from PAA's Al-Hajji Hassan Morowa.
Governor Kingi who is the PAA party leader was also absent during Ruto's recent tour of the Coast but later explained that he was in Nairobi attending to family matters.