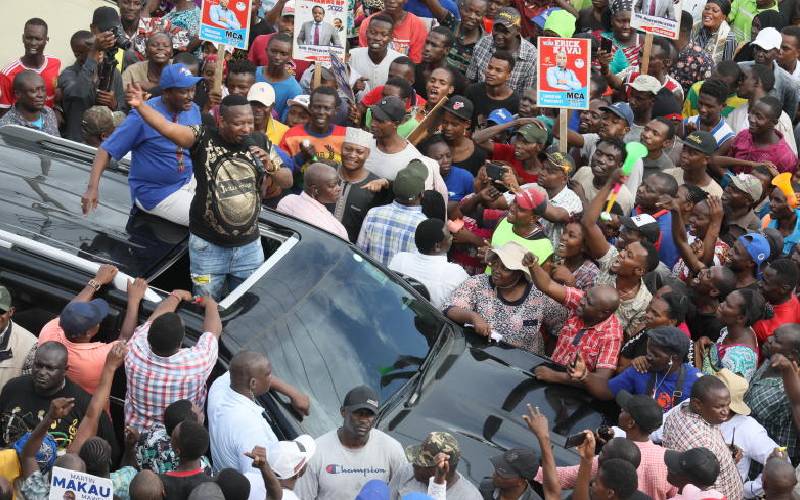 Former Nairobi Governor Mike Sonko held impromptu rallies in Mombasa island on Friday amid intensifying debate in political and legal circles on his suitability to run for the county's top political seat.
Yesterday, lawyers said Sonko's hopes to run for the Mombasa governor seat in the August 9 election are hinged on the court's interpretation of Article 75 (3) and Article 193 of the Constitution.
"We have plan B if they block me. But I have not received any communication from any State office on the matter so I will continue with my campaigns," said Sonko.
The debate appeared to have been reignited by the Chief Justice Martha Koome's comments on impeached governor seeking political office.
The debate appeared to have been reignited by the Chief Justice Martha Koome's comments on impeached governors and convicted politicians seeking political office.
In an interview on Spice FM on Friday, the CJ said individuals who have been convicted in court or impeached from public office are ineligible to hold public office, unless the verdicts are overturned. According to the CJ, filing an appeal to reverse a sentence or an impeachment did not mean the verdict was set aside.
On Thursday, Justice John Mativo issued orders stopping the Independent Electoral and Boundaries Commission (IEBC) from processing Sonko's nomination papers, pending the hearing and determination of an application by Haki Yetu, Kituo Cha Sheria and Transparency International.
"That pending the hearing and determination of the application and or further directions of this court, I order that the IEBC be and is hereby restrained from processing Sonko's nomination papers to vie for the office of the governor Mombasa County," said Justice Mativo.
On May 16, the High Court in Eldoret also forwarded one of the three petition files, seeking to stop Sonko from vying for Mombasa governor to the Chief Justice.
Justice Reuben Nyakundi directed the three petitions filed in Mombasa, Nairobi and Eldoret be placed before CJ to decide if they will be consolidated and transferred to Mombasa.
Political analyst and lawyer Abubakar Yusuf said whichever way the decision on Sonko's suitability goes, the ex-Nairobi's governor's entry into Coast politics will have an impact in the August polls.
"Sonko will still pose a threat to the ODM dominance in Mombasa. If he decides to back out, UDA nominee Hassan Omar will get some disgruntled voters," said Mr Yusuf.
He said if Sonko is barred IEBC, it will give Wiper a chance to field another candidate who he can still back and campaign for since the presentation of nominees papers starts on May 29.
He said although at the moment ODM nominee for the seat, Mvita MP Abdulswamad Nassir appears to have had a head start in the race, Sonko has been able to attract disgruntled ODM voters. "It is clear that there is a constituent of ODM supporters yet to heal from the nomination debacle. Some went to UDA and others are backing Sonko. If Sonko drops out we expect them to converge in UDA," said Mr Yusuf.
Yesterday, aspirants, who either defected from ODM to fringe parties or are running as independents and had declared support for Sonko, said Mombasa voters should be given a chance to elect or reject the ex-governor.
"This is a political process that judges or the jury are the people who are supreme, according to the Constitution," said Caleb Ng'wena who is vying for Bamburi Ward on the United Party of Independent Alliance (UPIA) ticket but backs Sonko.
Changamwe MP Omar Mwinyi was more cautious. "Those who have gone to court believe they are right and the law is on their side. Sonko also believes his rights are being snatched away but let the court decide," he said.
Mwinyi is also at the High Court to appeal his four-year jail term conviction by a trial court for assaulting two police officers during the 2017 elections.
He was sentenced to serve a four-year jail term or pay Sh 1million fine. He paid the fine, but in March 2020 moved to the High Court to overturn the conviction.
According to lawyer Danstan Omari, Sonko was eligible to run for office because he had not exhausted the court appeal process as stipulated in Article 193 (3) of the Constitution.
It states: "A person is not disqualified under clause (2) unless all possibility of appeal or review of the relevant sentence or decision has been exhausted." Section 2 states when a person is disqualified from being elected a member of a county assembly.
"Without going into the merits of the cases, I can only say that if the Supreme Court upholds the impeachment, then Sonko cannot run for any State office. But at the moment, the case is active and he can run,"he said.
Mombasa lawyer Willis Oluga said different interpretations on Sonko's impeachment in relation to his quest to run for a State office are because of his alleged violation of Article 73 on leadership and integrity.
Mr Oluga said what Lady Justice Koome said about Sonko was her opinion and could not affect the outcome of the three cases filed against Sonko.
"Judges are very independent and cannot be influenced by what the CJ or lawyers are saying outside here. It would have been wise for the CJ not to give her views though," said Oluga.
Mr Ng'wena said blocking Sonko will be "tantamount to the courts or IEBC choosing leaders" for the Mombasa people."