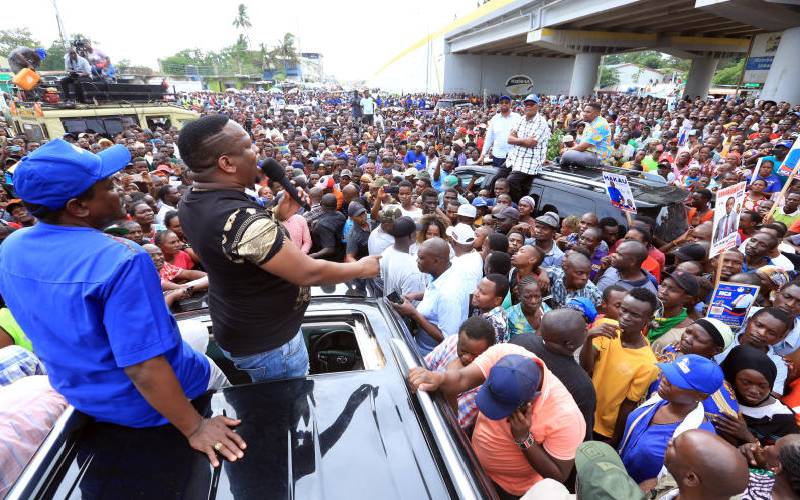 ODM leaders in Mombasa downplayed the entry of former Nairobi Governor Mike Sonko into the governor race, terming it an ill-advised adventure.
Led by Mvita MP Abdulswamad Nassir, the leaders said Sonko was sowing seeds of discord in Mombasa by issuing inflammatory statements.
"We see this as blackmail of the highest order, and ODM as a proud member of Azimio, we believe the birth was not out of fear but that of respecting other people's rights," said Mr Nassir.
The leaders who met at Swahili pot hub in Mombasa County to strategise how to counter Sonko's entry into Mombasa politics and popularise Azimio accused Sonko of using the tribal card to whip up emotions.
"For the avoidance of doubt, we want to categorically state that we shall not condone this kind of behaviour considering how far the country has come," said Mr Nassir.
He said some leaders had reduced themselves to creating disharmony along tribal and religious lines, which has no place in the new Kenya.
"Even more disturbing is the fact that some of these leaders have reduced themselves to being agents of creating disharmony along tribal and religious lines," said Mr Nassir.
The leaders claimed there was a plot by some leaders in Azimio who had hidden agenda to dilute the contribution of Hassan Ali Joho and Kitui Governor Charity Ngilu in making Azimio what it was now.
"We are also aware that some of these theatrics are aimed at diluting the major contribution within Azimio by pragmatic leaders like Mombasa Governor Hassan Ali Joho and Kitui Governor Charity Ngilu who stand a better chance of being picked as running mate," said Nassir
Nassir warned leaders who are hell-bent on causing disharmony in Mombasa, insisting that they will not succeed in their wishes.
"As leaders, we are indeed extremely disturbed by the show of recklessness by some unpatriotic leaders within Azimio family whose main aim seems to be directed at destabilising the movement," said Mr Nassir.
Nassir who is the ODM candidate for Mombasa governorship in the August 9 elections was accompanied by Jomvu MP Badi Twalib, Likoni MP Mishi Mboko, former Kisauni MP Rashid Bezimba and Members of the County Assembly candidates.
The leaders chided Sonko for trying to wrestle the governor seat from ODM and declaring a political war on Joho for control of Mombasa.
ODM Mombasa Woman Representative aspirant Zamzam Mohamed said there was nothing tangible that Sonko would bring to the people of Mombasa considering that he has not been actively engaged in Mombasa politics.
"His philanthropic gestures are just sideshows," said Ms Mohamed.
She added that Mombasa leaders who served in the 12th Parliament led by Nassir, Ms Mishi Mboko (Likoni), Mr Badi Twalib (Jomvu), and Mombasa Senator Mohamed Faki have been diligent in handling matters that are dear to coastal residents in the respective Parliaments.
"We have all seen how our leaders have debated aggressively in Parliament on key issues like the Port of Mombasa, Standard Gauge Railway (SGR) land issues which remain a thorny issue to Coast people," she said.
Senator Faki said that they are not bothered by Sonko campaigning in town.
"While it is his democratic right to come and seek an elective post, it should not escape people's minds that Sonko was impeached by the Nairobi County Assembly where he served as governor," he said.
Faki, a lawyer, said that legally, Sonko cannot be allowed to stand as per Independent Electoral and Boundaries Commission nomination rules.
Twalib poured cold water on Sonko's grandstanding as Wiper governor candidate for Mombasa, saying that the hulabaloo associated with his coming into Mombasa was mere excitement. "It will fizzle out soon. He is a show-off and the whole of Kenya knows what he likes doing," Twalib said.
He said Mr Nassir who is the ODM candidate has been at the forefront in championing the welfare of the people of Mombasa and Kenyans in general.
He chided Sonko for bragging that in just three months before elections, he had convinced the people of Mombasa to vote for him.
"Tell him he is daydreaming. We do not lack leaders to lead us. He ought to have concentrated on clearing his name first before Kenyan courts where he has cases," said Twalib.
Last Saturday, Sonko stormed Mombasa County and launched his campaign for governor seat accompanied by Wiper leader Kalonzo Musyoka.
He vowed to "liberate" residents from Joho's grip. Joho is backing Nassir in the governor race.