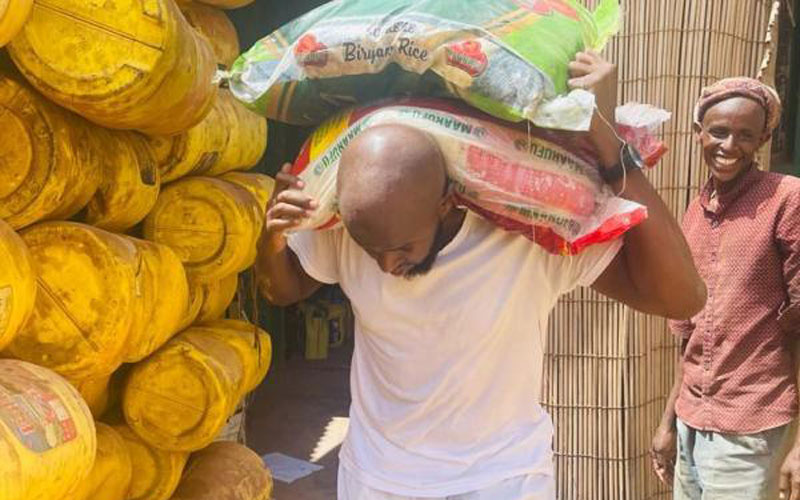 For Jamal Hassan, offering charity is something that gives him a special personal fulfillment.
During this holy month of Ramadhan, Jamal travelled from his residence in the UK to purposely come to Kenya and distribute food to the less fortunate.
Currently, he is distributing foodstuffs to residents of Mandera Wajir, Isiolo, Tana River and Marsabit Counties.
Jamal operates alone. Incredibly, he is able to handle logistics that leads to households receiving aid worth millions of shillings.
"I do not keep a team of permanent workers but have always managed to attract help from people who buy into my philanthropic belief," he said
"All that is required is to draw people's attention to the suffering of their brethren and give them a workable plan on how to intervene and they will assist."
Jamal said in an interview that it is a shame in this age that some people are struggling with basic necessities while others are living lavish lives full of wastage and extravagance.
In his attempt to make an impact, Jamal packages his food parcels in 30-kilogramme bags. "Our parcels contain the best quality rice, sugar, dates, wheat flour tea leaves and other foodstuffs," he said.
"We have already delivered parcels in Elwak, Mandera to nearly four hundred families. We may not be covering enough ground fast but our policy is to uphold the dignity of the poor."
Jamal said when the directors of Freedom Airlines Express, Nairobi, heard that he was going to deliver aid to Mandera, they put an entire cargo plane at the disposal of the food project which really made delivery easy.
When he started this initiative, Jamal was able to secure foodstuff worth Sh1 million on credit from a Nairobi wholesaler.
"Everyone wants to help as soon as they know its sadaqa for a noble cause," he averred.
Jamal said that the job is very fulfilling especially if things go according to plan. "Bringing a grand idea to fruition is an accomplishment but nothing moves the heart to aspire to do better more than the testimonies of the poor," he stressed.
One emaciated woman with children looked deep into Jamal's eyes and told him: "We were waiting for death to put us out of our misery. Thank you for coming!"